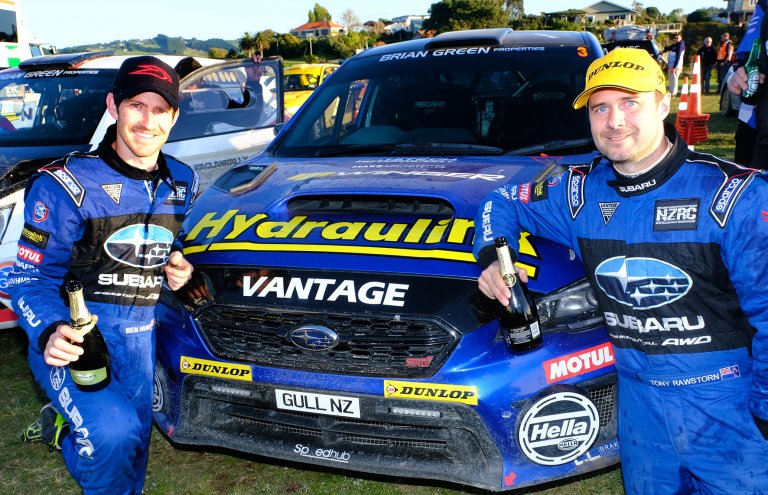 Subaru's Hunt cements second in the 2018 NZRC
The reward for his consistent, strong results this season, was second overall in the Brian Green Property Group New Zealand Rally Championship (NZRC) for Subaru brand ambassador Ben Hunt.
He and co-driver Tony Rawstorn bought the WRX STI home in second place at today's Hyundai NZ Raglan Rally of the Coast, which gave Hunt enough points to claim the runner-up Driver's championship spot behind WRC competitor Hayden Paddon.
"Tony and I are just ecstatic. A huge thanks to everyone in the team and all our fantastic sponsors. This result is a tribute to you all," Hunt says.
The champagne was flowing as the Hunt Motorsports team celebrated their best finish for the season, since they won the NZRC title in 2015 in a Subaru Impreza.
"We feel honoured to finish second to Hayden, who is a professional WRC driver, considering Tony and I both have day jobs," says Hunt.
Although Paddon had already secured the victory at the penultimate NZRC event at Coromandel, Hunt held a sizeable but not unbeatable points haul going into today's rally.
He started the 170km, eight-stage event at full pace, clocking the second-fastest times on the opening three stages and a third in the morning's fourth test. An issue that needed remedying at the halfway service meant Hunt and Rawstorn were late to the fifth stage and incurred a 30-second time penalty. It meant they had to pour all their energy into holding off a hard-charging Raana Horan, who finished third for the day, over the final four stages.
"We loved being back on those famous WRC NZ stages and it was all about managing the tyres and bringing the Subaru back to the team to celebrate our result," Hunt says.
The Raglan rally concluded with the infamous Whaanga Coast stage, renown for its stunning coastline on the ragged West Coast of New Zealand. Hunt roared through the finish flags having notched up 130 points for the 2018 NZRC, 26 points ahead of third-placed Josh Marston.
Rawstorn convincingly won in the MotorSport NZ Rally Championship Co-Driver's title, also with 130 points, that put him well ahead of Marston's co-driver Andrew Graves (104 points).
Describing himself as "smiling from ear to ear," Rawstorn says he was "stoked" to repeat the co-driver's victory he achieved three years ago.
Subaru narrowly missed out on the Manufacturer's Championship by two points with 123 points to Hyundai's 125 points.
Subaru of New Zealand's Marketing Manager Daile Stephens says that the company was thrilled for Hunt and Rawstorn.
"We began sponsoring Ben three years ago when we provided him with a Subaru WRX STI production car to turn into a rally car and it is so rewarding to see him and the Hunt Motorsports team achieve this wonderful result today. It is testament to their hard work and dedication and their great performance also helps keep the rally heritage alive, that Subaru is known for worldwide."
Hunt and Rawstorn started the season with a hiss and a roar finishing second at the first two rounds in Otago and Whangarei. They then overcame mechanical issues that hampered their performance in the middle two rounds, to finish runners-up at the final two rounds.
Hunt can also lay claim to being the first driver to end Paddon's 37-stage winning streak this season. At the NZRC's fourth round in South Canterbury he won the third stage, earning the Hella Moment of the Rally award for his efforts.
Hunt Motorsports is grateful for support in the 2018 Brian Green Property Group New Zealand Rally Championship from: Subaru of New Zealand, Hydraulink, Motul Oil, Vantage Windows and Doors, Speedhub Motorsport, Gull NZ Fuel, Dunlop, Winger Subaru, Hella NZ, Reiger suspension, Bluebridge, MTF Finance, The Body Shop, Wurth, Mean Machine Engines, CL Brakes, Vernon Developments, TCC Solutions, Hitech Motorsport, Hunt Diesel, Make Architects, Nuzest, SOS and Hammer King.
2018 Brian Green Property Group New Zealand Rally Championship points
1. Hayden Paddon – 173
2. Ben Hunt -130
3. Josh Marston – 104
4. Matt Summerfield – 102
5. Raana Horan – 92
Media release: Catherine Pattison/Subaru
Image: Geoff Ridder