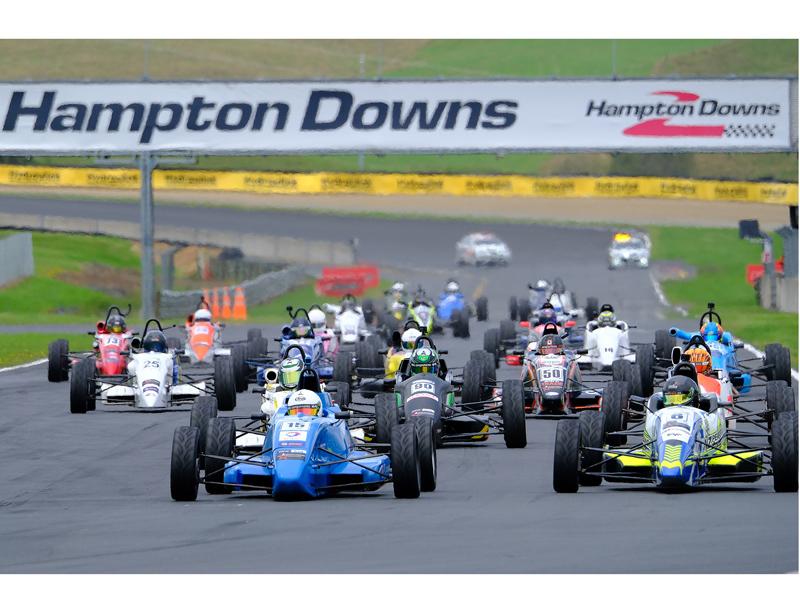 Strike one to Dylan Grant in opening NZ Formula Ford race at NZGP
Dylan Grant has narrowly taken the win from current NZ Formula Ford title holder Alex Crosbie in the opening round of the 2023 NAPA Auto Parts NZ Formula Ford Championship at Hampton Downs. The first of three races over the New Zealand Grand Prix event had some close racing right through to the checkered flag.
"Pleased to get the win," commented Grant (Van Diemen RF03). "It was very difficult after the Safety-Car and getting tyre temperature back up. We had some great battles and looking forward to more."
Dylan Grant won the Hampton Downs NZ Racing Academy $1,010.10 cash prize for fastest qualifier Grant had earlier set fastest lap in qualifying winning the Hampton Downs New Zealand Racing Academy $1,0101.10 cash prize and went on to lead the first two laps until he went wide at the 'Dipper', letting Crosbie (Ray GR21) through to lead the next two laps.
"It was pretty tough after the Safety Car with some close racing," said Crosbie. "I didn't quite get him at the end. It's definitely going to be a close championship this year."
Grant and Crosbie continued to dice for the lead right to the end. Behind them Blake Knowles (Van Diemen RF05) was able to secure third from Greg Murphy (Van Diemen RF92) with Kyan Davie (Spectrum 015) fifth and Daniel Brown (Ray GR21) sixth.
"It was pretty sketchy at times," said Knowles. "It was really good fun racing Greg Murphy who made me look into my mirrors a lot."
Zach Blincoe (Mygale SJ07), on return after a major crash at the Pukekohe Supercars round last September, qualified fourth fastest but unfortunately had to pit with a fuel issue. Blake Dowdall (Spectrum 015), after qualifying second fastest, also run into problems pulling off the track on the fourth lap.
Drivers face two more races on Sunday.