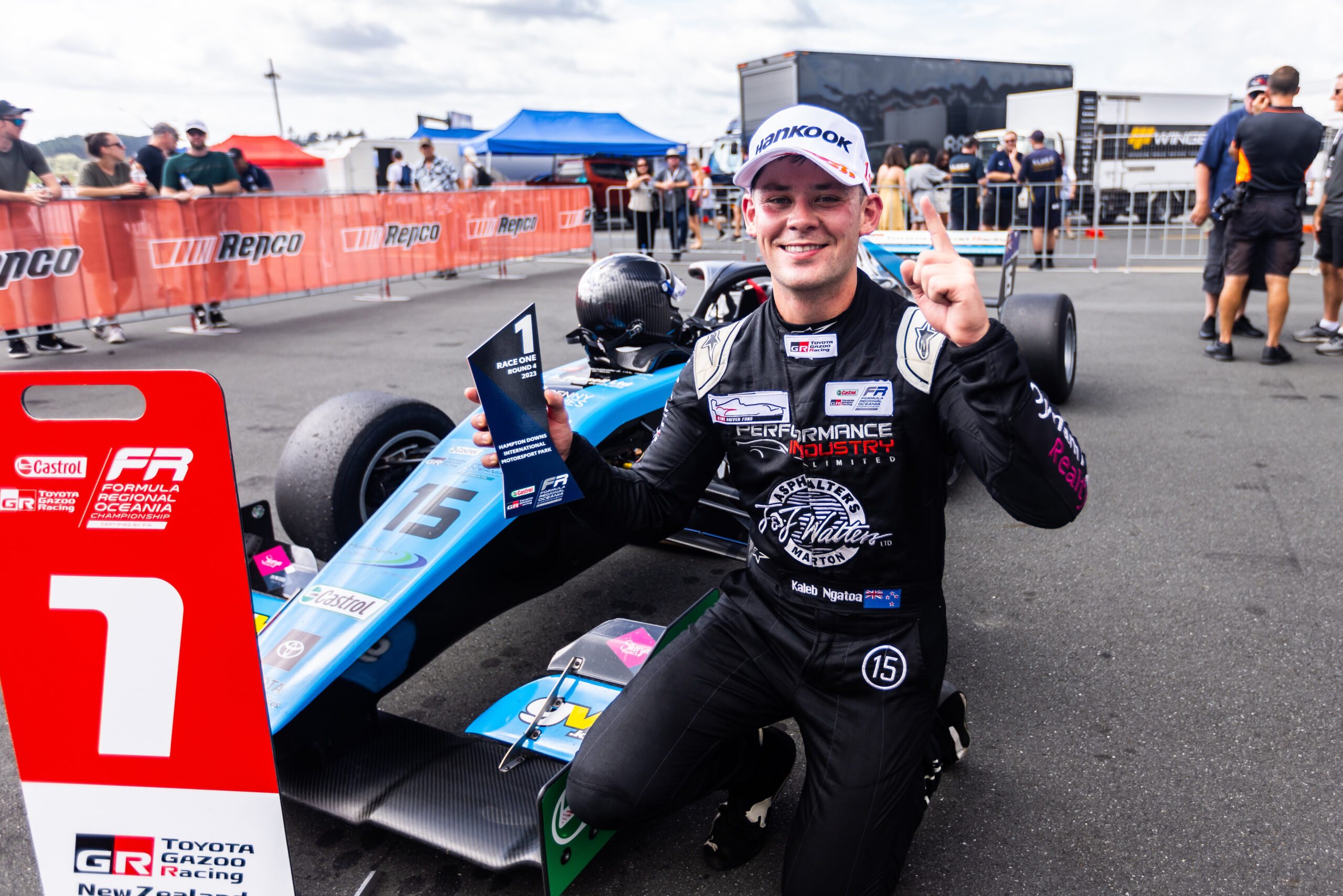 Ngatoa takes biggest win of career at Hampton Downs
The man from Marton, Kaleb Ngatoa – in the 2023 Formula Regional Oceania Championship for one weekend only – got his mission to win the New Zealand Grand Prix off to the perfect start with victory in the first race at Hampton Downs today.
A perfect start was exactly what the man from Marton delivered against world class opposition, rocketing away from the second spot on the grid and never looking back as he raced away to win. For the former Formula First, Formula Ford, Toyota Racing Series and S5000 racer, it was his biggest win to date.
Only pole position man Laurens van Hoepen – himself new to the category this weekend – could offer any opposition. But Ngatoa, who took pole position at this event two years ago, was unbreakable.
"When I last raced in these cars I didn't get them off the line well but I have practised that and today I just had my eyes on the first corner when the lights went out and I went from there," he said.
"I'm here for one thing and that's a great start to achieve that goal. Eyes forward for tomorrow now."
Third place behind the flying leaders was a solid result for Callum Hedge, but a major one for this season's championship as he overtook Charlie Wurz at the top of the table, the Austrian unable to make progress from his seventh starting position and coming home eighth after a hot and humid 20 laps.
He did survive a wild moment in his haste to get past Louis Foster's ailing Giles Motorsport car and would be grateful for that, but will need to recalibrate and take the battle back to Hedge in both of Sunday's races.
A fighting fourth for his best result of his championship campaign so far was Adam Fitzgerald, who built on a strong qualifying performance. What was even more impressive was his defence of the position in the face of a flying Chris van Der Drift, fired up after a disappointing qualifying and an absolute flyer in the early stages of the race. His progress from 11th on the grid to fifth at the flag means he cannot be written off for a strong Grand Prix, where he starts ninth.
Behind him – in his eighth New Zealand Grand Prix meeting, Brendon Leitch put in a solid drive for sixth, beating championship contender Jacob Abel in the process. Abel couldn't quite match Leitch's experience on the challenging track, and came home a couple of seconds in arrears.
With Wurz eighth, it was left to Ryder Quinn and David Morales to complete the top ten.
Third place leaves Hedge with a major dilemma. Does he try and build on his points lead over Wurz or does he focus solely on the one race he always talks about wanting to win – the New Zealand Grand Prix.
By the end of the day tomorrow we'll know the answer to that. A reverse top eight of today's results forms the grid for race two and that will put Wurz on pole position. He'll want to win that race with Hedge distant in his mirrors before the afternoon's Grand Prix.