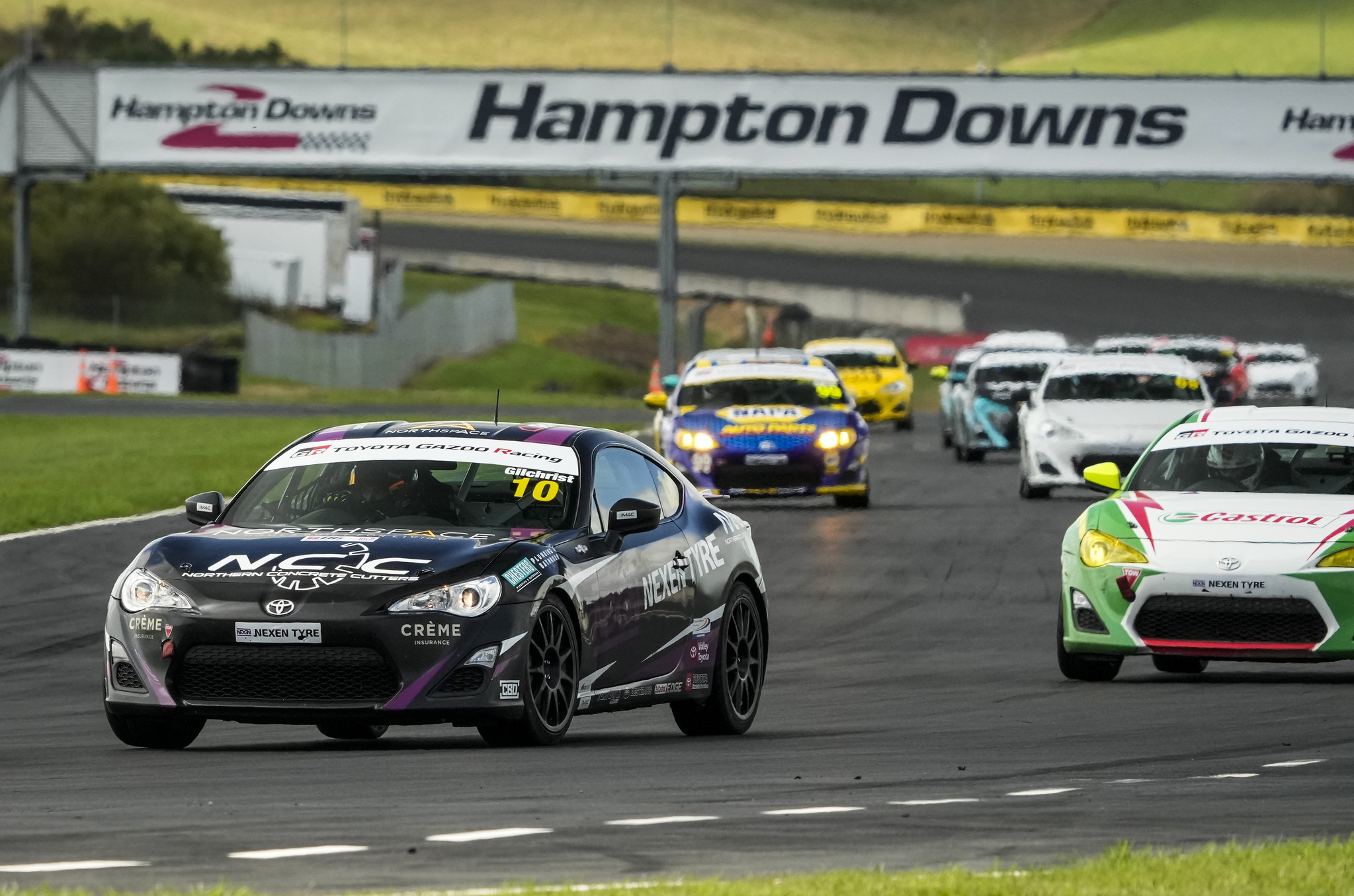 Gilchrist steamroller continues with sublime victory in Race 2 of Toyota 86
Brock Gilchrist's sublime season in the Toyota 86 Championship continued at Hampton Downs this morning with a breath-taking Race 2 win from eighth on the grid.
If anyone had any doubts that the Matakana driver was one of the favourites for this season's title, Gilchrist silenced them with his best drive of the season so far.
Starting from eighth on the reverse grid format from Saturday's first race result, Brock made a lightning start. By the end of the first he was up to fourth and he took the lead on the fourth lap before rocketing away to a two second lead, which he extended to three by the flag. It was the perfect race.
"Obviously I got the start of the century and passed six cars or something very quickly," he said afterwards. "I just enjoyed it really, the car was excellent yet again."
There was a great battle behind Brock for second and third. Both Tayler Bryant and Rylan Gray enjoyed a spirited fight that thrilled the crowds for the duration of the race. They changed positions several times and at the flag it was the Australian – just – who took second place.
For young Tayler it was his first podium finish in three years of trying and was well deserved after a solid drive.
Continuing a very impressive debut weekend in the category was Hunter Robb, the youngster looking fast and controlled at the head of the midfield battle – which was just as intense as it always is in the Toyota 86 category.
Right in the thick of the action throughout were Justin Allen, John Penny, and both Clay and Fynn Osborne but none could topple the impressive rookie from a fourth place result.
Allen took a fighting fifth ahead of Penny, Clay Osborne and Fynn Osborne with a low starting Dion Pitt fighting his way through for a top ten finish in ninth. Pole position holder Christina Orr-West had a nightmare race, losing out at the start and getting bundled down the pack to tenth by the end.
This afternoon's race will have a grid based on points and the real question now is who can stop the Brock Gilchrist steamroller.