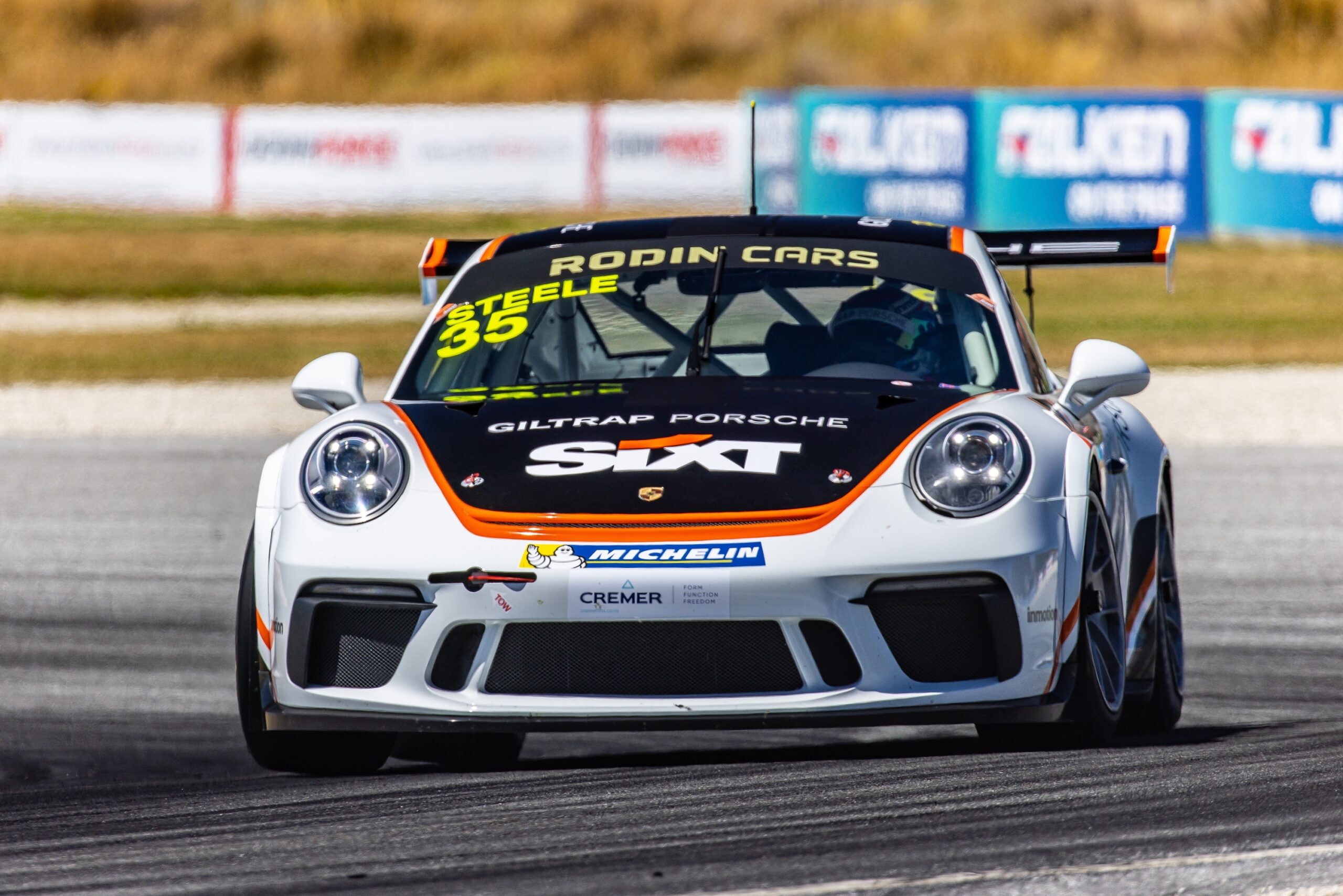 Steele poised to take Porsche win in Rodin Cars Super GT Series
Porsche driver Rob Steele, heads into the final round of the Rodin Cars Super GT Series at Taupo this weekend as a favourite to scoop the Porsche class title.
The Porsche class of the series is currently led by Martin Dippie, with Steele just 11-points behind and well within reach of taking out the win when racing gets underway at Bruce McLaren Motorsport Park Taupo.
"We've had some good results this season. I've done a bit of racing compared to some of the other drivers, and I guess I would probably have been a bit disappointed if we weren't in this position heading into the final round," said Steele.
"That said, it's a shame that some of the drivers fell out of the series early on due to some accidents. They were good competition, and it would have been nice to battle with them through until the end of the season.
"Anything can happen really, particularly with the one-hour race. I haven't raced at Taupo for a while, I have raced in a Porsche enduro there before, and found myself coming away with the win."
Steele will again partner with relative racing newcomer Paul Southam, the duo sharing the driving duties throughout the weekend, and combining for the one-hour feature race on Sunday afternoon.
It has been a fruitful partnership, winning the one-hour races at both Ruapuna and Hampton Downs this season.
Though competing as individual drivers in the same car, they are awarded their own points. Southam's performance in the one-hour race is vitally important for Steele's shot at the title.
"We haven't spoken too much about the strategy for the weekend yet, he'll do his 30-minute race, I'll do mine, then we combine for the 1-hour, but I have said to him 'don't bend it'!"
"Paul has driven really well this season, getting faster and faster. In his 30 minute race at Hampton Downs, he raced hard against Martin Dippie, trading places and making some good passes."
"Martin can make his car very wide at times."
"We also can't forget Paul Kelly, he's been fast all season, he's in third in the points, and could still win it overall too if Martin and I strike trouble."
"The one hour race will be important for us, we have to make sure we finish well in that race. Tyres will be important, Taupo can be quite abrasive, so I think that if you manage to look after your tyres, you should do well.
The Steele/Southam Porsche entry is supported by Giltrap Porsche, Faradays, SIXT and In Motion.
The fourth and final round of the Rodin Cars Super GT Series is scheduled for 26/27 March at Bruce McLaren Motorsport Park, Taupo.