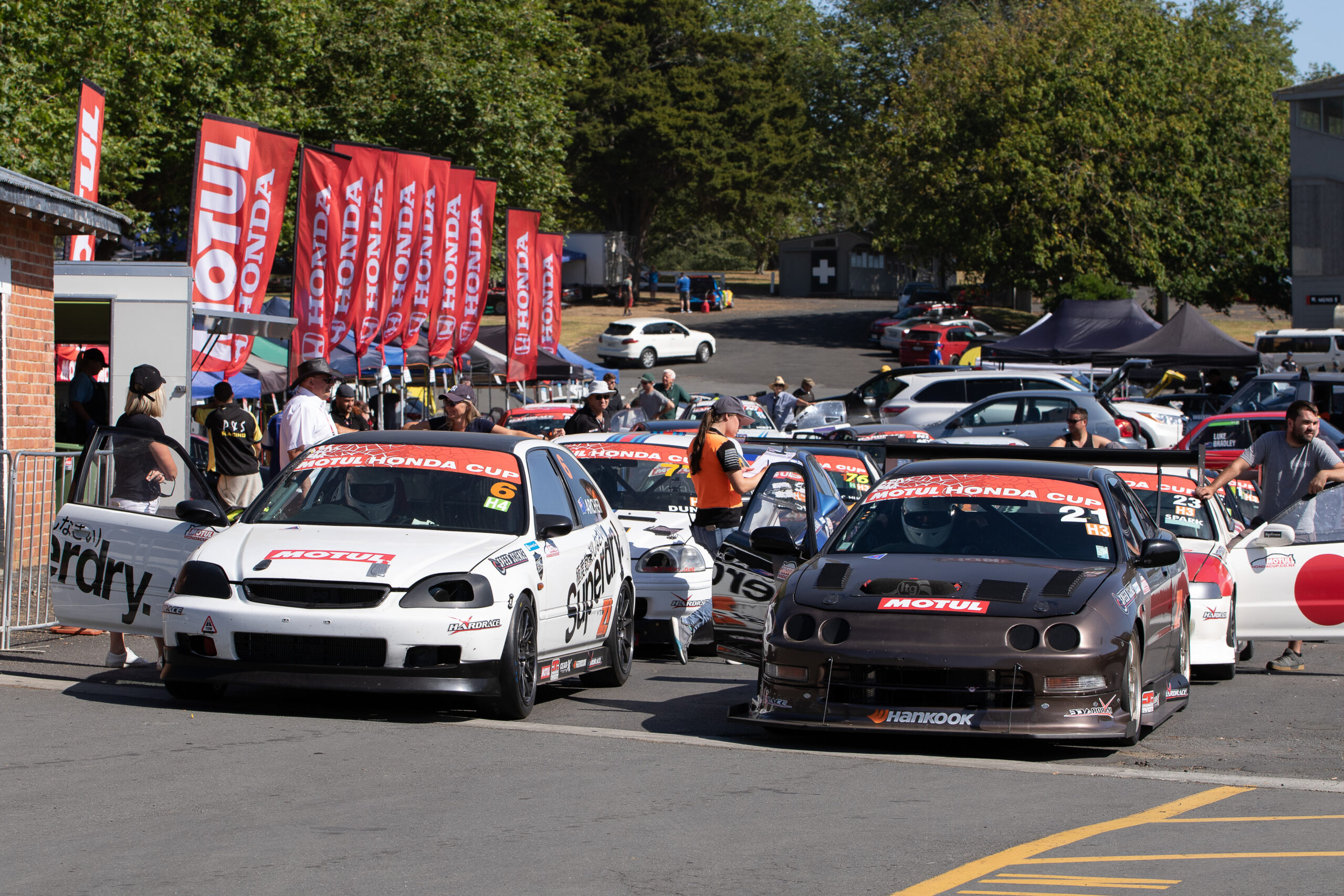 Spark on fire in Motul Honda Cup
At 67 popular racer Greg Spark could be doing something different, but instead, he's taking on the youngsters at their own game in the high revving and modified vtec specials of the Motul Honda Cup. And this season could well be his strongest in six years.
At the first round at Manfeild Spark turned a few heads with his first outright pole position and scratch race win in his familiar red and white DC2 Integra, which these days sports a modified 2.4 litre Honda engine and some major aerodynamic upgrades more in tune with Time Attack racers than club saloons. It proved to be a winning formula around the challenging turns of the Manawatu circuit.
"This was my first scratch grid pole and win and I led from start to finish," he explained. "Coming as it did in my sixth season of Honda Cup, it was particularly gratifying and reward for development of the car over the last 12 months. Only 0.25sec separated the first four qualifiers Andrew Johnston, Steve Hughes, Chris Hughes and myself and I beat my previous PB by 1.3 seconds. All four of us have cars of similar specification and that led to considerable pressure throughout the race where a single missed gear change would have cost position. It was very exciting."
The Motul Honda Cup has always excelled for close racing and has three quite different race formats over each of its race weekends. A conventional 'scratch' race based on qualifying times, a reverse top ten which never fails to provide excellent racing and a handicap finale. It all means that there are plenty of different winners but Spark has a favourite and it's not the format he won the Manfeild race in.
"My favourite would be Reverse Top 10 because I'm usually in the first couple of rows needing to fight off the quicker cars rather than playing catch up to faster cars. The handicap race not so much, because the handicappers always punish me! Or so it seems… This year I may have to change my view and the scratch grid race may become a new favourite!"
Based at Ngahinapouri near Hamilton in "a home with a big shed and a hoist in it" Greg was a late starter to motorsport in New Zealand but retains a youthful enthusiasm for the sport that has seen him compete in some major motorsport events both at home and abroad.
"I gained my competition licence at age 52 in 2005. My passion was for road driving, so Targa NZ was the natural entry point for me and I completed five years of Targa between 2006 and 2009 with class wins in 2009 and 2013 and a few other podiums.
Between 2010 and 2013 I joined three other drivers for the annual Nurburgring 24 Hour race, the first two of those with Kiwi Team Nurburgring. It was a team that was all but ignored but which achieved astonishing results in the six years they competed, finishing every year with multiple class wins and placings with the two Honda Civic Type Rs campaigned out of New Zealand.
"My third drive was with a German team Gotz Motorsport. It was owned by Dieter Gotz, who along with wife Sonja I now count among my personal friends. That was in a VW Scirocco GT24, a much quicker car than the EP3 Civic Type Rs run by the Kiwi team. My years of tarmac rally prepared me well for the Nordschleife, which is more like a tarmac rally stage than circuit with weather dreadfully unpredictable and changeable.
"Following the 2013 Targa, in which we had our first off-road excursion in five years – an 80kph trip through a fence into a grassy meadow – I decided it was too big a responsibility to have my son Matthew continue as my co-driver as he was soon to be a dad. That's when I decided to switch to circuit racing. I had enjoyed running in SS2000 as practice for the Nurburgring race in 2010, relishing the close door-to-door excitement! To be honest I have loved most of the time I've had on the track ever since!"
Greg's choice of Hondas for almost his entire racing career to date always gets the nod of approval from the younger generation in the paddock. It's not a conventional one for older racers, especially given his love of German road cars, but he is a die-hard fan of the Japanese marque for good reason.
"Hondas are wonderfully reliable cars to race and extremely cost-effective. In my view they offer the best bang for buck around," he added. "Parts are readily available and there's plenty of expert mechanical help available in the Honda scene and especially in Honda Cup itself. People like Andrew Johnston and Shane Hine know their stuff and are always willing to help out, particularly important for the mechanical illiterates like myself!
"Hondas are also damn quick! They can easily be tweaked to levels which would make them competitive in categories many would consider them not fast enough to challenge. Everyone has a quiet respect for them, even the haters!"
Spark currently sits in second place in the Motul Honda Cup Championship points table behind Johnston after the first round. The Speed Works Motorsport Championship event at Pukekohe on December 4-6 marks the second round and Greg will be there with the rest of the Honda racers stretching the legs of their thoroughbred and home-built racers around the sweeping turns of the iconic track.