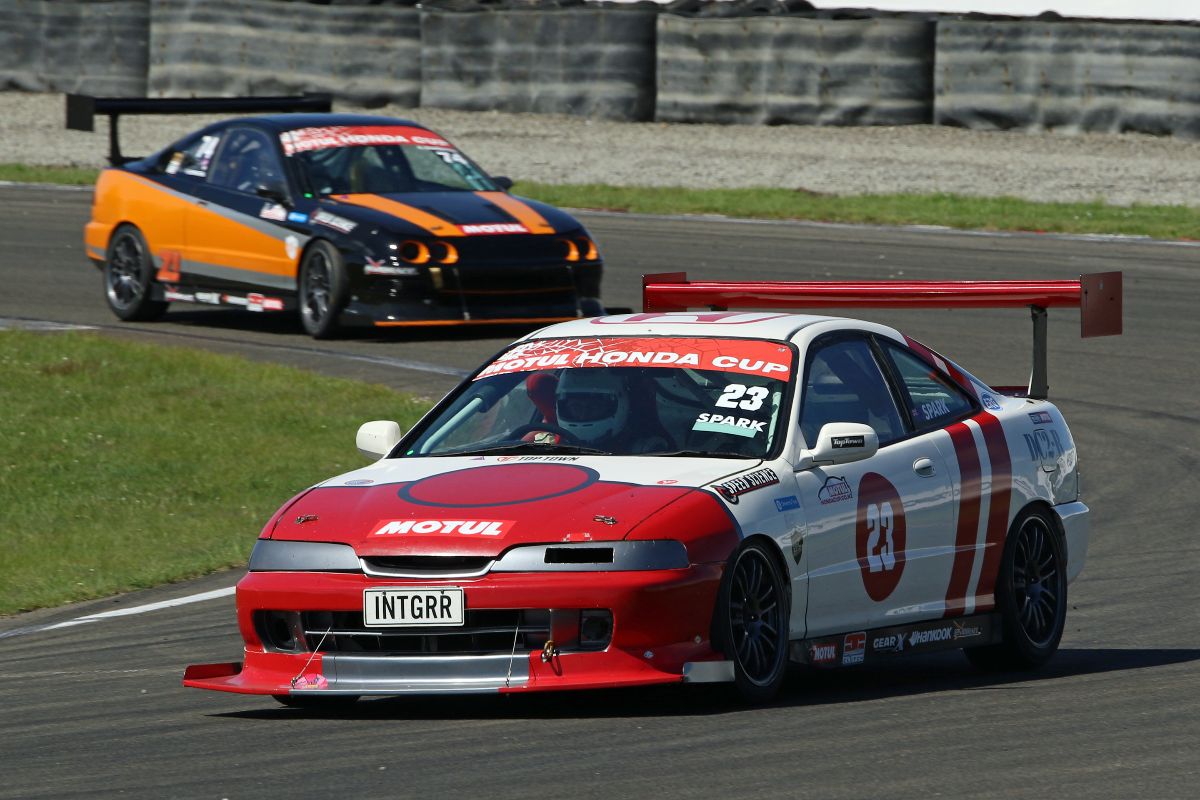 Spark – boomer vs millennial showdown will be 'epic'
A new MOTUL Honda Cup champion will be crowned this weekend at the Bruce McLaren Motorsport Park – Taupo – and the final is all set to be a boomer vs millennial epic according to one of the protagonists.
Greg Spark, who has raced at the Nurburgring and in the Targa New Zealand events over a long motorsport career has a narrow five point lead over up and coming racer Chris Hughes.
Hughes is the racer with perhaps a little more momentum, having won last time out at Pukekohe Park to narrow the gap to Spark.
There's a 'but' though, and it's a big 'but'…Hughes will be carrying 40kg of success ballast for the final, while Spark will be over 60kg lighter than he ran at Pukekohe with his own success ballast removed after an average weekend.
Both have well-developed and sorted cars that have been at or near the front of a very closely matched Honda Cup field all season. That will make for an intriguing finale in Taupo over the weekend.
It's also worth noting that there are 85 points up for grabs at the weekend, and with only 28 separating the top five in the overall standings, the Honda Cup could yet provide a few more twists and turns before the champion is confirmed on Sunday.
"It's anyone's to win," said Spark ahead of one of his biggest weekends in motorsport. "Chris is only five points behind me, and if not for two DNFs would have been leading, so he's probably favourite to win. I'll be doing my best. After our suspension breakage and DNF last round, we've been over the car with a fine tooth comb.
"With Chris's car carrying and extra 40KG reward ballast from Round 4, and mine running over 60kg lighter having lost all my "rewards" and done a little more lightening work on the car ahead of the final, I'm hoping it will even things up a bit.
"It's very much a fight between the elderly and youth, an epic boomer-millennial contest – here's hoping experience counts for a lot!"
Hughes is equally as focused and says there are too many variables to do anything other than focus on going hard and trying to do well in every one of the weekend's three races.
"There's no question the challenges for me this weekend will be the extra 40kg I'll be carrying over the others and maybe the weather," he said. "You never really know what you're going to get in Taupo! I've made a couple of set up changes to hopefully liven the car up through the tighter first section, so I am really hoping this will keep me competitive with the added weight. I'm still behind in the points, so I've got to just keep charging."
It's the first time for more than two years that the MOTUL Honda Cup has been to Taupo and the faster cars can be expected to be nudging on the 1 minute 40 second lap time or quicker.
With 12 very different corners and plenty of overtaking opportunities, car setup and track knowledge will be crucial. Taupo is very demanding on brakes with three high speed braking zones into tight corners.
There will be Friday practice for the Honda racers to get their eye into the challenging circuit ahead of the weekend, with qualifying and the rolling start scratch race on Saturday with the reverse top ten format race on Sunday morning and the final race of the season, the series' usual handicap format, in the afternoon.
MOTUL Honda Cup Championship points
Overall
1 Greg Spark 210
2 Chris Hughes 205
3 Steve Hughes 193
N1 Competition
1 Shane Hine 283
2 David Harker 199
3 Matt Dallimore 187