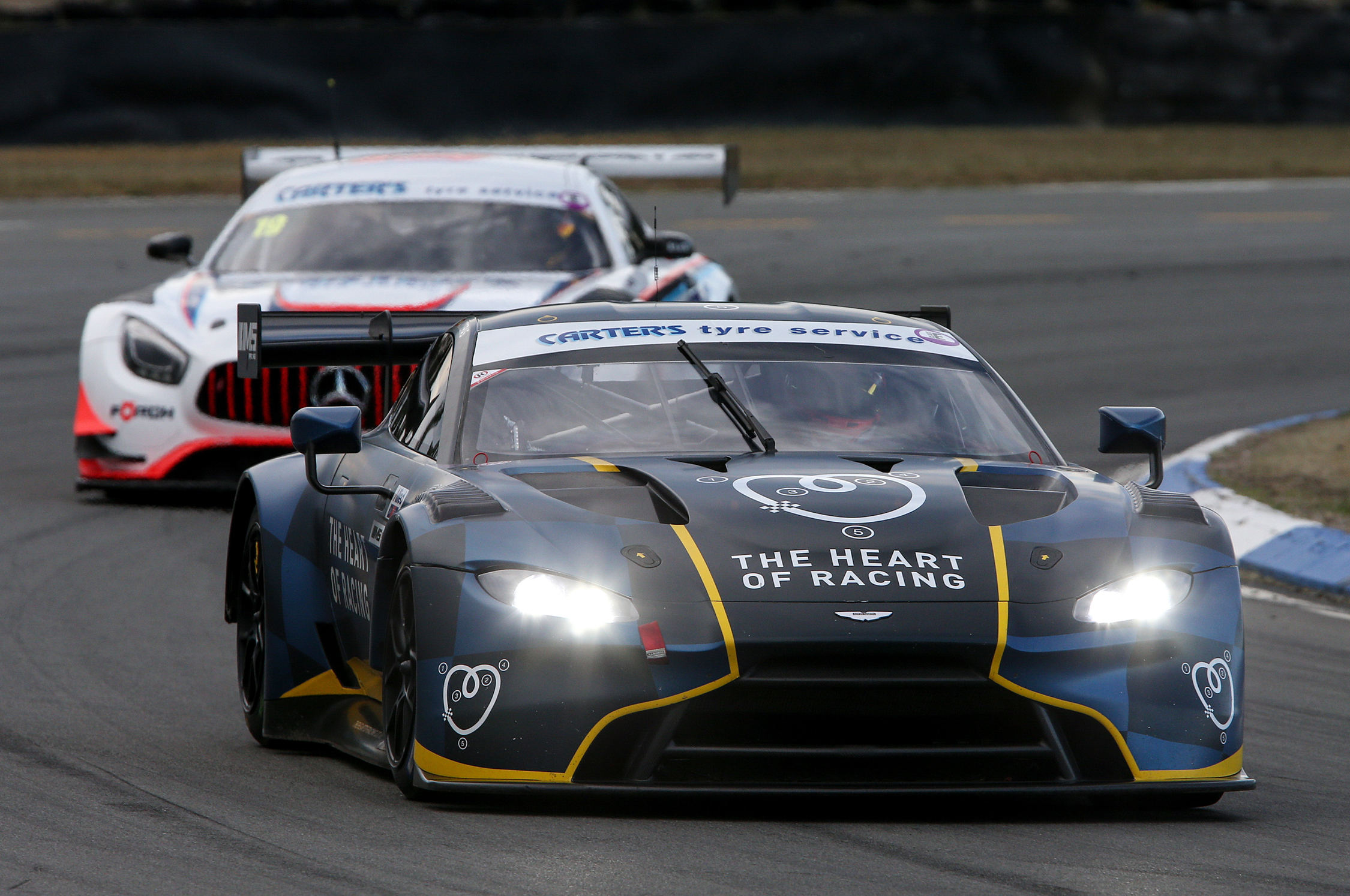 Second win for Riberas/Kelly Aston in Three Hour South Island enduro
Another slick but solid performance by the Heart of Racing Team saw Spanish international Alex Riberas and D1NZ drifting star Darren Kelly take out the win in the Three-Hour Carter's Tyres South Island Endurance Series race in Christchurch on Saturday. With free entry for spectators and warm spring weather, a large crowd at the Mike Pero Motorsport Park witnessed the pairing comfortably crossing the finish line for their second win of the series.
"It's been a very full on day after yesterday's practice and having to do a lot of work on the car," commented Kelly. "The team has done an incredible job setting the car up. It has been a luxury to drive. It has performed perfectly today and Alex was able to take over from me and take it to the end."
Making its NZ debut and second home was the Mercedes AMG GT3 of Dwayne Carter and four-time Bathurst winner Greg Murphy.
"Obviously Alex (Riberas) was pretty quick so we weren't really chasing them down," commented Murphy. "We tried to save fuel, but we realised that we would run out in the end so also had to make a quick splash and dash."
They were comfortably clear of third home Christina Orr-West/Brendan Leitch (Audi R8 LMS GT3) who now move into second overall having also finished third at the opening round.
"It was about managing the fuel as we knew it would be close," commented Orr-West. "I think we are definitely in the fight at Timaru and will give it a crack."
Any of seven top GT3 cars had the potential for winning but reliability proved to be key with four cars dropping out of contention within the first sixty minutes.
First to pit with problems was the Audi R8 of Andrew Fawcett/Sam Fillmore after complaining of understeer and clipping a slower competitor. They were to re-join the field down in 15th position, working their way finally through to a well-deserved fourth place.
While last season's champions Neil Forster/Jonny Reid (Audi R8 LMS GT3) were fastest in qualifying, their car lost drive after 17 laps, pitting for repairs. While they eventually re-joined, they were a non-classified finisher due to not completing 75% of the winner's lap count.
Next, recent winners of the first North Island Enurance Series three-Hour race, the McLaren 650S of Glenn Smith and John DeVeth, dropped out of contention and retired with temperature problems having completed only 29 laps.
Right from the start the Chev Camaro GT3 of John McIntyre/Nick Ross jumped into the lead which they held for the first third of the race.
Unfortunately, their efforts were undone with an over-heating rear differential, forcing them into retirement.
While their were very few safety-car periods over the three hours, the race took its toll with 13 out of 25 starters finishing.
As well as outright victory, Riberas/Kelly won Class E (GT3) from Carter/Murphy and Orr-West/ Leitch.
Class D (GT) was won for the second time by Anthony Leighs/Paul Kelly (Porsche Cup Car) ahead of Rob Williams/Phil Blythe (Porsche 997 GT3 Cup) and Shane Helms/Hamish Frew (Ford Falcon V8 SuperTourer).
Making their return to the Series saw a win to Scott McDermid/Craig McDermid (Toyota 86 Enduro) in Class C (>3501cc) from Grant Silvester/Dean Perkins (Ford Falcon) with Cameron Davies/Flyn Mitchell (Mazda RX8) third).
Class B (2001-3500cc) went to Teretonga victors Rowan Shepherd/Loch Fitzgerald-Symes (Audi RS3 LMS TCR) ahead of Ron Mackersy/Warren Good (VW Golf Cup).
Three entrants retired out of Class A (0-2000cc) handing the win to Noel Simmons/David Berry (Honda Integra).
Drivers and teams now have only two weeks before the third and final round Saturday 17 October at the Timaru International Raceway.