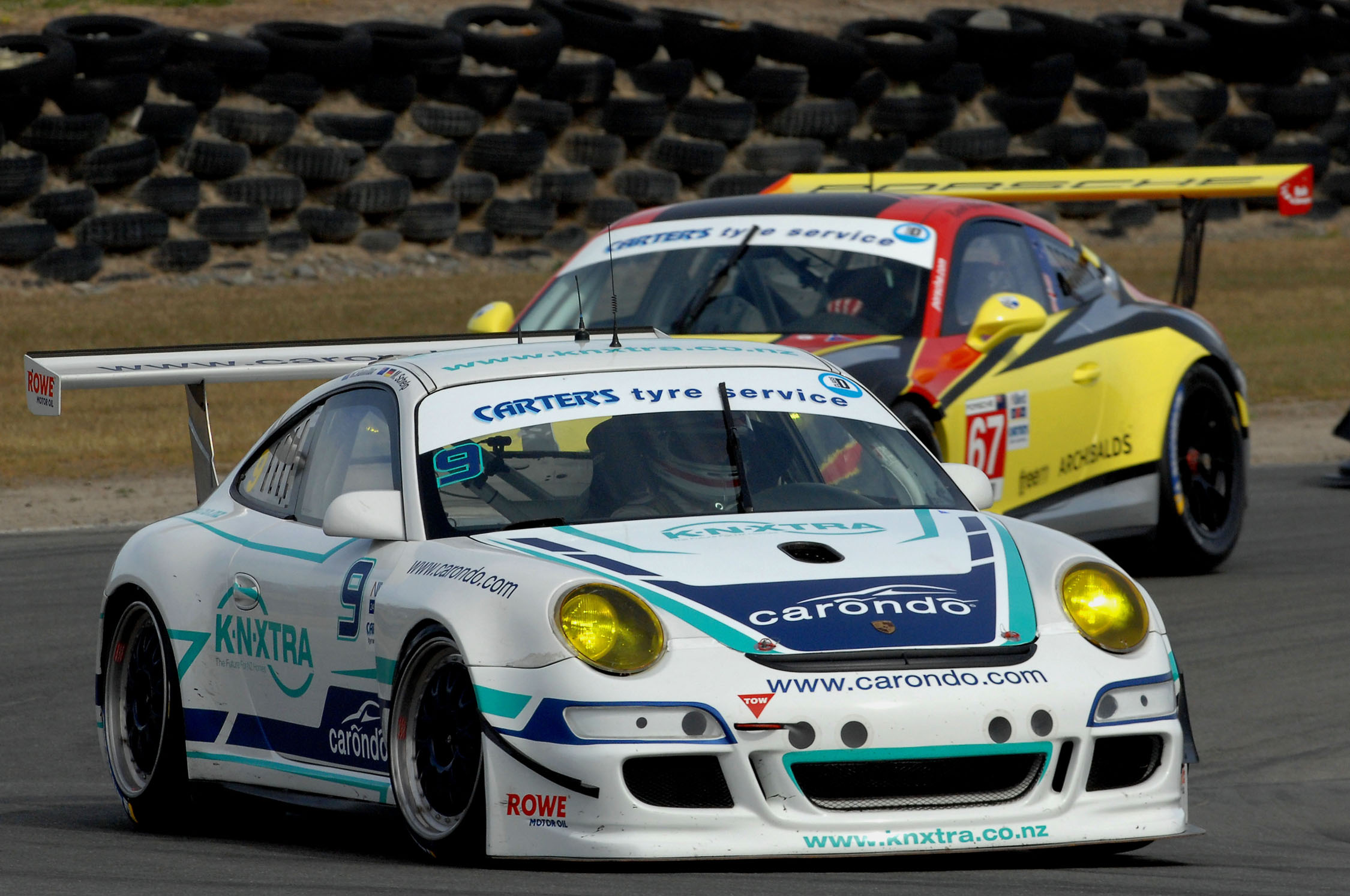 Schelp wins as Porsche dominate South Island One Hour race at Ruapuna
Marco Schelp put in a commanding performance to qualify fastest, going on to win the Carter's Tyres South Island One Hour Series race at the Mike Pero Motorsport Park, Christchurch on Saturday. The second round of the series' saw 39 cars take to the starter's grid with 34 finishers with the top six placings filled by Porsche teams.
While Schelp won the race, the series lead is now tied between Ben Derrick/Garry Derrick (Porsche 991 GT3) who finished second and Martin Dippie (Porsche 991 GT3 Cup) who finished third. As these positions were reversed at the opening round in Invercargill, both head to the final round in a fortnight's time at Timaru International Raceway, tied.
"Was really great and a lot of fun," commented Schelp. "The safety car at the halfway point was an advantage as it was straight forward to pit and get out again (with the lead)."
Schelp made it look relatively easy with his lead reduced only due to several safety car periods. "The difficulty was in the last two laps when I lost third gear and so just brought it home."
Race favourite and winner of the opening round at Teretonga Park in Invercargill, the Ford Mustang of Sam Collins/Nick Ross, did not qualify due to transmission problems, forcing them to start from pit lane. Having moved through almost half the field within the first two laps, their luck ran out as they were side-lined with a similar problem that they faced earlier in qualifying.
This was the first of several safety car interventions that played its hand in the 60-minute race. The biggest impact was a safety car period right on halfway which saw a mad scramble of cars into pitlane and a shuffling of positions.
A quick pitstop from the second placed Derek's Porsche saw them jump up from fifth to second, also helped by a spinning Russell McKenzie who dropped down from second position.
"Dad got us off to a great start with some key passes early on so set us up for a good change over at the pitstop," comented Ben Derrick. "We had a pretty clean stop and got out in front of a couple of others."
Fourth placed Porsche was the Scott O'Donnell/Allan Dippie ahead of fifth placed Russell McKenzie (Porsche 991 GT3 Cup) with the #8 of local Danny Whiting (Porsche 991 Gen II GT3) sixth.
First non-Porsche finisher was the Honda Civic TCR of Jordan Michels in seventh.
"Not bad for four cylinders, so pretty stoked with the result," Michels said. "The boys made the right call for the pitstop and it went perfectly. We came out third or fourth.
"We have the pace but not the horsepower to beat the Porsche in front of us. We are every bit as quick through the corners but the straights here are too long and in traffic they have the horsepower and are quicker."
As well as vying for overall placings drivers were competing for Class titles. Schelp won Class D (GT) while Bruce Davidson (Chev Corvette C6R) won Class C (>3501cc) finishing tenth overall. Second in Class was the Nissan R32 GTR of Murray and Karl Beeby who finished 12th overall.
For a second time Michels won Class B (2001-3500cc) ahead of Dennis Chapman (Audi RS3 LMS TCR) who finished 13th overall.
In the competitive Class A, it was a Honda on all steps of the podium with Andrew Gibson/Paul Booth (Honda Civic) winning the class and finishing 18th overall. Second home was Teretonga Class A winners Andrew Kitching/Andrew Bartlett (Honda Civic) with Clark Scott/Jim Boult (Honada Integra Type R) third.
Drivers and teams will head to the Timaru International Raceway for the third and final round 17 Oct 2020.