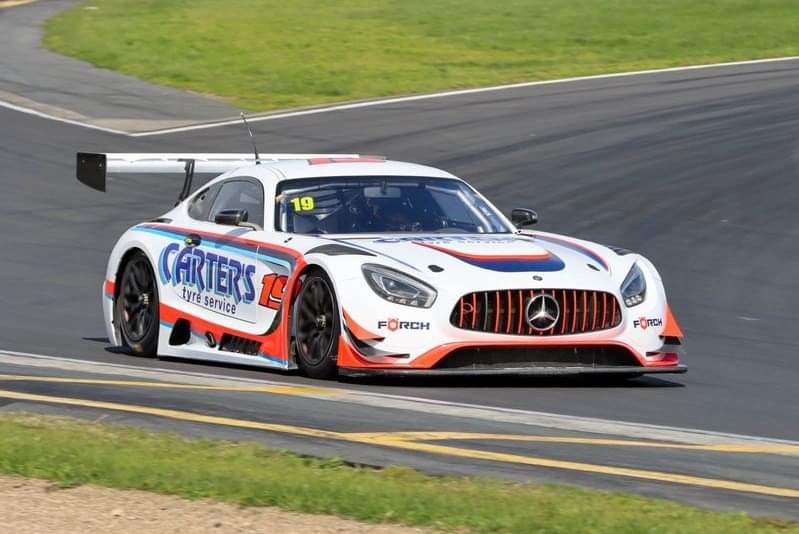 Greg Murphy/Dwayne Carter Merc adds more spice to Three Hour South Island Endurance race on Saturday
Four-time Bathurst 1000 winner Greg Murphy will join Series sponsor Dwayne Carter in the Mercedes AMG GT3 on Saturday for the Carter's Tyres South Island Three Hour Series race at the Mike Pero Motorsport Park in Christchurch. The second round sees a big increase in both entrants and the level of competition for both outright and Class honours.
Three weeks ago, Teretonga Park in Invercargill hosted the opening round which proved a cliff hanger between the current champions Neil Foster/Jonny Reid (Audi R8 LMS) and the stunning Aston Martin Vantage GT3 of Alex Riberas and Darren Kelly. While Foster and Reid led for most of the race, a better pitstop by the Aston Martin crew saw Riberas/Kelly take a narrow win.
The race this Saturday has the hallmarks of an even bigger thriller with the addition of the both the winning and second placed cars from the opening round of the 2020 North Island Endurance Series joining the grid. Both the McLaren 650S of Glen Smith/John DeVeth and the Audi R8 LMS of Andrew Fawcett/Sam Fillmore have come South after beating the Riberas/Kelly Aston at Hampton Downs a fortnight ago.
Add in the Murphy/Carter Merc and the Chev Camaro GT3 of Simon Gilbertson/John McIntyre and there are six cars capable of winning at Ruapuna. Reliability is the key and if any of the teams' falter, there will be a handful of Porsche drivers waiting to step up to the podium.
Five separate classes will be in contention with the outright winner likely to come from Class E (GT3). Local drivers Paul Kelly and Anthony Leigh won Class D (GT) at Teretonga and are likely to come under threat from the Porsche of Scott O'Donnell/Allan Dippie and two Ford V8 SuperTourers of Paul Rickerby/Graeme Rhodes and Darryl Barret/Hamish Frew.
With an absence of Class C (>3501cc) finishers at Teretonga, this round will see the return of the Scott McDermid/Craig McDermid Toyota 86 Enduro up against the Cameron Davies/Flyn Mitchell Mazda RX8.
Barry Moore/Tim Mackersy (VW Golf GTi TCR) are no strangers to leading Class B (2001-350cc) but will have to contend with the Hyundai TCR i30N of Rhys Gould/Ransley Jayden who retired from the first round on the opening lap. Also, in the mix will be Ron Mackersey/Warren Good (VW Golf Cup), Grant and Cole Askew (Seat Supacopa Leon), Ryan and Patrick Heagney (Toyota Sprinter GTV) and a very quick Audi RS3 LMS TCR of Rowan Shepherd/Lochlainn Fitzgerald-Symes.
Terence and Darryl Phillips of Ashburton won Class A (0-200cc) at Teretonga and have plenty of competition from four other class contenders.
Saturday's round at Ruapuna will be in contrast to the opening race with a longer more technical circuit to compete on. Qualifying takes place on Saturday with the Three Hour race set to go early afternoon. With COVID-19 restrictions back to Level 1, the Canterbury Car Club has opened its gates to spectators free of charge. Racing will also be live-streamed thanks to The Heart of Racing.
The third and final round will take place at Timaru International Raceway 17 October.