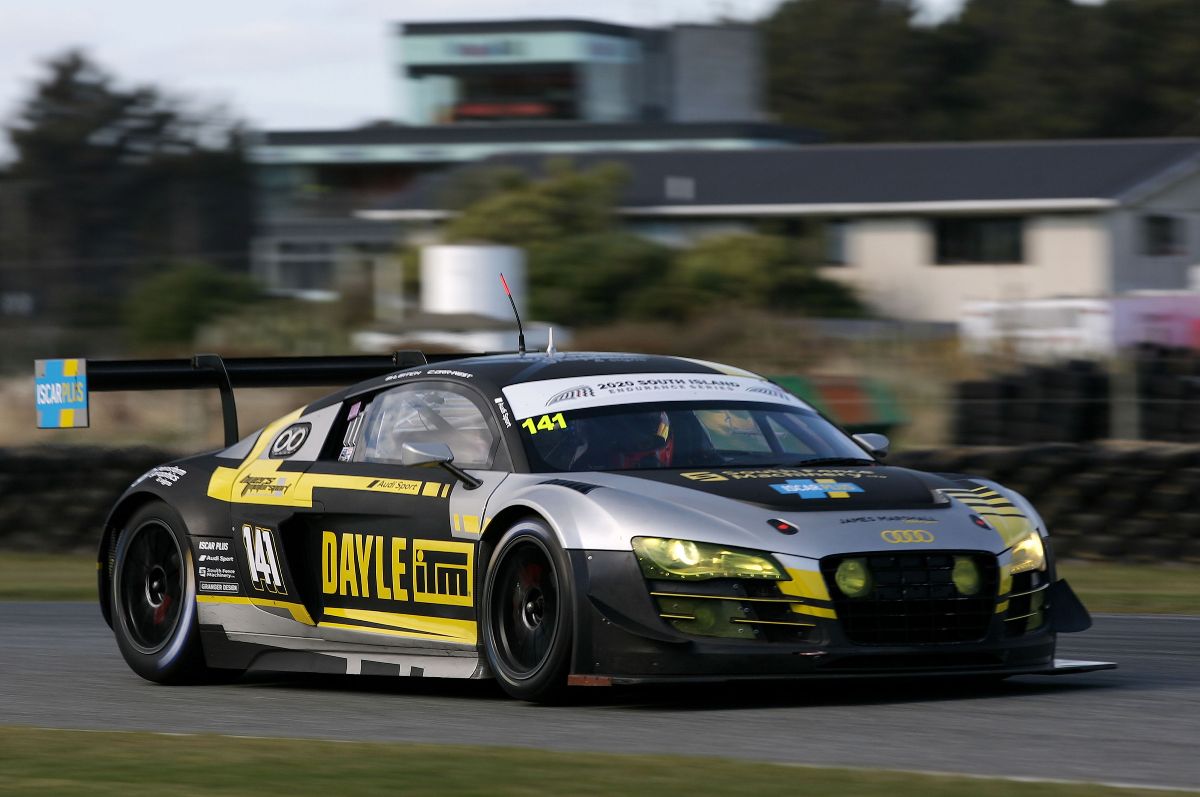 Dayle ITM duo aiming for fast and trouble free run in Christchurch
Dayle ITM Racing drivers Christina Orr-West and Brendon Leitch are aiming to take the fight to the opposition this weekend at the second round of the South Island Endurance Championship in Christchurch.
The duo currently sit third in the championship standings and third in class after their podium finish at the first round at Invercargill's Teretonga Raceway a fortnight ago. Both are big fans of the Mike Pero Motorsport Park and as they push the performance envelope of the Dayle ITM Audi R8 Ultra, they are confident a combination of strong driving skill, circuit experience and smart strategy calls will have them nipping at the heels of the newer GT cars in the field.
And for both drivers, there was a hint of redemption as they looked forward to the Ruapuna weekend.
"I haven't had an amazing run there in years past," said Leitch. "But the notable exception and the weekend that proved to myself I can go very well at the track was 2016 in the TRS series when I was running second behind Lando Norris in the Lady Wigram Trophy race on slicks in the rain.
"A few cars pitted for wets and then came through and snatched it away from us but I was well in the groove that weekend qualifying third and fourth as well as going well in the changeable conditions. I'm getting more confidence with the Audi every lap, so I will be pushing hard this weekend to extract the maximum from myself and the car."
For Orr-West, the trip to the Ruapuna circuit this weekend is also about making up for a very challenging event last year in the same car, where she was paired with car owner Ben Byers.
"Last year race was one to remember for so many reasons," she explained. "From the car being damaged when Ben had contact with another car to our car having gearbox issues and then stopping in the middle of the race being towed back in eight laps down with a throttle issue that carried on for the remainder of the race and made driving extremely challenging.
"It was damage limitation as far as I was concerned getting the car back into the top ten and getting third overall in last season's series. Problem free and with myself and Brendon on driving duties, we've got to be optimistic we'll be strong throughout the whole three hours and if everything comes together, I reckon we'll be right there."
Practice for the Three Hour race takes place Friday with qualifying and the main event – which will also feature Greg Murphy in the Carters GT3 Mercedes – on Saturday afternoon.