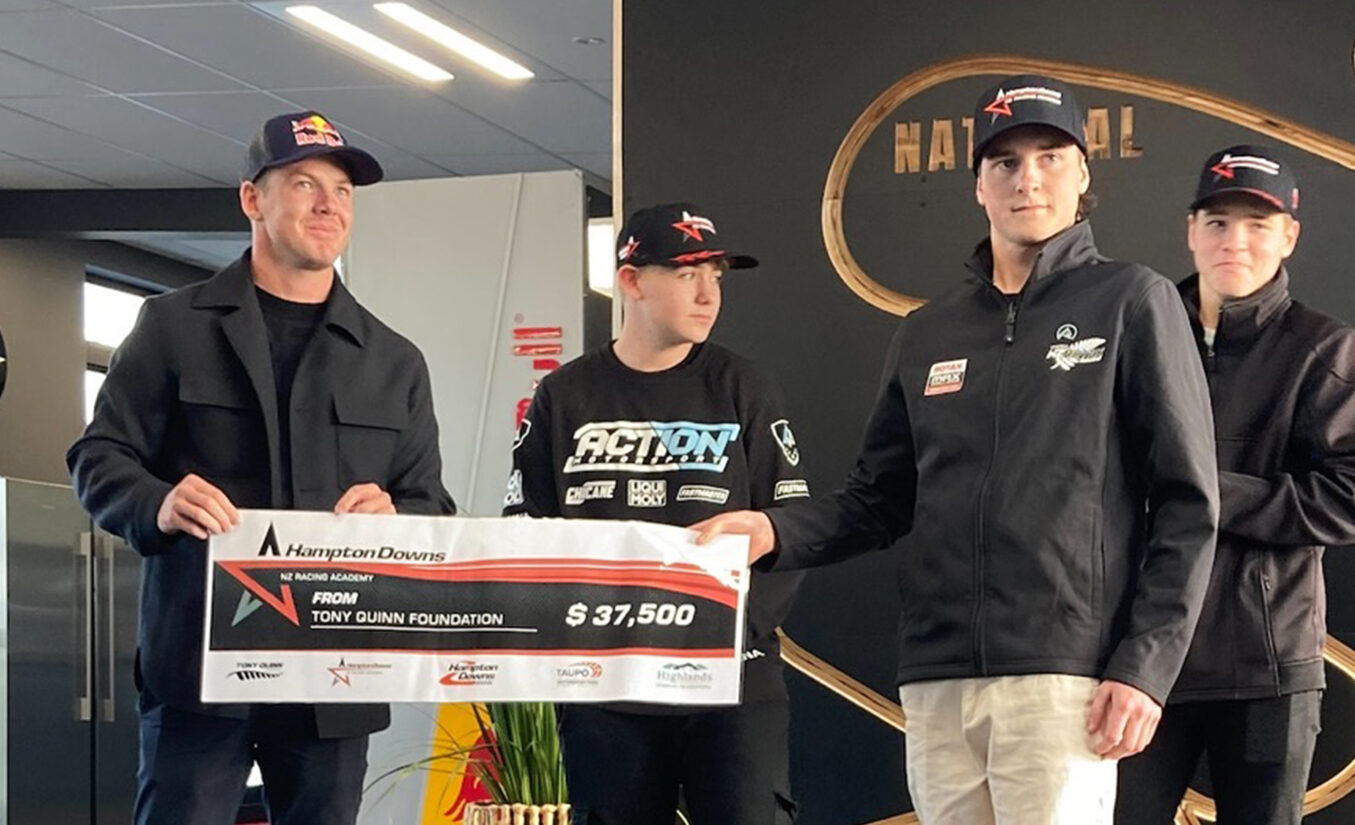 Rooney wins the TQF Toyota 86 shoot-out
A 19-year-old heavy transport engineer from Hawkes Bay has won one of New Zealand motor racing's most prestigious prizes, the Hampton Downs NZ Racing Academy's Toyota 86 shoot-out.
Jackson Rooney outclassed three other finalists for the $37,500 cash prize from the Tony Quinn Foundation towards racing in New Zealand's Toyota 86 championship, and with it his chance to start a motor racing career.
Rooney has an impressive kart racing background, with championship wins in both New Zealand and Australia, but has never raced a car. His only previous experience behind the wheel of a Toyota 86 race car has been in testing.
"It was definitely a big challenge for me. I've done another test day but nothing with the pressure of this, with all the judges. It was a new challenge and I enjoyed it," said Rooney.
Like all the finalists in the shoot-out, Rooney faced scrutiny on the track from professional race car drivers, was tested on feedback by data engineers, interviewed by media representatives and people experienced in the commercial sphere of motorsport.
"They didn't just judge me, they also taught me a lot of things today, so it was a good learning day," he added.
Winning the grant from the TQF has allowed Rooney to finally graduate from karting to race cars.
"Winning this support is definitely what's going to get us out there and underway. I've closed the chapter on karting now and all my focus is going towards car racing."
The guest judge at the HDNZRA shoot-out, Nick Cassidy, was impressed with the talent he saw on display and knows the importance of winning scholarships early in a career is a vital springboard for moving forward.
"The level of New Zealand motorsport is proven by the international success we are currently having, but today shows the grassroots are still strong and healthy," said Cassidy, who recently signed to Jaguar's Formula E team.
"Scholarships like this from the Tony Quinn Foundation are key to providing assistance on the next step of the ladder, something I know all too well."
Cassidy won a scholarship to kick-start his career from karting into Formula First in 2008 and went on to win championships in New Zealand, Japan and came agonisingly close to winning the Formula E world championship this year.
"It was great to be part of the shoot-out, I really enjoyed myself today and New Zealand motorsport is in safe hands with the talent I saw on track, all of whom did a fantastic job."
Choosing a winner from four very talented finalists was no easy task but HDNZRA instructor and TQF Trustee Daniel Gaunt confirmed Rooney topped all the criteria.
"The TQF is excited to be helping Jackson into the 2023-24 Toyota 86 championship," said Gaunt. "Everybody got a fair run today and the competition was evenly judged. Jackson emerged a clear winner on the day."
Rooney will begin his motor racing career at the Taupo International Motorsport Park in mid-November when the Toyota 86 championship kicks off a six-round series.
The other finalists for the HDNZRA shoot-out were Mitchell Sparrow, Hunter Robb and Cormac Murphy.