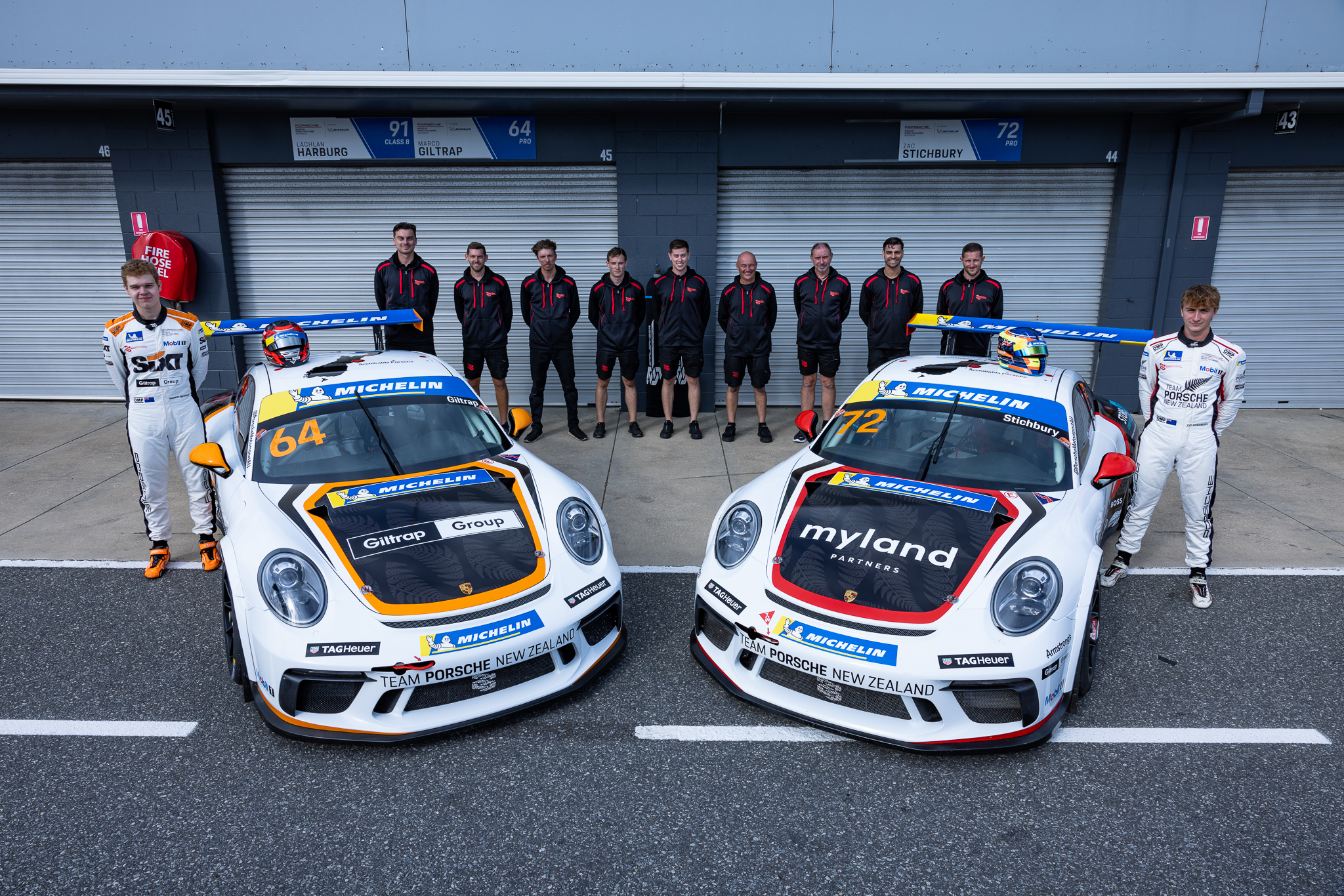 2024 Team Porsche New Zealand scholarship applications open
Team Porsche New Zealand (TPNZ) is opening the application process for its scholarship programme to support a young Kiwi motorsport talent to drive in the 2024 Porsche Michelin Sprint Challenge Australia series.
This will be the fourth year that Porsche New Zealand is running the scholarship program, after the success of Matthew Payne in 2021 and Callum Hedge and Ryan Wood in 2022. In 2023, Zac Stichbury has been driving in the Sprint Challenge scholarship seat, however it has been announced in 2024 he will be graduating into the Carrera Cup seat which has been held by Callum Hedge for his second year in 2023.
Applications are open until 30th September 2023. To apply for this scholarship, candidates will need to attach a CV as well as a 300-word summary of why they should be the next Team Porsche New Zealand Driver. A short list of applicants will then be chosen for interviews and assessments before a final selection will be made.
Please Note: This is a junior Scholarship program and applicants must be between the age of 16 – 21 as of January 1st, 2024, and must be a resident or citizen of New Zealand.
Further information, as information on how to apply is available at porsche.co.nz/teamporschenz
"And now we're excited that we are opening 2024 allocations for the Porsche Sprint Challenge seat," said Earl Bamber.
"This category has been really great to nurture our drivers in year one of the program, so we are excited to see what young talented drivers from New Zealand will apply for 2024."
Team Porsche New Zealand (TPNZ) is also pleased to announce that the Carrera Cup Australia scholarship driver for the 2024 season is Zac Stichbury. Zac has graduated from competing in the 2023 Porsche Sprint Challenge through the scholarship programme, to the main scholarship seat in the 2024 Porsche Carrera Cup Australia series. In his first year competing with TPNZ, Zac is currently ranked third in the 2023 Porsche Michelin Sprint Challenge Australia. The 991.2 GT3 Cup Car has been a stand-out on the grid after Zac unveiled the iconic Whittaker's Chocolate 'Peanut Slab' themed livery earlier this year.
In addition, it has been announced that Marco Giltrap is also going to compete for Team Porsche New Zealand in 2024 in the Porsche Carrera Cup Australia season. After 4 of 6 rounds in the 2023 Porsche Michelin Sprint Challenge Australia Championship, Marco Giltrap is currently leading the series. Earl Bamber Motorsport will be managing both drivers in the 2024 season, increasing the driver count for the Carrera Cup Australia grid to two for TPNZ in 2024.