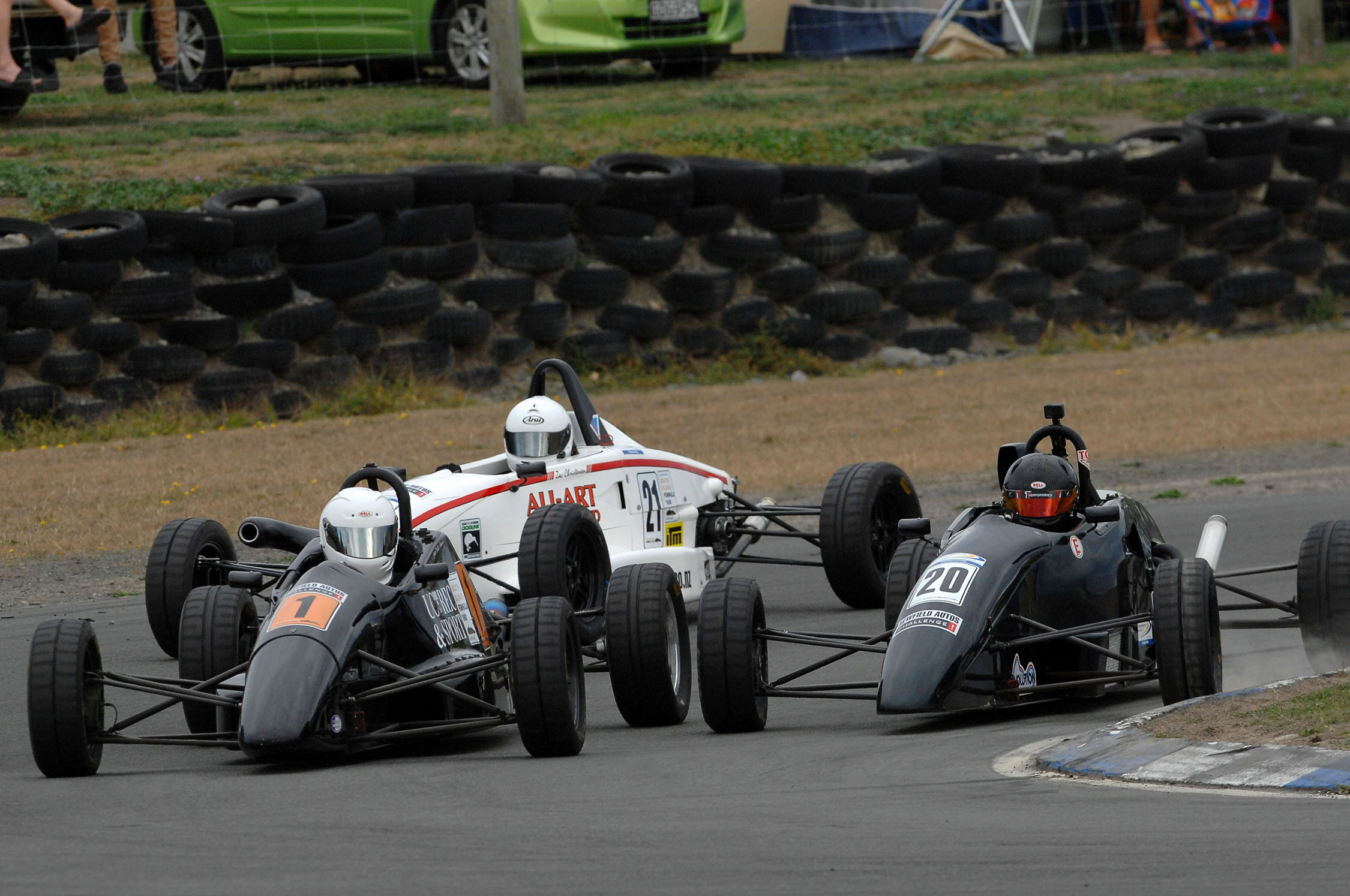 'Rookie of the Year' ample reward for Jacob Douglas in South Island F1600 Series finale
Having missed the first two rounds due to international kartsport commitments, Christchurch's Jacob Douglas has come away from his debut season in the South Island Formula 1600 Series finishing sixth overall and top rookie driver. At the final sixth round held at the Mike Pero Motorsport Park over the weekend, Douglas found himself competing for podiums and ended up with a third, and two fourth placings.
"We made lots of progress," commented Douglas (Van Diemen RF91). "This time fighting for podiums in all three races, which is great."
While James Penrose won all three races claiming the overall title, it was left to Douglas, Zac Christensen (Ray GR20) and Jack Noble-Adams (Van Diemen Stealth) to fight over second and third placings.
Having qualified third, Douglas found himself fighting for second place in the opening race on Saturday afternoon and having to settle for third, but ahead of Jack Noble-Adams.
Sunday morning's second race saw Douglas again fighting for second but contact with Noble-Adams had him dropping back to fourth.
"I made a pass for second and unfortunately got spun round after a coming together with Jack," said Douglas. Fortunately, his resulting spin was controlled, and fourth place held behind Christensen.
The finale feature 12-lap race with double points on offer saw Christensen battling Penrose for the lead. Behind, it was Douglas defending third, for much of the race, from Noble-Adams who finally was able to make the pass for the podium position.
Heading into the weekend, Douglas had high expectations on himself to use the race craft experience he has gained over the summer. Having already tested at his home track, this was the first time he has competed at the Mike Pero Motorsport Park.
"I definitely, came into the weekend wanting to fight for podiums which is what we were doing. We showed that we were capable of doing this and we have had the best weekend so far this season."
Team engineer Andy Neale was pleased with the progress made so far. "Every race meeting he is getting better. Racing in the North Island in the national's was hard and fast and he has benefitted from that and made progress.
"You can make some big gains early then it is about all the detail of getting the car right. It's been good progress across the season."
Douglas now prepares for the NZ Kartsport nationals in Christchurch over Easter where he will be competing in both the Rotax Junior and DBS Junior classes. The Formula Ford Festival in Christchurch, 1 May, will see Douglas competing in the third and final NZ Formula Ford Championship round.