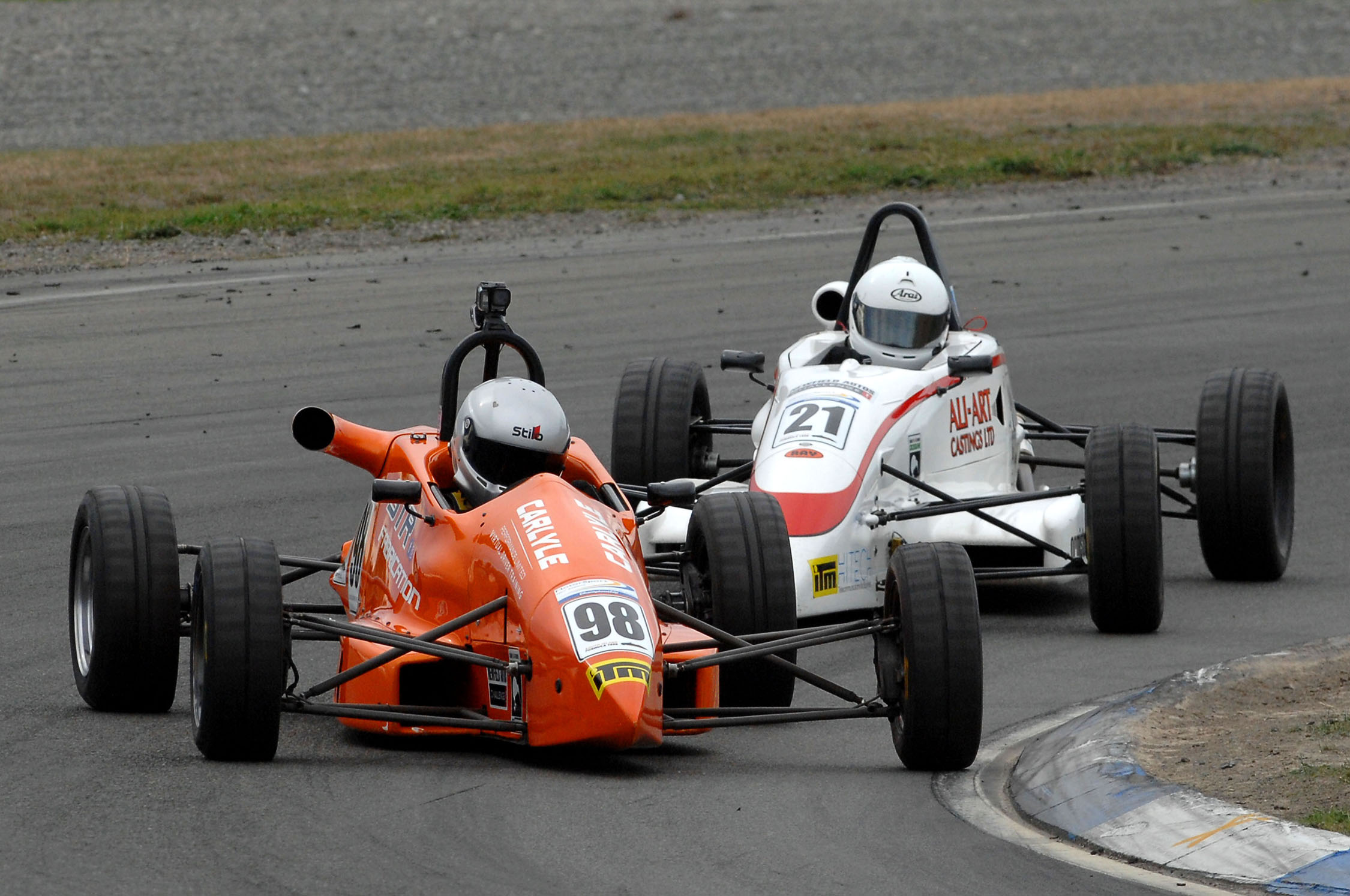 Perfect Penrose makes history in winning the 2020/21 South Island F1600 Series title
Christchurch's James Penrose has won the 2020/21 South Island Formula 1600 Series title, setting a record for the history books at the Mike Pero Motorsport Park in Christchurch over the weekend. Penrose (Van Diemen Stealth) qualified on pole at all six rounds of the series and went on to lead every lap in all of the 18 races that he won over the season.
"I'm absolutely wrapped," exclaimed Penrose. "It's something really special, which, going into it I didn't think it would be possible until heading into the last round this weekend. Then the pressure started to come on, maybe from myself. It was just all about staying focused on one race at a time and that's what we did.
"I couldn't thank Dad enough for the work that he has put in to keeping the car competitive. Also to my sponsors STR Fabrication and Carlyle Performance, family and friends and particularly for the SIFF Club for the great season of racing."
Three races made up the last round to decide the overall title and three separate Class titles, with double points on offer for the final feature race of the season.
In the opening race on Saturday, Penrose, as he has done all season, made a clean getaway from the start line winning ahead of Zac Christensen (Ray GR20) and rookie Jacob Douglas (Van Diemen RF91) with Jack Noble-Adams (Van Diemen Stealth) fourth.
Sunday morning saw Christensen initially take the lead after Penrose made a poor getaway, only to be reeled in. While Penrose controlled the race, Christensen, Noble-Adams and Douglas fought over the remaining podium positions. This saw a coming together of the latter two with Douglas spinning after contact with Noble-Adams. Douglas, able to control his spin finished in fourth behind Christiansen with Noble-Adams taking second.
For the final race of the season, Christensen closely tailed Penrose for most of the race but was unable to make a pass and eventually dropped back finishing ahead of Noble-Adams and Douglas who had competed for the final podium position for all 12-laps of the race.
Second overall was last season's champion Jack Noble Adams with Zac Christensen third.
"I had plenty of close battles with Zac over the season," commented Noble-Adams. "He's certainly got faster. Most of the season it was James (Penrose) getting ahead in the first couple of laps, leaving the rest of us fighting behind him."
With three Class titles also on the line, Penrose won Class 2 (1990-1999) from Noble-Adams, Ethan Anderson (Van Diemen Stealth) and Cameron Freeman (Van Diemen RF92).
Christensen won Class 1 (>2000) from Gary Love (Van Diemen RF01), Kim Crocker (Ray GR14) and Ryan Low (Ray GR08).
"It's been a good season, a lot of learning and developing the new car over the summer," said Christensen. "We are happy with the setup of the car and certainly got faster over the season with maybe a few more changes to be made."
In the highly competitive Class 3 (pre-1990) rookie Harry Wilson (Van Diemen RF88) won the title from Noel Atley (Crossle 55F) with Mark Doran (Ray 86F) third and Hayden Cox (Elden Mk8) fourth.
"It's been an awesome season and opportunity, so thrilled I have made the most of it," commented Wilson. "Noel (Atley) definitely hasn't made it easy for me, and that's good as I really had to work for it."
It has been one of the most successful seasons of South Island Formula 1600 racing with an average of 26 cars tackling the six-round series. This season has also seen nine rookies taking part across the three different classes.
Christchurch's Jacob Douglas (Van Diemen RF91) won the Rookie of the Year award with several superb performances after missing the first two rounds. Second was Bo Hill (Van Diemen RF92), who consistently finished in the top-ten, ahead of Daniel Brown (Swift SC96/SC94). The three also finishing sixth, seventh and eighth overall. Alex Crosbie (Van Diemen RF92), Thomas Flynn (Swift SC92) and Dylan Petch (Ray RF20) also put in some superb performances, never far from a top five finish.
While the series has come to a close, many of the South Island Formula 1600 series competitors will now prepare for the Formula Ford Festival at the Mike Pero Motorsport Park, 1 May, with several competing in the NZ Formula Ford Championship final round, as part of the one-day event.