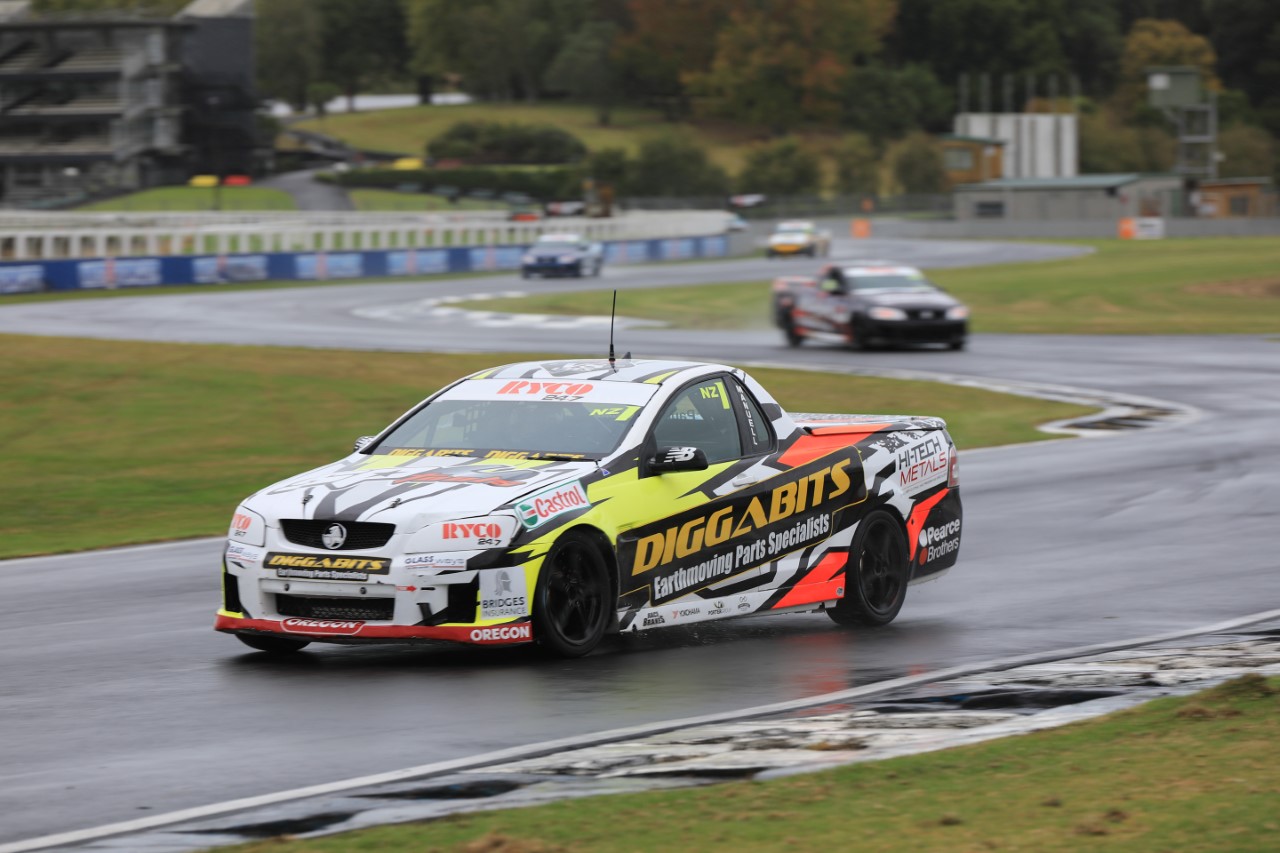 New blood injects adrenalin into V8 Utes
Overnight drizzle did little to dampen the energy levels of the RYCO 24.7 V8 Ute drivers as they headed out for Race 1. When the lights went out, Peter Ward charged ahead of championship leader Paul Manuell, while further back several scraps were developing. Brett Rudd had the edge over Shane Dias, while Brad Kroef – in his first race in a V8 ute – was challenging the more-experienced Stu Monteith.
Lap times 10 seconds slower than qualifying showed the 1800kg utes were clearly a handful in the wet. Come lap 7 as Manuell and Ward headed into the main straight side by side, something had to give. Ultimately, Manuell ran around the outside of Ward on turn 1 and into the lead. Right on the final lap, Dias pipped Rudd to claim 3rd while Monteith held his nerve to retain 5th ahead of Brad Kroef.
Come midday, the rain was gone and the grip was back for the reverse-grid Race 2. Shane Dias wasted no time in surging ahead to 3rd on lap 2, with Paul Manuell in hot pursuit followed by Peter Ward. Further back, defensive skills were coming into play. After his son Brad's heroics earlier in the day, it was Greg Kroef's turn to show off his skills holding off Brett Rudd until 'The Skud' launched himself past on lap 7. Up front, Dias was loving the attention, defending 1st position until he ran wide on the approach to the main straight letting Manuell through on lap 6. That's how the positions remained through to the chequered flag.
For Race 3, the air was cooling but the heat was on to snatch final points of the day. Paul Manuell lead comfortably from start to finish, but further back, positions were not as clear cut. Peter Ward looked safe in 2nd, but Shane Dias in 3rd was under pressure from Brett Rudd. Meanwhile a family feud was developing with Brad and Greg Kroef. An early exiting Phil Ross cleared the way for Brad to pass Stu Monteith, leaving his father next in his crosshairs. On lap 10 Brad made his move to snatch 6th. So the final story of the day was the rising talent that's making its mark in the RYCO 24.7 V8 Utes Championship, setting the scene for an exciting future.