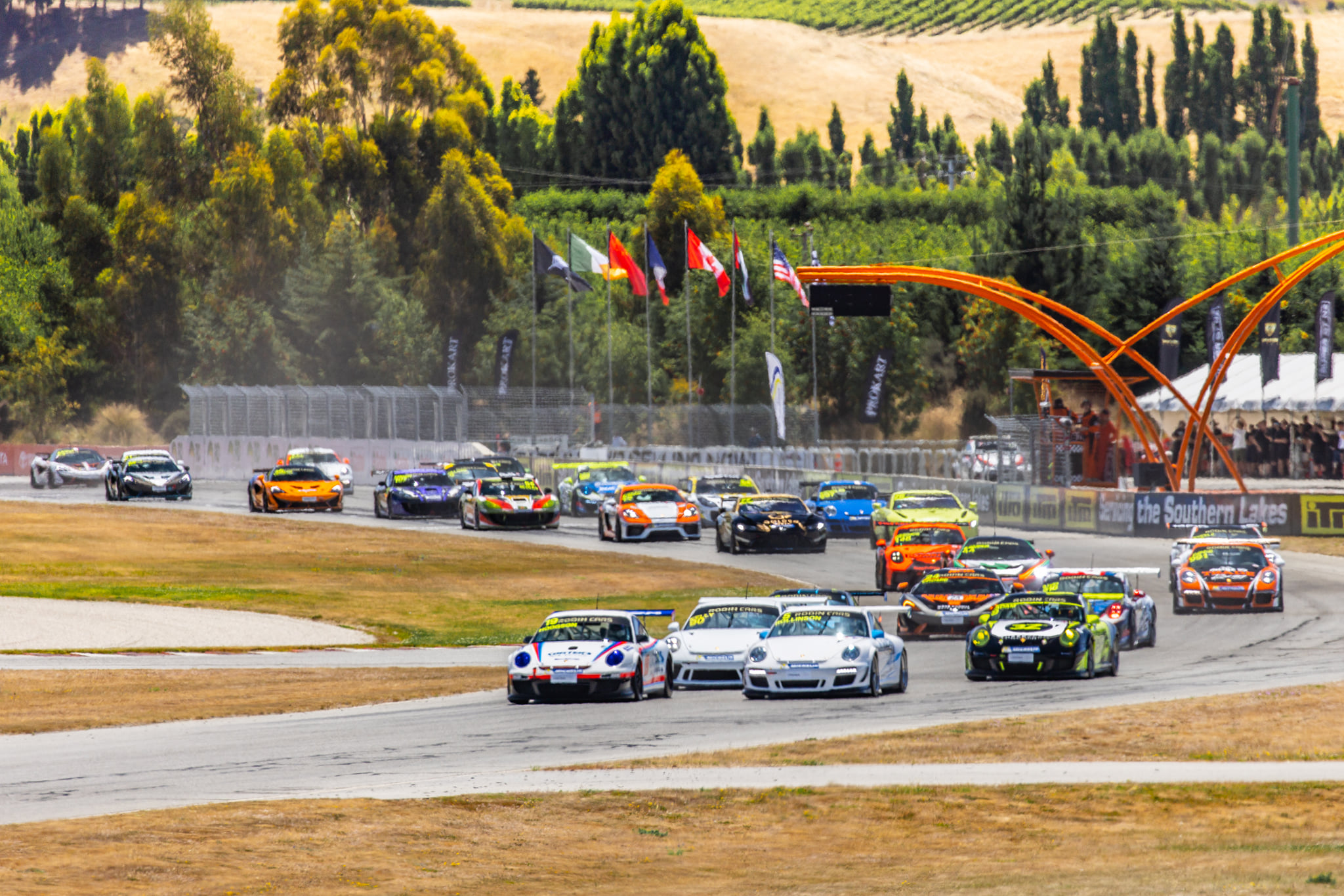 Rodin Cars Super GT Field Set to Tackle Ruapuna for Round Two
Round two of the Rodin Cars Super GT Series gets underway this weekend at Mike Pero Motorsport Park at Ruapuna, Christchurch, with a wide variety of Porsche Cup and GT4 machinery set to line up at the Canterbury circuit for the second hit out of the exciting new series.
The Rodin Cars Super GT Series see's two exciting classes combine with the global Porsche 911 GT3 Cup and GT4 categories bringing some of the country's most exciting racing cars together on one NZ grid for the first time.
Following the two races at round one at Highlands Motorsport Park last weekend, it is Aston Martin driver Stephen Harrison who leads the GT4 class having clinched a class win and a third placing at Highlands.
Veteran, Grant Aitken sits in second spot in his Porsche Cayman, with newcomer Nigel Cromie in his McLaren 570 impressing on debut to hold down third spot in the points.
Leading the Porsche Cup class is Ben Byers, who picked up a win in the feature race at Highlands as well as a fourth placing. Byers is followed closely by Martin Dippie, with youngster Connor Adam a further three points behind in third spot.
The grid for this weekend will see fourteen GT4 cars line up. Five McLaren 570 GT4 cars will be unleashed in the hands of Nigel Cromie, Brent Forman, David Cremer, Todd Bawden and David Cranna.
Two stunning Aston Martin's will be piloted by Shane Helms and Stephen Harrison. While two Ginetta G55 GT4's are entered by Allan Sargeant and Adam Julian.
The rest of the GT4 Class see's five Porsche Cayman GT4 cars lining up from Heremana Malmezac, David Rogers, Francois Beziac, Stewart Callaway and Grant Aitken.
A contingent of eight Porsche's will line up in the Porsche Cup class. Joining series leader Ben Byers, will be team mate Martin Neill, as well as fellow Canterbury racer, Paul Kelly.
Fast at Highlands Motorsport Park a week ago, watching out for young guns in the form of Lochlainn Fitzgerald Symes and Connor Adam.
The remainder of the field see's Steve Sullivan, Rob Steele, Martin Dippie all line up in their respective Porsche machines.
The Rodin Cars Super GT Series will feature a 30 minute race on Saturday, with a further 30 minute encounter on Sunday, as well as the 1-hour feature that afternoon.
To ensure parity between the three different classes of racing, there will be a Balance Of Performance criteria added to each of the races.