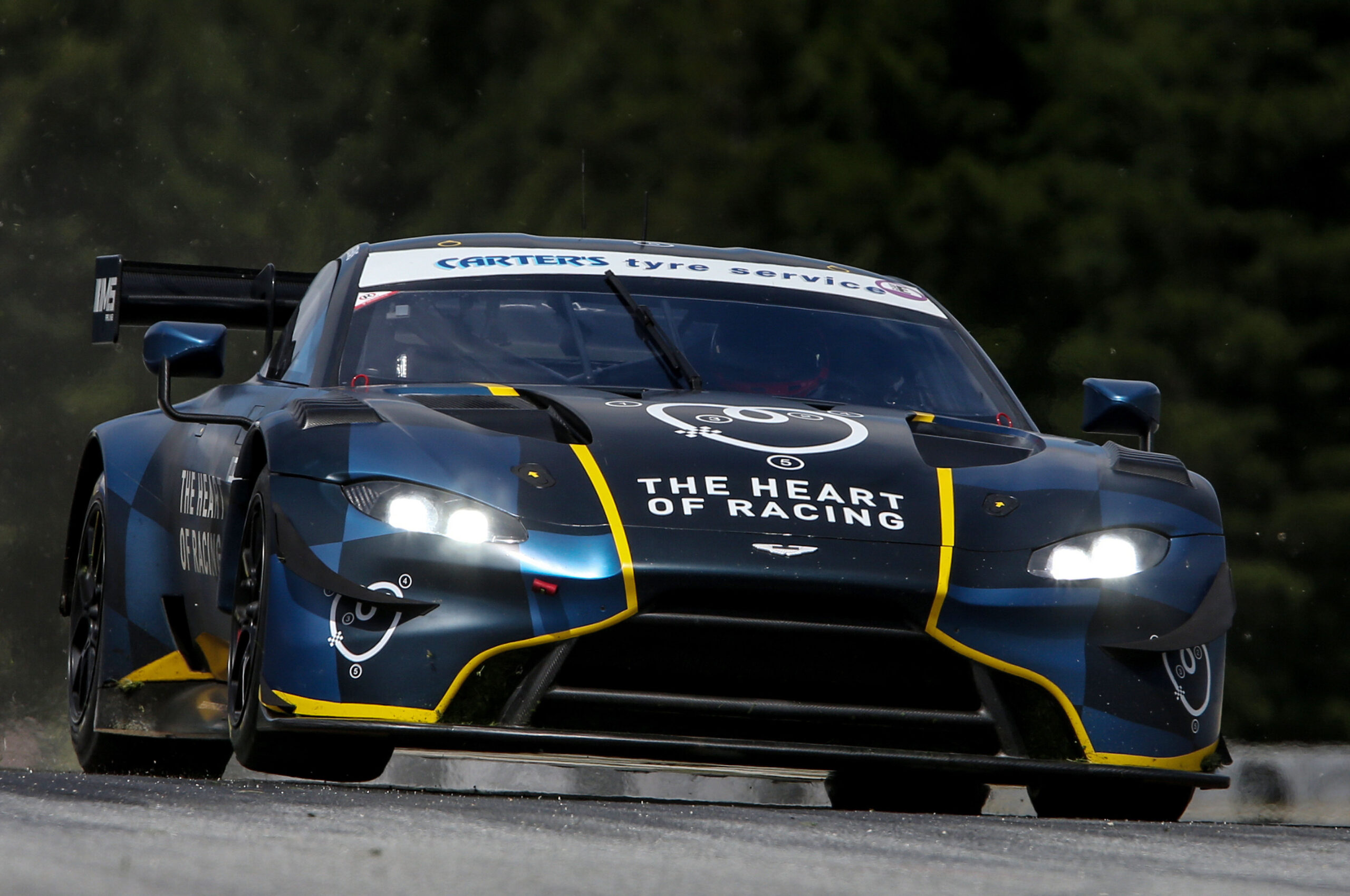 Riberas and Kelly secure Three-Hour NZ Endurance title
The Heart of Racing Team of Alex Riberas and Darren Kelly have won the New Zealand Endurance Championship Three-Hour title at Highlands Motorsport Park, Cromwell, on Saturday.  Having qualified quickest, earlier in the morning, the pairing (Aston Martin Vantage GT3) led from start to finish despite a concerted effort from the pursuing pack.
"It's impossible to explain and describe what we feel right now," said Riberas.  "It's an absolute honour to be here and be part of an unbelievable group of people and cause at Starship Hospital.
"It's incredible to see what Darren (Kelly) has achieved this year and what he has learned."
Second home was the #1 Audi R8 GT3 of defending champions Neil Foster/Jonny Reid.
"We came to win but it is like everything, we didn't have the smoothest weekend," said Reid.  "During the race we had some issues with some sensor failures. Last night we had the gear box out so to regroup today, I'm pretty happy with second.  Beaten by a faster car this weekend."
Three more Audi filled third to fifth places with Scott O'Donnell/Liam Lawson third from Christina Orr-West/Brendon Leitch and Andrew Fawcet/Sam Fillmore fifth.
Red Bull Junior Racing Program driver Liam Lawson was home and making his GT3 debut after competing in the 2020 FIA Formula 3 Championship.  Unfortunately, in qualifying, Lawson inadvertently nudged a tyre bundle and hit the wall, damaging the front left of the car.  Co-driver Scott O'Donnell started from pit lane and for the pair it was always going to be a matter of playing catch up.
"Happy with third," commented O'Donnell.  "We started from pit lane and had a big mountain to climb.  I did my bit and kept it in one piece and Liam just flew with it."
Lawson took over the driving once O'Donnell had achieved the minimum time of 70 minutes required for a driver.  He immediately set the fastest lap of the race which was soon beaten by Riberas when he took over from Kelly in the Aston Martin.  Both drivers continued to trade best lap times for the remaining two hours.
"It was very busy out there," said Lawson.  "I was coming from so far back it was like doing quali (qualifying) laps every lap.  That, with getting through traffic, makes it really tough."
The race took its attrition on the field with ten retirements.  In the opening 60 minutes the Gilbertson/McIntyre Chev Camaro GT3 dropped out of a podium position after having a coming together with the Class B leading Audi TCR of Rowan Shepherd/Lochlain Fitzgerald-Symes sending both cars out of the race.
As well as the competition for the overall title, five individual Class titles were also on the line with Riberas/Kelly claiming Class E (GT3).
"It's been a crazy year but great to be part of this," said Kelly.  "The whole season has been about preparing for this and doing well at Highlands.  Everything to this point was about me getting used to the car, learning how to drive it properly and doing well."
Class D (GT) saw the Holden V8 of Lance Hughes/Simon Evans beat a handful of Porsche contenders.
"Really cool (too win), great job by the Hamilton Motorsport boys," commented Evans.  "We had it pretty much under control.  The traffic was difficult at times but thrilled with the overall (7th) result against these GT3 cars."
Cameron Davies/Flyn Mitchell (Mazda RX8) were quick enough to take advantage of others' demise in Class C (>3501cc), winning their first NZ title.
"Everything went to plan," said Davies.  "Not bad for building something over lock-down in Waimate.  Thrilled to now have a NZ title."
Class B (2001-3500cc) was a battle of TCRs' with the title going to Barry Moore/Tim Mackersy (Volkswagen Golf GTI TCR).  The threat of three Hyundai i30n TCRs' never eventuated with all three running into problems.  Hayden Paddon struck trouble on the opening lap and had to pit to remove the front splitter and played catch up, eventually finishing 13th overall and second in class.  Rhys Gould/Jayden Ransley (Hyundai i30N TCR) led the class for much of the race only to run into problems with their exhaust manifold while the Gene Rollinson/Craig Innes (Hyundai i30N TCR) retired with half-shaft problems.
"It was pretty exciting, hard and hot," commented Moore.  "We were in a real good battle in the front with the Track Tec Audi but unfortunately they had an 'off'.  We didn't have the speed of the Hyundai's but very happy with our pace.  This is our third title so thrilled to have it again."
The competitive Class A (0-2000cc) title went to Mark Taylor/Vaughan Moloney (Honda Integra).
"Great race to win the nationals," said Vaughan Moloney.  "We didn't have a good South Island Series so great to win today.
"You're in amongst some really trick-cars here and the courtesy shown by the other drivers to us slower cars was just fantastic," said Taylor.  "Really awesome to win the title and be a part of this."
The NZ Endurance Championship has been the conclusion of a tight and consolidated period of racing in both the Golden Homes North Island and Carter's Tyres South Island Endurance Series.