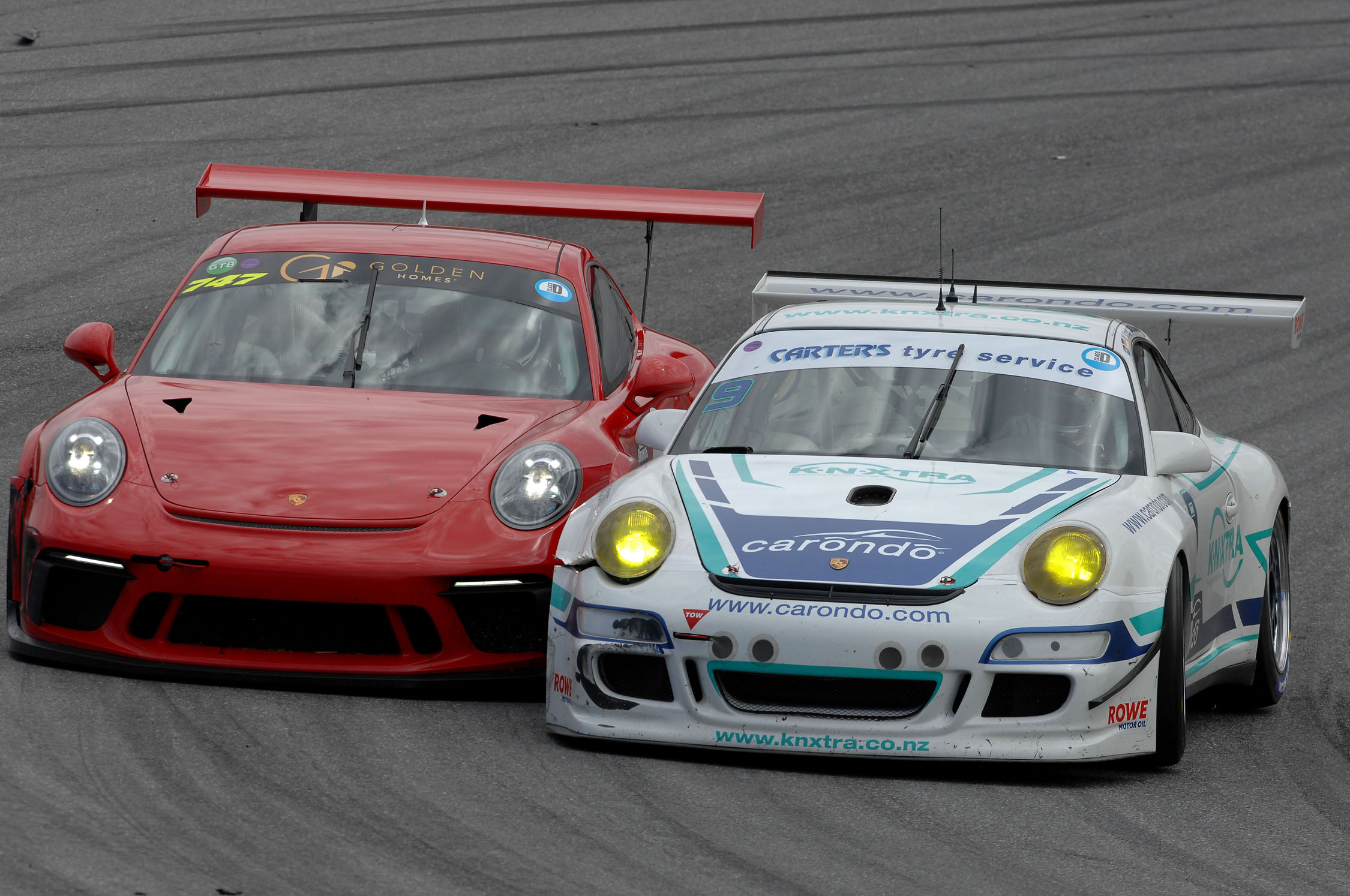 Schelp wins down-to-the-wire battle for One-Hour NZ Endurance title
Christchurch's Marco Schelp has won the 2020 New Zealand Endurance Championship One-Hour title at Highlands Motorsport Park in Cromwell.  It was a tight 60-minute battle between Schelp and second-placed Matt Whittaker (Porsche 991 Cup) with third place Sam Collins/Nick Ross Ford Mustang also in the mix.
"That was a really, really, good race," commented Schelp (Porsche GT3 Cup S).  "It has been awesome.  On the out lap I had goose bumps, it was so exciting."
While Schelp started on pole, it was Whittaker that stamped his authority on the race immediately taking the lead, followed by Schelp and Ross.  Unfortunately for Ross, the race stewards called the Mustang into the pits due to perceived 'smoke' coming from beneath it, putting a dent in their campaign for the One-Hour title.
A yellow flag and a safety car period saw the leaders come in early for their compulsory pitstop in the race. With the Mustang delaying their stop until later, this saw Ross and Whittaker go head to head in a battle for the lead, with Schelp the spectator.
"There was no need for me to fight at the beginning," said Schelp. "The Mustang helped a lot, so I stayed back and watched and waited."
With the Mustang eventually making its pitstop, this left the two Porsche fighting for the lead and the third Porsche 991.1 of Garry and Ben Derrick then defending the last podium position from Collins.
Schelp pounced and took the lead via a strong pass with contact on Whittaker with 20 minutes remaining.  Then, with less than ten minutes to go, a hard-charging Sam Collins made contact with #77 Bob Sievwright (BMW E92 M3 GTR), which resulted in the BMW in the gravel and a safety car period.  Once the car was cleared, it was a one-lap race to the finish.
Whittaker took his only opportunity but had to settle for second while Ross was able to leap ahead of the Derrick Porsche for third.
"Look, it was a great race," said Whittaker.  "First would have been better, that was the aim.  We gave it a good go with one lap left, but it didn't work out."
Nick Ross was circumspect at the end, "The safety car definitely helped us at the end.  We had good pace, the car went well, and finally we have a race winning car."
As well as the overall title fight, the field were also competing for Class titles.  Schelp won Class D (GT type) from Whittaker while Collins/Ross took Class C (>3501cc).
Jordan Michels (Honda Civic TCR) was able to defend his Class B (2001-3500cc) NZ title with what appeared reasonable ease.
"Absolutely brilliant, no hiccups," said Michels.  "It has been three weeks since the last race and we have a new engine which we dropped straight in and with no issues.  Thankful to the team and sponsors in getting the new motor in for today."
Class A (0-2000cc) is always competitive.  While Brad Rule (Honda Civic) took the early lead, he pitted with mechanical issues opening the way for Daniel Cropp (Honda Civic Sir) to take over.  His aspirations for the title came to nought, also with a mechanical, opening the way for Andrew Gibson/Paul Booth (Honda Civic) to take over and grab the class title.
"Went really well, absolutely stoked about it," said Booth.  "We didn't get any practice in yesterday so qualifying this morning was the first time on track."
The NZ Endurance Championship has been the conclusion of a tight and consolidated period of racing in both the Golden Homes North Island and Carter's Tyres South Island Endurance Series.