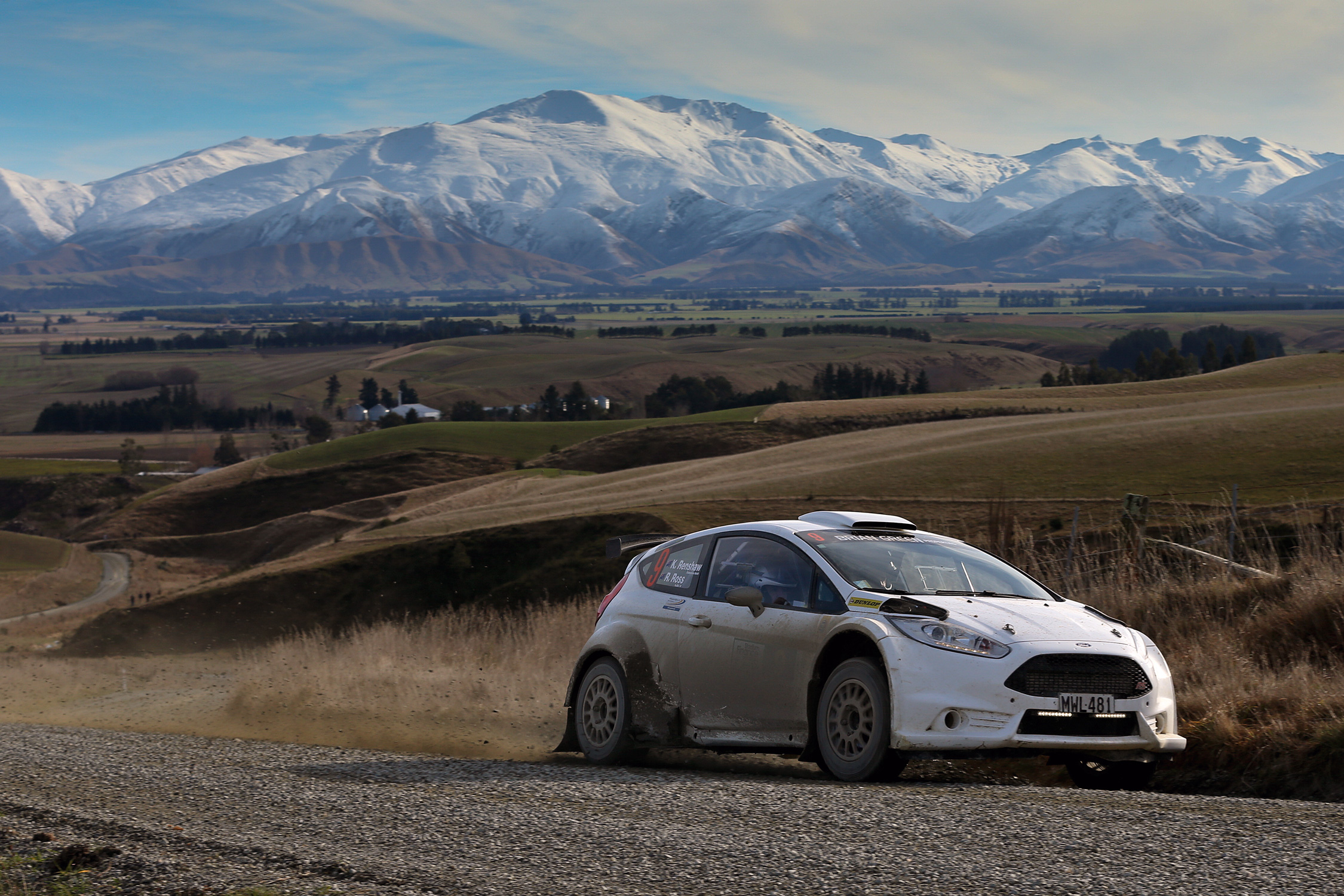 Regan Ross claims Rally South Canterbury win as Mainland Rally Series leader board gets a shake-up
Regan Ross/Katrina Renshaw (Ford Fiesta R5) took advantage of a high attrition rate at the Stadium Finance Rally South Canterbury on Saturday, coming home first in the Mainland Rally Series (MRC). The one-day event was primarily the third round of the NZ Rally Championship and doubled as the fourth round of the MRC. Second home, repeating their podium at Rally Canterbury, was Michael Tall/Matt Richards (Mitsubishi Mirage) followed by the father/daughter pairing of Sean Haggarty/Bella Haggarty (Subaru WRX).
"Really pleased with the win," commented Ross. "The weather played its part, we had some really enjoyable roads and had a really fun day with no real drama."
Overall MRC points leader, Robbie Stokes/Amy Stokes (Ford Fiesta AP4), struck mechanical trouble early in the day, retiring out of the event but still maintain their lead, albeit now reduced by Sean Haggarty to just 16-points. Third overall is James Macdonald a further 11-points back who finished fifth on Saturday.
"The day went very well," said Haggarty. "We eased Bella (13-year-old co-driver) into it, and like usual, she took to it like a duck to water. It came a bit like a competition, the faster she read the notes, the faster I drove and it's another rally without any panel damage."
Over 80 cars started the event on Saturday morning with 10 Special Stages across the day. Frosty conditions greeted the field with slippery conditions, particularly on the opening three stages.
Josh Marston (Holden Barina AP4) won the opening two stages before having an unavoidable accident on SS3. Matt Summerfield won the next five until he also retired with a mechanical problem. Tall, Haggarty and Ross each won the following three stages in that order.
The list of retirements from title contenders also included Garet Thomas (Subaru WRX) with an off on Stage 1. John Giltrap (Mitsubishi Evo 9), who won the opening Westland Rally) retired on Stage 6, and Marcus van Klink (Mazda RX8) suffered gearbox problems on SS9.
Autotech Services, RDL Performance and Brita Safety have put up $500 for each Class winner at the end of the Mainland Rally Championship season. Vehicles are divided into six different classes according to engine size, year of manufacturer and two, or four-wheel drive.
First overall in Class A (2WD 0-1300cc) was Marty Roestenburg (Toyota Vitz) who takes over the lead from Chris Herdman (Toyota Starlet) who didn't enter the rally.
Tim Smith (Toyota Starlet) was first home in Class B (2WD 1301-1600cc) ahead of David Birkett (Toyota Levin) who increases his lead to eight-points ahead of Tim Mackersy (Ford Fiesta R2).
Although he retired out of the rally, Marcus van Klink (Mazda RX8) continues to lead Class C (2WD 1601cc and over) from Deane Buist (VW Golf) who also did not enter the event.
Haggarty has jumped into the lead of Class D (4WD 1601cc and over) ahead of Stokes and Ray Wilson (Subaru Impreza).
John Simpson (Subaru WRX) maintains his lead in Class E (Pre-1996 4WD) over Eric Clark (Subaru WRX).
In the very competitive Classic Class F, Jeff Judd (Ford Escort) was first home in both the MRC and NZRC. He has a five-point lead over David Owen (Ford Escort RS2000) with Graeme Coey (Mitsubishi Lancer EX) in third. James Macdonald continues to lead Class H (Subaru H6) and has moved into fourth overall.
With the cancellation of the Hanmer Rally, organisers of the series may introduce a replacement round, otherwise the final event will be Rally Lawrence in November. With a maximum of 30-points available per round, Haggarty and Macdonald are within striking distance of Stokes. If two rounds are to take place, this opens the door for others also with a mathematical chance of winning the 2021 title.