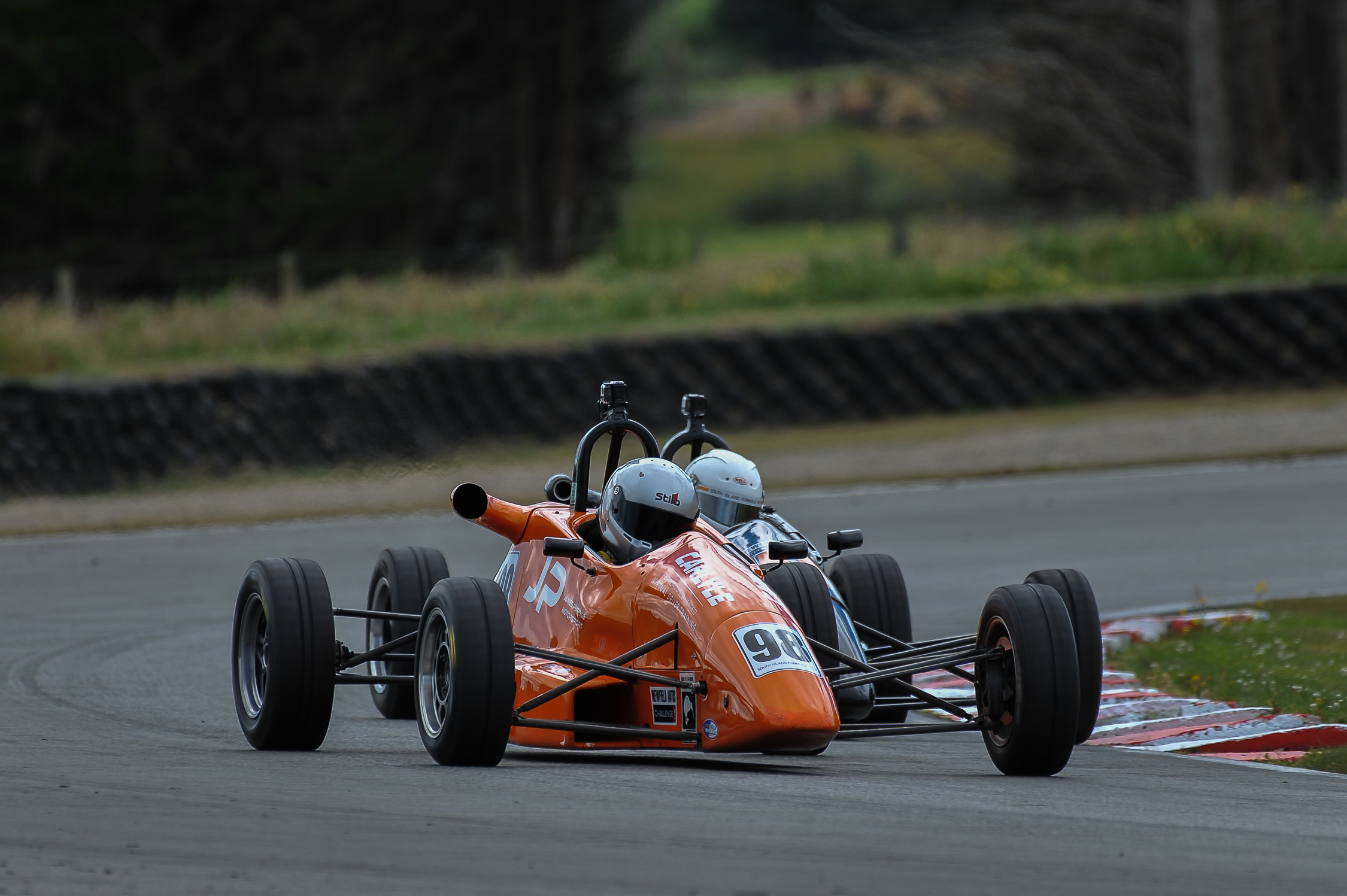 Penrose continues unbeaten run in South Island Formula 1600 Championship
Cantabrian James Penrose has continued with his unbeaten run of race wins adding another three victories at the fourth round of the 2020/21 South Island Formula 1600 Championship at Teretonga Park, in Invercargill. Now with 12 race wins, he has also led every lap of the season.
"Another perfect round," commented Penrose. "Couldn't really be happier with three more wins."
It wasn't all straight forward for Penrose (Van Diemen Stealth) with both current champion Jack Noble-Adams and local Ethan Anderson both getting closer.
"Race 2 went really well," said Noble-Adams (Van Diemen Stealth). "I spent a lot of time on his (Penrose) gearbox and got next to him a few times. I just didn't have the straight-line speed to pass him at the end of the straight.
"Overall I am pretty happy with the round and still second overall on the points table."
With the first two races in fine conditions, drivers went to the grid of the final feature race with a dry set-up.
"That was the case for us," commented Noble-Adams. "Our car was setup to come on later in that race based on a dry setup. Unfortunately, when the start lights went out it started raining."
It certainly was challenging conditions," said Penrose. "I experienced the same thing a couple of seasons ago so was confident of where the grip would be during the race."
After Zac Christensen (Ray GR20) crashed out, the race was red-flagged with the results provisional pending a decision on whether 75% of the full race was completed.
As well as overall points, drivers were also competing in three separate Classes. It was the second consecutive round for the series at Teretonga and on the line was the Begg Trophy, presented to the best performance by a Class 3 (pre 1990) driver over the two events. Local Harry Wilson (Van Diemen RF88) led on points heading into the weekend and did enough to win the trophy for the first time from Noel Atley (Crossle 55F).
Penrose took Class 2 (1990-1999) honours while Auckland's Kim Crocker (Ray GR14) won Class 1 (post 2000) from rookie Bree Morris (Ray GR17) and Gary Love (Van Diemen RF01). It was Morris' first outing in the ex-Josh Bethune Ray GR17 chassis finishing all three races in eighth, seventh and sixth places.
It is a short turnaround time for both drivers and teams with the fifth round taking place at Timaru International Raceway in two weeks' time.