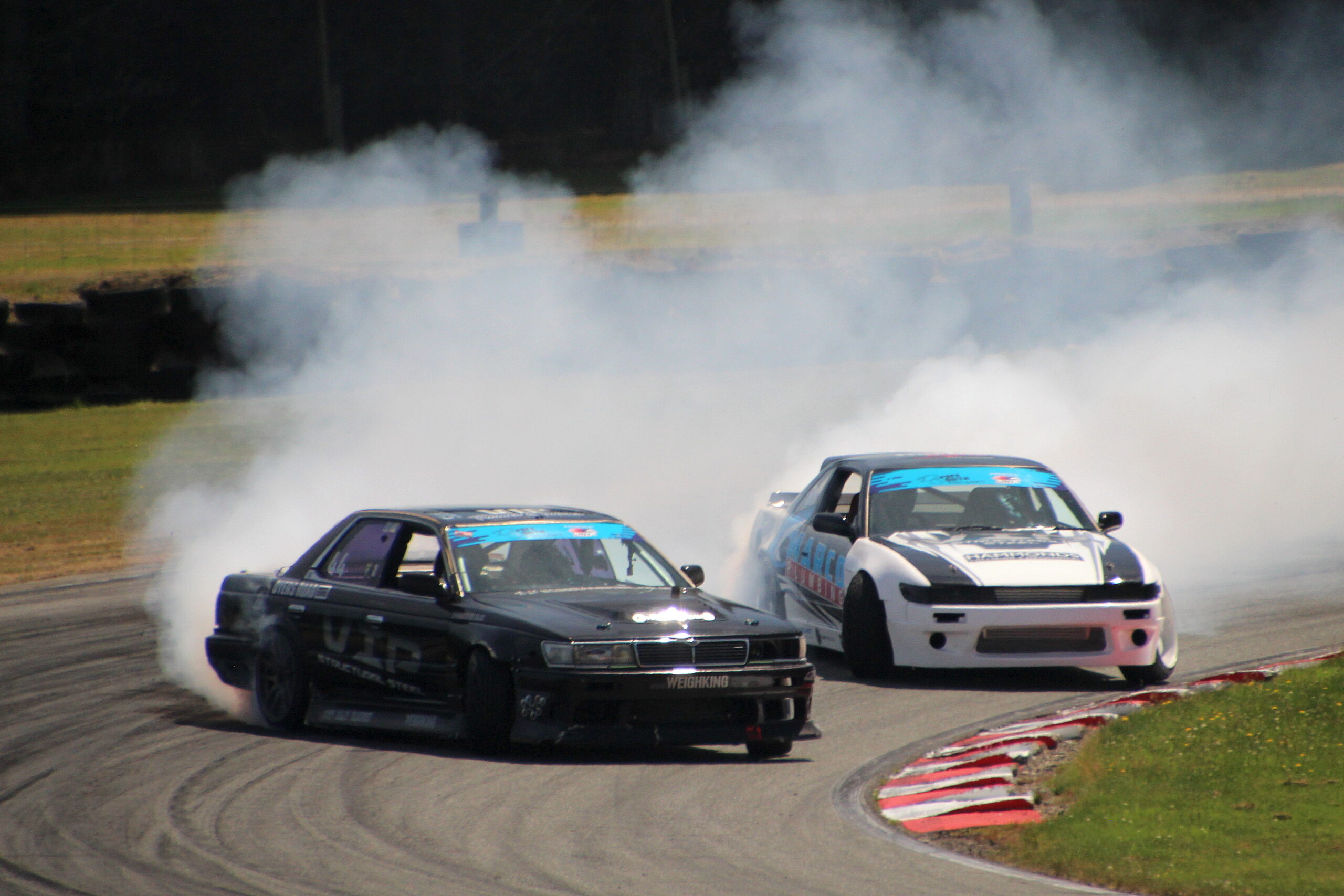 Drifting and racing combine to bring thrills to Teretonga Park
Drifting and racing combined to bring an action-packed weekend of motorsport to Teretonga Park in Invercargill over the weekend.
The highlight on Saturday was the elimination battles as Round 3 of the DriftSouth Series was fought out, the drifters attracting a good crowd to watch the action. When the smoke cleared it was Sheldon Kneale of Ashburton in his Nissan Silvia S13 who prevailed, winning the final battle from Michael Thorley of Auckland ((Nissan Laurel) with Dylan Rastrick of Christchurch third in his Silvia. Rastrick also won the Best Chase Award. Ben Luff of Methven was fourth in another Nissan Silvia. Scott Welsh was the best of the Southlanders going out in the Top 8 after a close battle with Thornley. The DriftSouth competitors loved the fast, flowing Teretonga layout.
While there was some racing on Saturday the bulk of the racing programme presented by Downer was on Sunday.
Consistency was rewarded in the OSCA Super Saloons as Paul Brooks of Kaiapoi in his Nissan Silvia S15 took the top step of the podium with two third placings, a fourth and a sixth across the four races. Neville Stowell of Timaru (Nissan GTR) was second with Daniel Currie of Ohoka in a Subaru WRX third. Dunedin drivers Chris Henderson and Steve Ross were quick early in the weekend with Henderson taking two wins in his LS-powered Toyota GT86 and Ross one in his Jaguar XK but both encountered problems which dropped them from podium contention.
Cromwell driver Duncan McCrostie claimed the Noel McIntyre Drainage Club Saloons podium in much the same fashion, finishing in the top three in every race for the class. Invercargill driver Brendan Mason won three of the races in his ex-Grant Dalton Chev Camaro to finish second for the weekend with Jordan Michels third. Liam MacDonald qualified fastest in his Falcon but mechanical gremlins sidelined him in the early races. Mason had won the class race overall and also Class 4 (2501cc & over) after a great battle with MacDonald while Class 3 (1601-2500cc) went to Andrew Lawrie of Invercargill in a Mitsubishi Mirage. Class 2 (1301-1600cc) was taken out by Jeremy Dawson of Invercargill (Toyota Starlet) and Class 1 (0-1300cc) went to Todd Blackmun in a Vauxhall Chevette.
James Penrose of Rangiora in his Van Diemen Stealth continued his winning ways in the South Island Formula 1600 Championship having been unbeaten so far this season. Penrose made a clean sweep of the three races, the last held as rain arrived. Ethan Anderson of Riverton and defending champion Jack Noble-Adams battled hard behind him, Anderson taking two seconds and a third.
Former NZV8 competitor Justin Ashwell of Christchurch in a Ford Falcon made a clean sweep of the NZ Six Saloon's, winning all three races to top the class podium. Steven Gordon of Alexandra (Commodore) was second overall and Cody Welch of Omakau (Falcon) third.
David Booth of Dunedin won all four races in the 2K Teretonga Challenge at the wheel of his Toyota Levin to claim the round. Greg Mitchell of Darfield in his Toyota Carina ED was second, overcoming a penalty in the first race to secure three-second placings later in the weekend. Jonathan Prince of Christchurch (Toyota Levin) was third.
The next meeting at Teretonga Park is the Mobil 1 Classic SpeedFest over the weekend of 20/21 February.