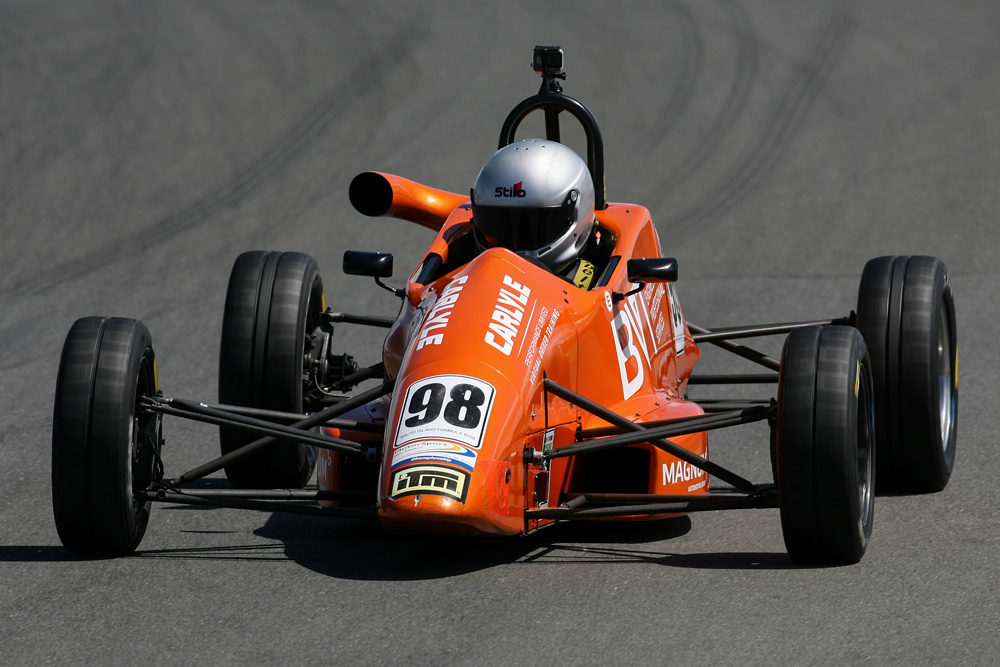 Pack to pursue Penrose as South Island Formula 1600 heads to Timaru
Canterbury's James Penrose heads to the second round of the 2020/21 South Island Formula 1600 Series as favourite after having the perfect opener last weekend in Christchurch. Timaru International Raceway hosts a grid of nearly of 30 entries and could prove quite a contrast to a week ago.
Penrose set fastest time in qualifying and won all three races, including the prestigious Wigram Cup, proving that the key to winning was to put an early gap on the field behind him. This may prove difficult at Timaru with a much tighter and shorter track, where draughting and passing under brakes can be difficult to defend.
Second home in all three round one races was current South Island title holder Jack Noble-Adams. The first two rounds are proving difficult for the Canterbury engineering student who is currently in the middle of university exams.
Like last weekend, Noble-Adams will miss the important Friday practice due to sitting an exam and will only turn the wheel for the first time at Saturday morning qualifying. Patience and gathering points are the keys as Noble-Adams learned last season on his way to winning his first single seater title. While race wins are important, finishing is a priority and preferably on the podium.
Third overall was 1995 NZ Formula Ford champion Shane Drake from Aucland who is likely to miss the round at his favourite track due to an engine problem arising in Christchurch. Not having raced a Formula Ford (1600) since 1995, Drake even surprised himself last weekend at finishing on the podium.
Invercargill's Ethan Anderson has returned to the category and showed at Ruapuna that he is still quick, finishing fourth overall. Campaigning a Van Diemen Stealth and with Drake's absence, Anderson will be a strong contender to move up to third overall.
Three separate Classes will also be competing within the three races on Saturday. Two brand new Ray GR20 chassis lead Class 1 (>2000) with Zac Christensen eight-points ahead of Steve Donaldson. Both drivers are also within striking distance of podium placings and even race wins.
Penrose also leads Class 2 (1990-1999) from Noble-Adams and Drake while in the Historic Class 3 (<1989), Invercargill's Noel Atley has a 14-point lead from Cromwell's Marc Doran (Ray 86F) and Christchurch's Dave Arrowsmith who is driving a freshly imported Van Diemen RF88. Six rookie drivers take to the track for their second Formula 1600 round. Bo Hill (Van Diemen RF92) sits a credible ninth overall while Alex Crosbie (Van Diemen RF92) is 15th. Both have moved up from kartsport along with Thomas Flynn (Swift SC92) and Harry Wilson (Van Diemen RF88). Qualifying takes place Saturday morning with three races in the afternoon.