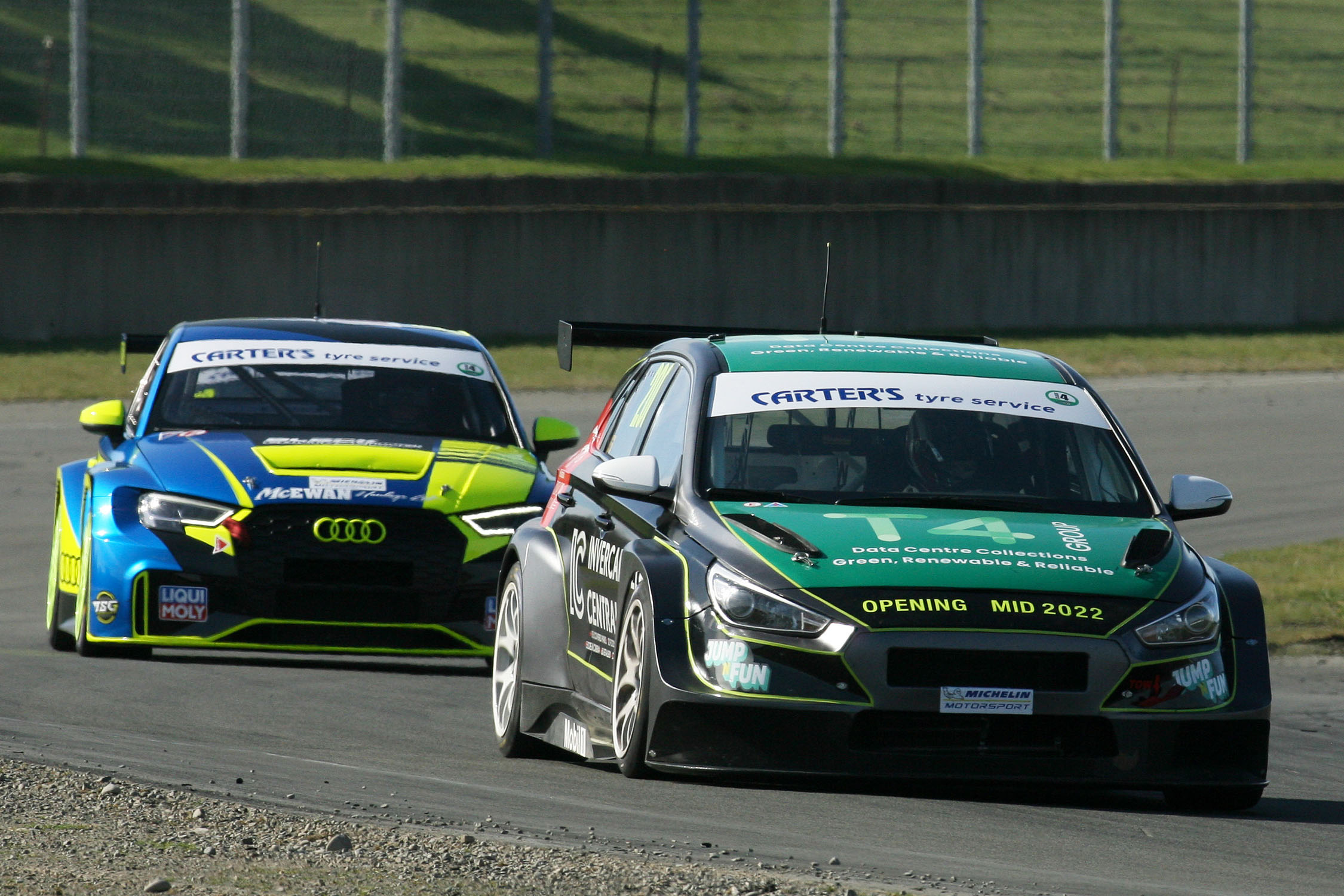 One-Hour battles continues as the South Island Endurance Series heads to Teretonga Park
Winners of the opening round of the 2022 Carter's Tyre Service One-Hour South Island Endurance Series will be the ones to beat as the second round gets underway in Invercargill on Saturday. Sam Collins (Marc II Mustang) won the Class 2 & 3 One Hour race in Christchurch while Scott O'Donnell/Michael Lyons (Hyundai i20N TCR) took line honours in the separate Class 4 & 5 race. Both set a benchmark for the chasing field and will prove hard to beat at Teretonga Park.
Collins, against a large field of Porsche runners, had a dominant win from Ronan Murphy (Porsche 991.1 Cup) and Heremana Malmezac (Porsche 991.2 Cup MR), leading from lights to flag also winning Class 2 (GT type). The next non-Porsche home was the seventh-placed Toyota GT86 V8 of Grant Williams/Ben Williams who also won Class 3 (>3501cc) from Nigel Cromie (Mclaren 570s GT4).
It was a different case for the winning Hyundai i20N TCR of Scott O'Donnell/Michael Lyons in the Class 4 (2001-3500cc) & 5 (0-2000cc) race. After setting fastest lap in qualifying, Lyons had his work cut out for him, starting from pit-lane rather than from pole position.
In the end they had a comfortable win after carving through the field, aided by the late retirement of race leader James Penrose (Audi RS3 LMS TCR). Penrose will be back on the grid at Teretonga along with Andre Simons (Toyota 86 Turbo) who also struck problems while fighting Penrose for the lead.
Eighteen of the 40 entries will be Class 5 cars which is predominantly made up with Honda Civic and Toyota 86 cars. The opening round proved successful for the very quick Class 5 winner, Brad Rule (Honda Civic SIR 2000), who also finished fourth overall.
Testing takes place on Friday with qualifying underway on Saturday morning at 9:00am (Class 4 & 5) and 9:25am (Class 2 & 3) with the Class 4 & 5 race starting at 10:20am and the Class 2 & 3 race at 11:40am.