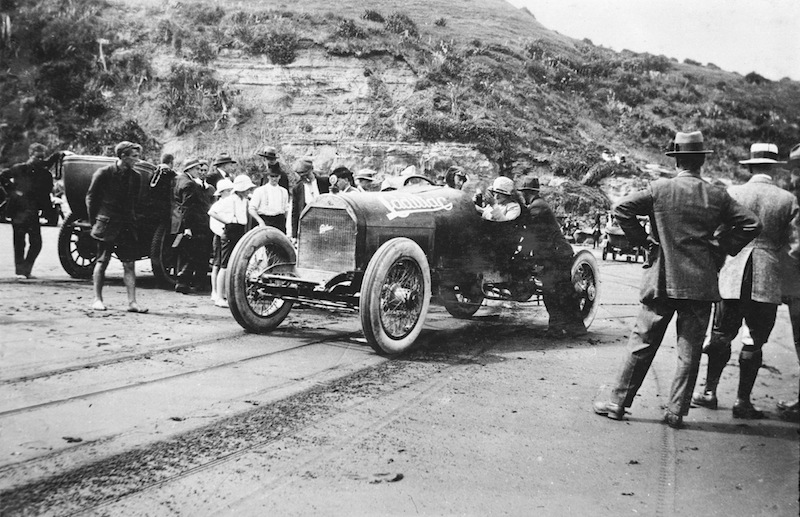 NZ Motor Cup 100th anniversary celebration
To celebrate the 100th anniversary of the NZ Motor Cup, NZGIP, HRC and the MotorSport New Zealand Historic Commission are holding a special event at Muriwai Beach on the 5th of March 2021, exactly 100-years since the cup was first awarded on the beach.
The first New Zealand Motor Cup race took place on Muriwai Beach, Auckland on 5th March 1921 and was a 25-mile drag race. The race was extended to 50 miles the following year (1922) and three turns were introduced for the benefit of the spectators. In 1923 the race length was 50 miles again but five turns were used.
The cup was won outright in 1928 (after 3 consecutive wins) by R B Wilson, ESQ who in 1953 donated it to New Zealand International Grand Prix Inc, on condition that it be competed for annually in the Auckland Grand Prix race under its original title.
The cup was won in its 100th year by Shane Van Gisbergen at the 2021 New Zealand Grand Prix held at Hampton Downs.
On 5th March 2021, HRC, MSNZ Historic Race Commission and NZIGP will be holding a celebration to commemorate 100 years since the first beach races and the awarding of the New Zealand Motor Cup. Come along and join us for brunch at this once in a century opportunity. There will be a turnout of historically significant vehicles on the beach along with static exhibits at the surf club including the 1921 winning Cadillac right through to the latest Toyota FT60.
Many previous winners will also be in attendance and the New Zealand Motor Cup itself will be on display.
Provisional Schedule:
Friday 5th March 2021
7am Setup for display exhibits
8am Gates open to public/guests. Coffee station available in surf club
9am Welcome address
9.15am Photo Opportunity – Past winners
9.30 To the beach
11.00 Return to surf club after photograph recreations on the beach
11.15 Brunch is served
12.00 Speeches
13.00 Depart
Tickets in Advance – $50
Tickets on the gate (if not sold out) –$75
If you would like to join us in these celebrations please book your tickets at your earliest opportunity at either:
For further info contact Chris Watson on 027 482 7542 or chris@hrcevents.co.nz