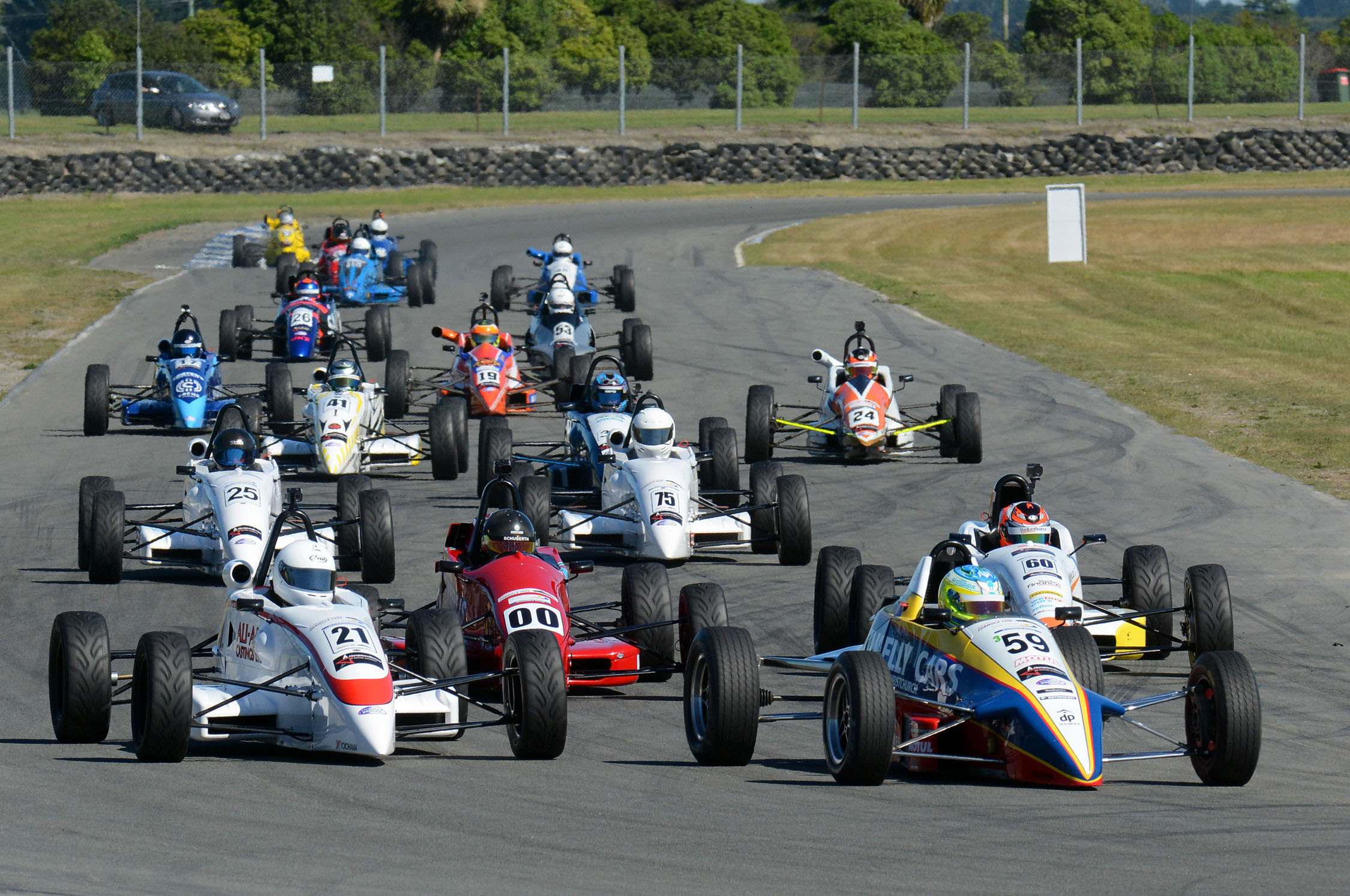 North Island drivers add spice as the South Island F1600 series heat up
Several top North Island Formula Ford drivers will join the grid of the 2021/22 Yokohama South Island Formula 1600 Series which returns to the Mike Pero Motorsport Park this weekend.  It is proving to be a highly competitive season and with three rounds remaining in the Series there are a number of top contenders vying for the overall title.
It is the home track for rookie Louis Sharp (Spectrum 015) who has a narrow 22-point series lead over fellow Cantabrians Matthew Hamilton (Van Diemen RF88) and Zac Christensen (Ray GR20), a further 22 points back.
Joining the grid from the north, this weekend, are current North Island Formula Ford Series leader Kyan Davie (Spectrum) and Sebastian Manson (Spectrum) who is third overall.  Also heading south are Jacob Cunliffe (Swift), Liam Sceats (Van Diemen Stealth), Leo Scott (Spectrum 010) and Bree Morris (Ray GR17).  Morris is no stranger to South Island tracks having made an impact last season in the series.
Also, in the mix will be race winner Simon Hunter (Mygale SJ08A), Alex Crosbie who scored his first podium at the last round in Invercargill, Daniel Brown (Ray GR21), Dylan Petch (Ray GR20) and Cameron Freeman, (Van Diemen RF93 Stealth).
As well as the overall series title, three Class titles are up for grabs.  Sharp leads Class 1 (>2000) from Zac Christensen (Ray GR20) and Crosbie.  Cameron Freeman (Van Diemen Stealth) continues to lead Class 2 (1990-1999) from Robert Toshach (Swift FB89) while Hamilton leads Class 3 (pre 1990) from Harry McDonald (Van Diemen RF88).
Saturday morning sees qualifying and a $500 cash prize from the Hampton Downs New Zealand Racing Academy for the fastest driver.  This will be followed by four races across the two-day meeting.