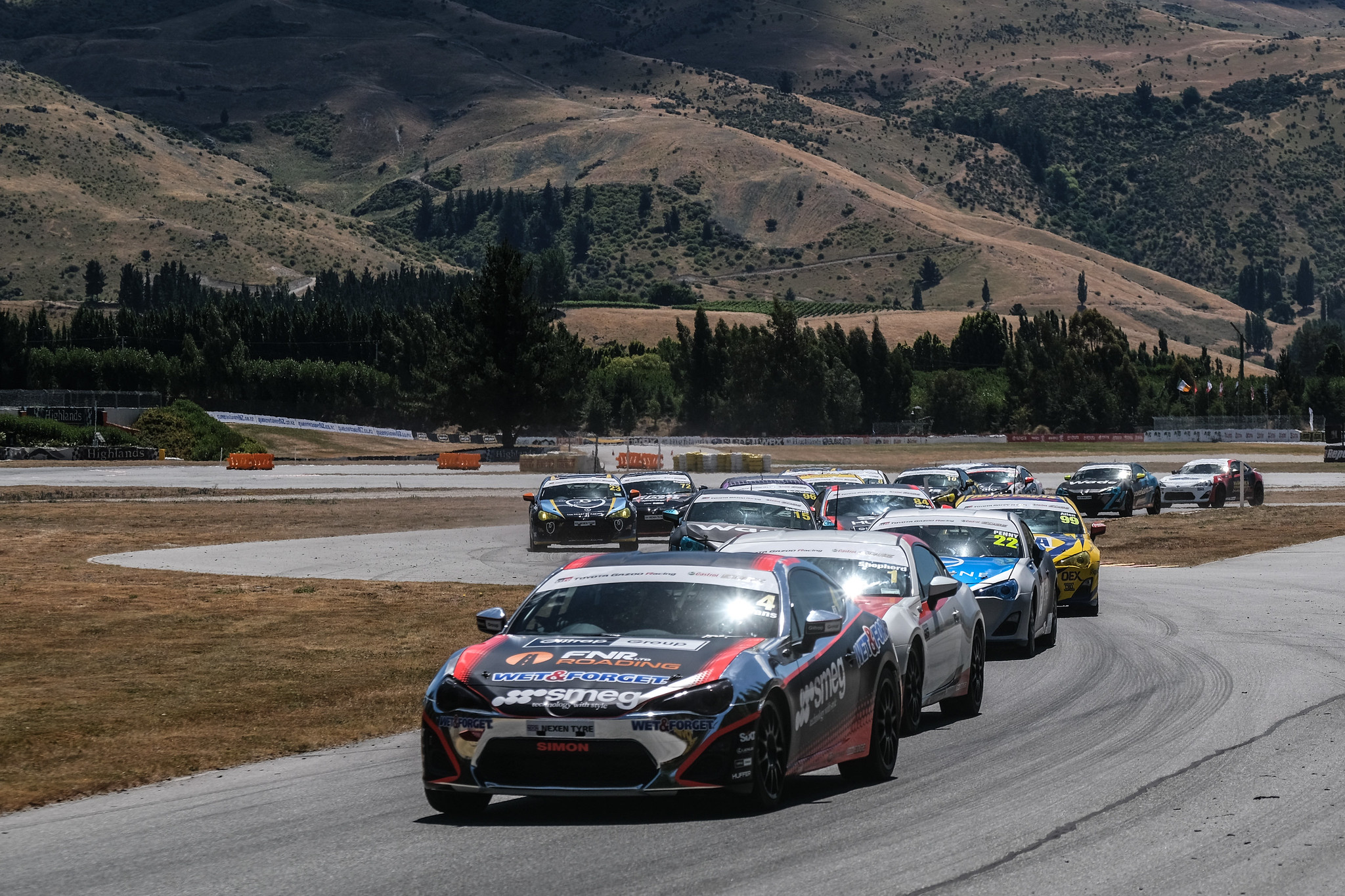 Evans has early advantage in Toyota 86 Champs – but Shepherd back at home track
Simon Evans emerged as the round winner in sweltering conditions at the Highlands Motorsport Park last weekend, taking two wins from three races and establishing an early lead in this year's chase for the championship.
Champion Rowan Shepherd, however, was hot on his heels by the weekend's last race and will expect to be there again – or ahead – at his home track this weekend in Christchurch when the second round of the Toyota 86 Championship takes place at the Mike Pero Motorsport Park, Ruapuna.
Evans – who has plenty of miles at the Cromwell track under his belt from his racing years – was one of the pacesetters in testing then took an impressive pole position ahead of Justin Allen.
Evans won the first race on Saturday afternoon with ease and was also super impressive in the Sunday morning race, which was peppered with Safety Car periods and ultimately ended by a red flag after an oil fire halted front row sitter Ronan Murphy.
By the time the race was called, Evans had moved into an impressive sixth place from tenth on the grid (a reverse top ten grid based on the results from the Saturday race). With points determining the grid for the final feature race on Sunday afternoon, Evans again was on pole position in his Wet & Forget Giltrap racing entry and raced away to another win.
He was chased in the final race by Shepherd, who endured a challenging weekend having made a late switch back to his championship winning chassis. Ultimately finishing second for the round was a truly impressive performance and there is no question these two drivers will feature heavily this weekend in Christchurch.
Another likely to shine is Justin Allen, who was a front runner all weekend in Cromwell and who ultimately took third place for the round. Allen enjoys the track and has raced there before. The NAPA Autoparts car seems to have plenty of race pace and Justin will be a factor in every session.
The battle behind the top three is guaranteed to be an intense one. Dion Pitt, Clay Osborne, Brock Gilchrist, Hugo Allan, Matthew McCutcheon and Ronan Murphy all showed they have the pace to race at the front and any of them could spring a surprise this weekend. Watch out too for the other race winner in Cromwell, the veteran John Penny in his Penny Homes car. Penny started from pole position in the reverse top ten race and drove well in the eventful race to secure the win – his second in the category and first for several seasons. A consistent top ten runner, he'll be looking for big results this weekend.
Christina Orr-West, Rianna O'Meara-Hunt and Chelsea Herbert all showed flashes of real speed last weekend too – and they all made steady progress over the weekend in what is a highly competitive field. They'll be out to make their mark this weekend too.
With a large portion of the field covered by less than a second over long lap, one thing that can be predicted with some certainty is that the field of 22 cars will once again be super close this weekend at the Mike Pero Motorsport Park. And that also means anyone can win and the form book could be turned completely on its head!