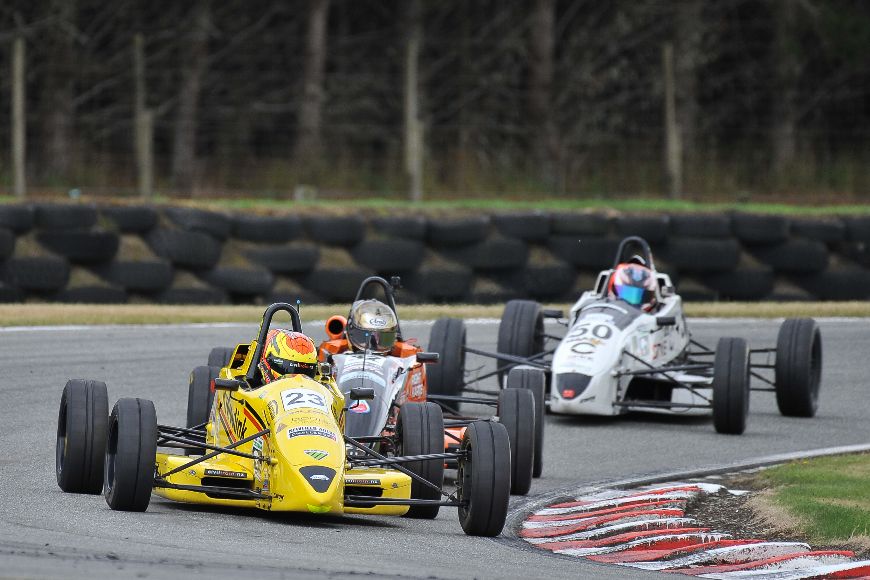 MICHELS TAKES TITLE BATTLE TO THE WIRE
Invercargill driver Jordan Michels goes into the final round of the 2018/2019 New Zealand Formula 1600 Championship at Pukekohe Park Raceway, south of Auckland, on Sunday just three points off the championship lead after a sensational performance at the penultimate round of the championship at Manfeild Circuit Chris Amon in Feilding last weekend.
The young Southlander went to Manfeild second in the points, 23 points adrift of Auckland based Josh Bethune, and after a fantastic performance in his Hydraulink/Hicks Bros Mygale run by Evolution Motorsport, emerged just three points behind.
Michels admitted his weekend at the penultimate round, "couldn't have got much better," after a weekend in which he qualified on pole, won two races and finished second in the other to win the round. "We rolled out of the gate and were fast straight away," said Michels. "We set the fastest time in testing on Friday and then took pole position on Saturday. Pole gave us two points so that took two points off Josh's lead."
Michels used the pole position to his advantage in the first race on Saturday afternoon, taking the lead into turn one and holding it all the way. It may have looked comfortable but he admitted it was a stressful race with seven cars on his back the whole way. The win saw the margin to Bethune who finished third shrink to just 12 points.
A little anxiety surfaced on Sunday when showers swept across the circuit as the team has had a weakness with their wet set up in the past. "We got away in second place and used early leader Callum Crawley as a guide. However the car was good under brakes and out of corners which is ideal in the wet so we passed Callum and pulled away to win by about 5 seconds." Bethune was second and the margin was now 7 points.
The racing line was dry but the surrounds wet for the final race and there were spits of rain around. Michels was on pole but his grid box was wet so he dropped to fourth early on. However he was soon on the move and made a big move on Bethune to take second and got onto Crawley's gearbox. However an incident brought the safety car out and that is how the race finished with Jordan unable to mount a challenge for the lead. Rather than disappointment Michels acknowledged Crawley's win. "It was his first win and it was at home so it was great for him."
With the final round just a week away Michels flew home on Monday to participate in Race4Life at Teretonga Park on Tuesday. The Race4Life Trust, for which Jordan is an ambassador, was running a track day at the circuit for palliative care patients from Otago and Southland.
He returned to the North Island on Thursday to prepare for the final round, a one day event at Pukekohe. "We are using the original track without the back straight chicane and I have never driven that circuit before but I grew up watching racing there and that alone makes it exciting. My engineer Jase says he knows every hollow and bump on the track. "All I can do is take it one race, one lap, one corner at a time and enjoy it – it is a really cool fight to be in," he says.
Media release: Lindsay Beer on behalf of Evolution Motorsport
Caption: JORDAN MICHELS LEADS THE WAY AT TERETONGA PARK
Photo: Richard Dimmock