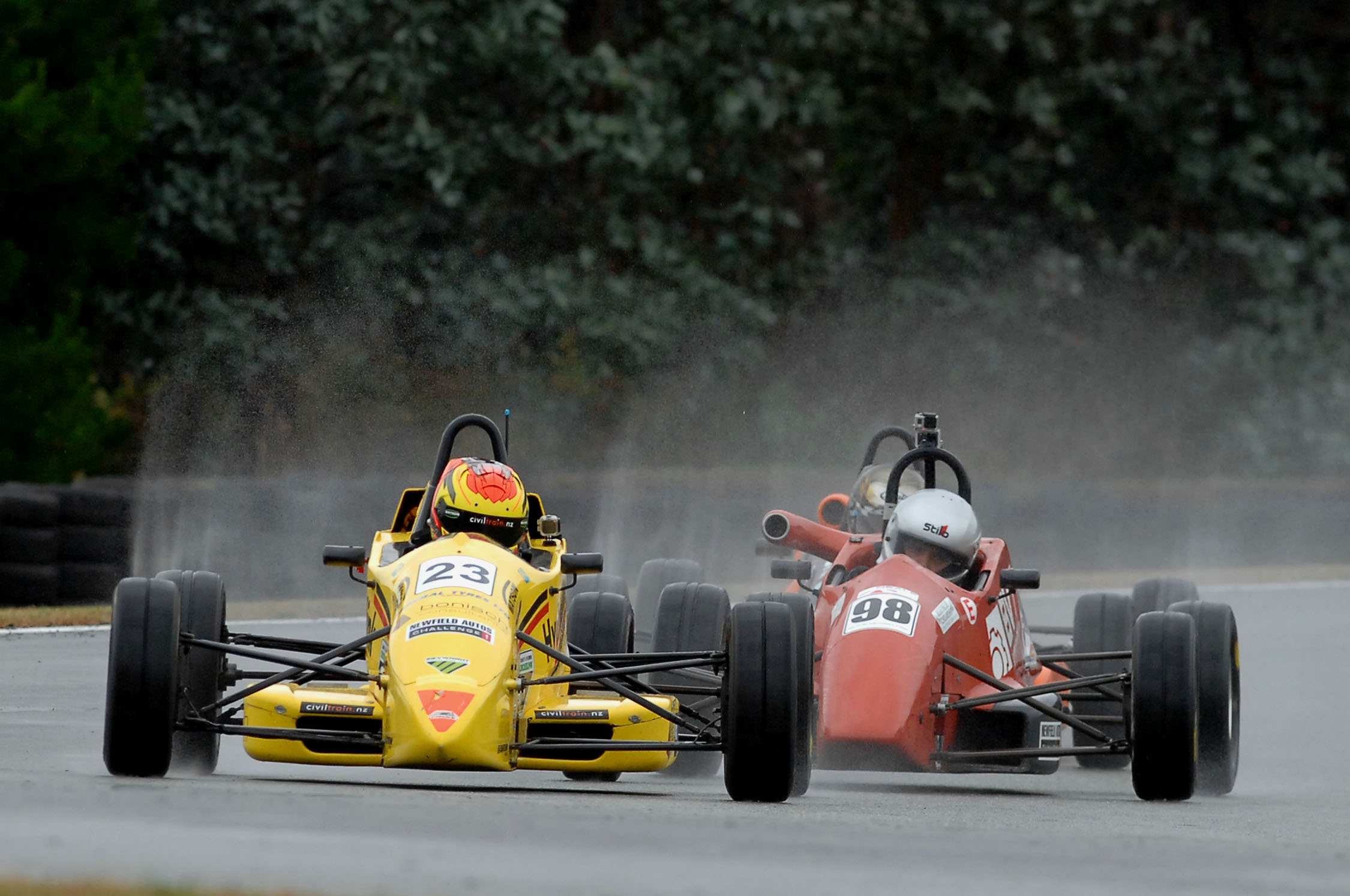 Young-guns to battle for NZ Formula 1600 title at Pukekohe this weekend
Two young-guns will go head-to-head this weekend as the New Zealand Formula 1600 Championship title will be decided at Pukekohe Park Raceway in Auckland. Just three points separate Auckland's Josh Bethune and Southland's Jordan Michels after battling over four rounds since early November 2018.
Arguably Bethune has been the dominant driver of the season, leading since the first round where he not only qualified fastest but went on to win all three races at Timaru International Raceway in South Canterbury.
Michels has always stayed in contention, recording his first win at the Wigram Cup meeting at the Mike Pero Raceway in Christchurch. Bethune recorded only one race win at that second round, scoring the all-important Wigram Cup for the second consecutive year.
The third round at Teretonga Park in Invercargill the following weekend in January provided drivers with an extra race. Although Bethune increased his championship lead to 23-points from three race wins, Michels stayed well in contention with a win and three second places.
Heading to the North Island for the final two rounds, the gap was closed to just three-points by Michels last weekend at Manfeild Circuit Chris Amon in the Manawatu. Michels scored two race wins and a second place. While it was Bethune's lowest scoring round he still managed to finish each race and retain a narrow lead heading to Pukekohe this weekend.
Behind them is a race for third overall between a trio of rookie drivers. Callum Crawley has been the continual improver and has just ten-points on Canterbury's James Penrose with Zac Stichbury from the Hawke's Bay a further three points back. While Crawley took his first win last weekend at this home track at Manfeild, Penrose has been the quickest over the whole season recording his first win at his home track in Christchurch at the second round. Two race retirements at Teretonga Park made an impact on his season, effectively taking him out of title contention when he was just six-points shy of Bethune.
There are just three races left in the national championship at Pukekohe Park with a maximum of 122 points on offer (two points for fastest qualifier and 40-points for a win). On the line is the overall national title plus three class titles. As well as the overall lead, Bethune has a two-point lead in Class 1 from Michels followed by Stichbury and Crawley. Penrose stills leads Class 2 from Christchurch's Jack Noble-Adams and Robert Toshach. In Class 3, Andy Downs has a 30-point lead over fellow Southlander Noel Atley with Dave McKenzie third.
2018/19 New Zealand Formula 1600 Championship Points 4/5 rounds (Top 15)
Position, Driver, Car, Points
1 Josh Bethune Ray GR17 466
2 Jordan Michels Mygale SJ13 463
3 Callum Crawley VD RF92/Spectrum 015 335
4 James Penrose VD Stealth 325
5 Zac Stichbury Mygale SJ08a 322
6 Jack Noble-Adams VD Stealth 271
7 Robert Toshach Spectrum 08 212
8 Spike Kohlbecker Mygale SJ 07a 195
9 Cameron Freeman VD RF92 190
10 Grant Campbell VD RF03 159
11 Noel Atley Crossle 55F 137
12 Simon Spencer-Bower VD Stealth 133
13 Dominic Robertson VD RF92 132
14 Andy Downs Lola 642e 131
15 Ben Stiles VD Stealth 128
2018/19 New Zealand Formula 1600 Championship Calendar
Rnd 1 10 November 2018 Timaru International Motor Raceway
Rnd 2 12-13 January 2019 Mike Pero Motorsport Park, Christchurch
Rnd 3 18-20 January 2019 Teretonga Park, Invercargill
Rnd 4 23-24 February 2019 Manfeild Circuit, Manawatu
Rnd 5 3 March 2019 Pukekohe Park Raceway, Pukekohe
Photo: Euan Cameron
Prepared by SB Networks on behalf of the South Island Formula Ford Club