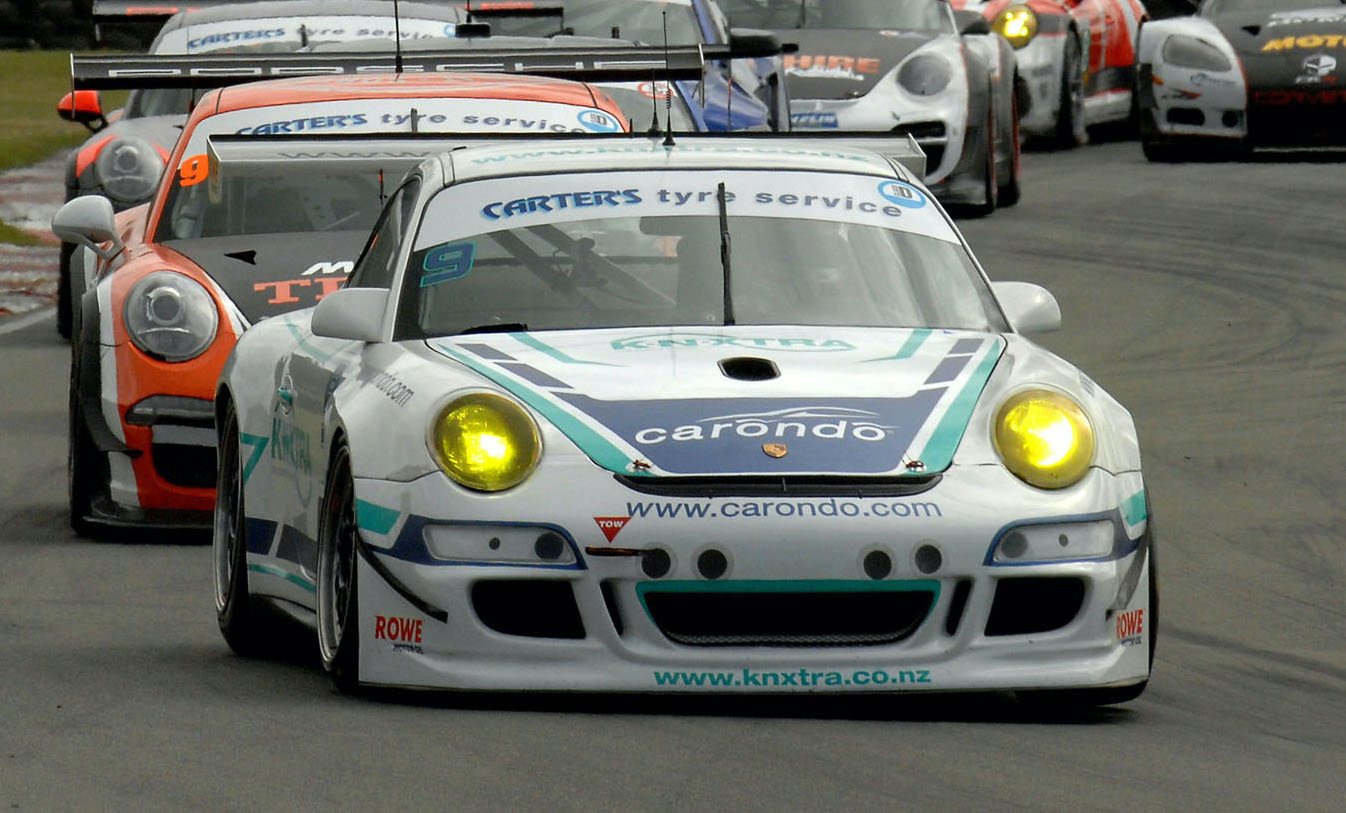 Martin Dippie takes title while Schelp wins South Island Endurance One Hour thriller in Timaru
Martin Dippie is the overall title winner of the Carter's Tyres South Island Endurance One-Hour Series after a finale thriller in Timaru. Dippie (Porsche 991 GT3RS) headed into the third round tied on points with father and son pairing of Garry and Ben Derrick (Porsche 991 GT3), just needing to finish ahead to take the overall title. This he did, finishing fifth overall, one place in front of the Derrick's Porsche. Out in front it was a continuation of the second round with Marco Schelp (Porsche 997 Cup S) taking the win after lapping nearly all the field. Second home was the Ford Mustang of Sam Collins/Nick Ross with Chris Henderson debuting his new Toyota GT86 in third.
"It's really cool (to win) as my family are all here," commented Schelp. "Last time my wife was with me at a race was in 2011 and I crashed. There was a lot of traffic for the whole race but a lot of fun as everyone raced very clean."
Schelp missed the opening round at Invercargill in September due to travel commitments. It was the Collins/Ross Mustang that won ahead of the Dippie with the Derrick's third. Schelp won a fortnight ago in Christchurch, this time with the Derrick's second and Dippie third.
The title advantage went to Dippie right from the start of the race when Garry Derrick spun on the opening lap heading into the first turn.
"I was hit and went off the track and couldn't get the car going," commented Derrick. "When I did the whole field had gone past."
From then it was playing catch up which they did, finding themselves right behind Dippie heading into the last eight minutes of the race. A collision between the Milne Horne/Tim Horne Holden SuperTourer entry and Danny Whiting's Porsche 991, resulted in the only safety car period of the race. This in turn bunched up the field, closing the gap between Dippie and Derrick.
"I was going to give it a good nudge," said Ben Derrick, "but after the safety-car there was too much traffic to get through which is disappointing."
Dippie was always confident that he would be able to stay ahead for the remaining two laps before the chequered flag.
"I took it quietly as you have to finish these races, so it was a matter of bringing it home" said Dippie. "I was aware of the Derricks catching me and wasn't thrilled when the safety car came out. It was good racing and I was confident that I could stay ahead."
2017 and 2018 One Hour Champion Chris Henderson returned to the track with his brand-new Toyota GT86. After a major crash in last season's series', the Dunedin driver spent the last 12 months building the car but run out of time for the first two rounds.
"That (the race) was hard work, a lot of heat soak in the car and work to do for the team," commented Henderson. "We finished building it Thursday night. We did some installation laps eight days ago but that is all, so thrilled to finish and on the podium."
With the category divided into four different classes, there were a number of battles taking place throughout the field.
As well as winning overall, Dippie also won the Class D (GT Type) title from the Derrick's with Danny Whiting third.
In Class C (>3501cc), Sam Collins had a narrow win over Bruce Davidson (Chev Corvette C6R) by just 5-points. Both suffered from one race retirement, but it was Collins win in the opening round that gave him an advantage.
Jordan Michels (Honda Civic FK7 TCR) had been first in Class B (2001-3500cc) after the first two rounds. However, engine problems saw him drop down the field at Timaru and eventually retire handing the overall Class title to Debbie Chapman (Audi RS3 LMS TCR) with Robert Gjaja (Lotus Exige turbo/Integra 2.4) third.
The popular Class A (0-2000cc) had Andrew Gibson/Paul Booth (Honda Civic EF) tied on 185-points with Andrew Kitching/Andrew Bartlett (Honda Civic). While Daniel Cropp (Honda Civic) took out the round win, it was Gibson and Booth that claimed enough points to claim the 2020 Class title.
Participation in the Carter's Tyres South Island Endurance Series is also a qualifier for the national title race in November. Highlands Motorsport Park in Cromwell will host the New Zealand Endurance Championship for both One and Three Hour titles on Saturday 7 November.