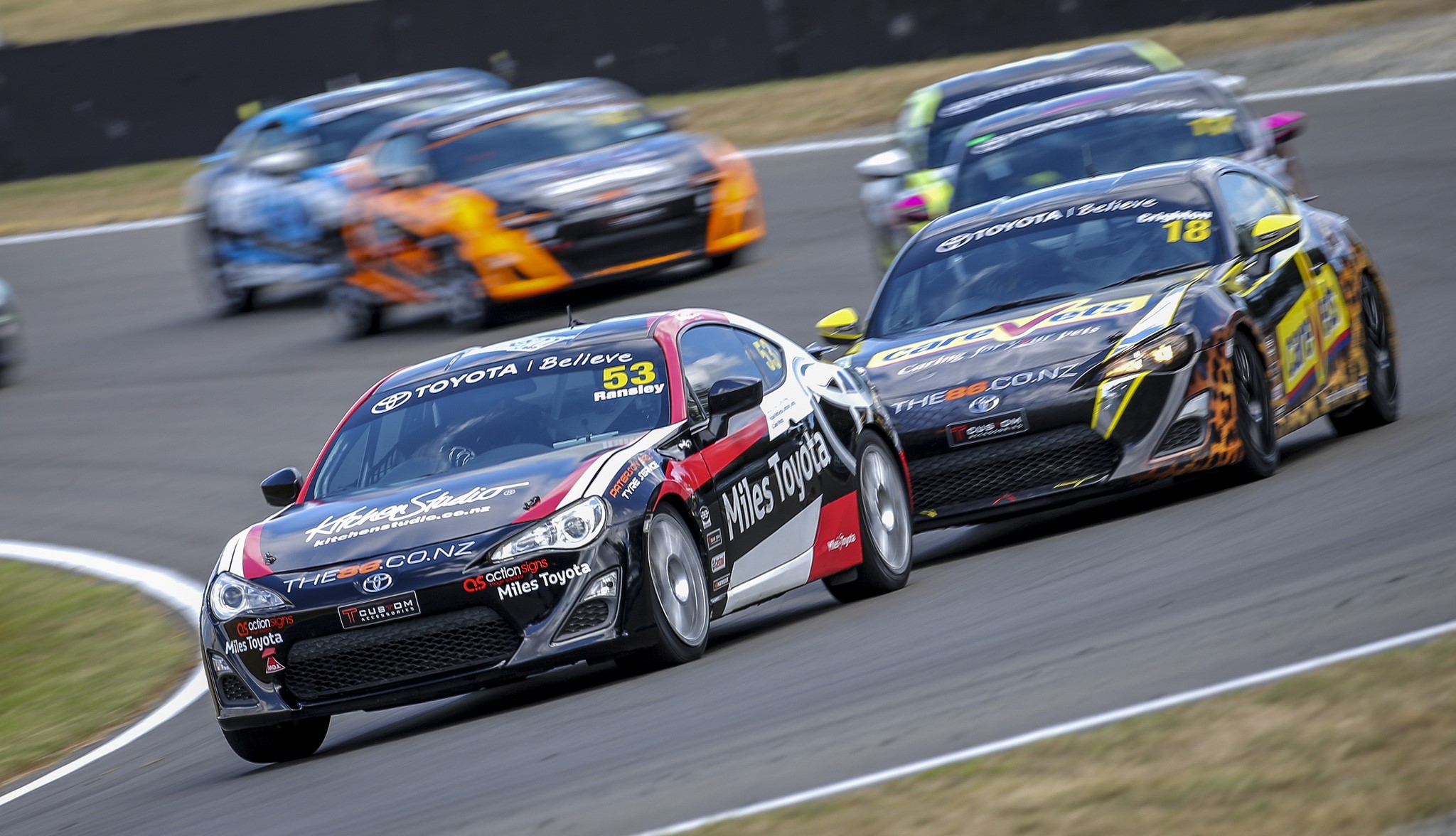 Manfeild drama means a new Toyota 86 Championship leader
The opening Toyota 86 race of the Grand Prix weekend at Manfeild Circuit Chris Amon has brought with it change at the top of the championship standings.
Jaden Ransley now holds the lead after disaster struck Jordan Baldwin further down the pack in the early phase of the 12-lap race. Ransley meanwhile won with minimal threat and took the overall series lead with just five races left on the calendar.
"I didn't get to see what was going on behind me, but it was awesome to get a race win for the team. We had really good form at Teretonga and it's great to bring it here," said Ransley. "I'm sure Jordan [Baldwin] will get back up there tomorrow. It's never good to see someone have a bad race like that."
Improved pace saw International Motorsport's Connor Adam finish a convincing second; his first podium finish since round two of the series at Pukekohe Raceway. CareVets Racing drivers Callum Hedge and Arran Crighton completed the top four.
From pole Ransley took the lead off the start to head Crighton, Hedge, and Connor Adam. Behind them was Baldwin — although he wouldn't sit fifth for long. He started lap two with Campbell Stewart on his tail, and at turn one the series rookie tried to make a move on the Intermach Toyota. Sadly for Baldwin they made contact, which damaged both cars. Baldwin spun to the infield, recovering well behind the rest of the field. Stewart meanwhile faded backwards through the field to behind Baldwin before pressing on.
With fifth and sixth getting into problems, it meant the top four were racing in their own battle pack. This left fifth place to be contested by a long angry train consisting of Kaleb Ngatoa, Peter Vodanovich, Brock Gilchrist, and Jacob Cranston.
Race leader Ransley and Adam in fourth appeared to be the pick of the top four. Adam was fast and over the following laps he showed it by picking off first Hedge then Crighton at turn one under braking.
With three laps to go and with the fastest lap of the race under his belt, he was 1.5-seconds behind Ransley. For a while it looked like he was catching Ransley, but in the end the Miles Toyota driver would collect the chequered flag with 1.6-seconds in hand over a competitive Adam.
Behind the dice for first was a fierce CareVets Scholarship civil war between Crighton and former points leader Hedge. Crighton had looked threatening early in the race but had faded after getting passed by Post Haste–backed driver Adam. On the penultimate lap, Hedge got past him too via a brave dive at Higgins. The no-contact brawl was one of two exciting battles to watch in the final laps and Hedge was thankful to break his podium drought.
"It was an average weekend at Teretonga, but we've managed to get a few kilometres on the new engine since then and now we're back up to speed," said Hedge. "I'm really enjoying the circuit here at Manfeild. It's fast and flowing and produces good racing. The rest of the weekend should be pretty exciting."
The other big closing battle was further down the grid, as Baldwin pushed and pushed to try and make some positions in the dying laps to mitigate his losses in the points standings. After being out of touch with the rest of the grid, he was closing in on the dice for 12th between Justin Allen and Leo Bult. By the last lap he was on Bult's tail. Despite some late braking at the sweeping last corner, Leo managed to hold on to 13th, leaving Baldwin down in 14th.
There are two more Toyota 86 Championship races to come tomorrow at Manfeild. The first is scheduled for 10.00am, with the third and final race at 2.05pm.
2018-2019 Toyota 86 Championship Round 5 – New Zealand Grand Prix, Manfeild. Race 1
1. Jaden Ransley – Miles Toyota/Kitchen Studio
2. Connor Adam – Post Haste/Weigh Northland
3. Callum Hedge – CareVets NZ Ltd
4. Arran Crighton – CareVets NZ Ltd
5. Kaleb Ngatoa – JJ Wallers/Capture Sign
6. Jacob Cranston – Best Bars/Vista Lite
7. Brock Gilchrist – NEXUS Logistics/Giltrap Group
8. Peter Vodanovich – CMC Markets/MacClure's ITM
9. Connor Davison – Hampton Downs/Highlands Park
10. Andrew Jackson – North Shore Toyota
11. Sam Wright – Tony Richards Toyota/Premier
12. Justin Allen – Battery Town/Thunder Adventure
13. Leo Bult – North Western Toyota
14. Jordan Baldwin – Intermach NZ/Carters Tyres
15. Campbell Stewart – NZPGS/Hydraulink
Caption:  After a fine win at Manfeild, Jaden Ransley now lead the Toyota 86 Championship. Picture Bruce Jenkins.