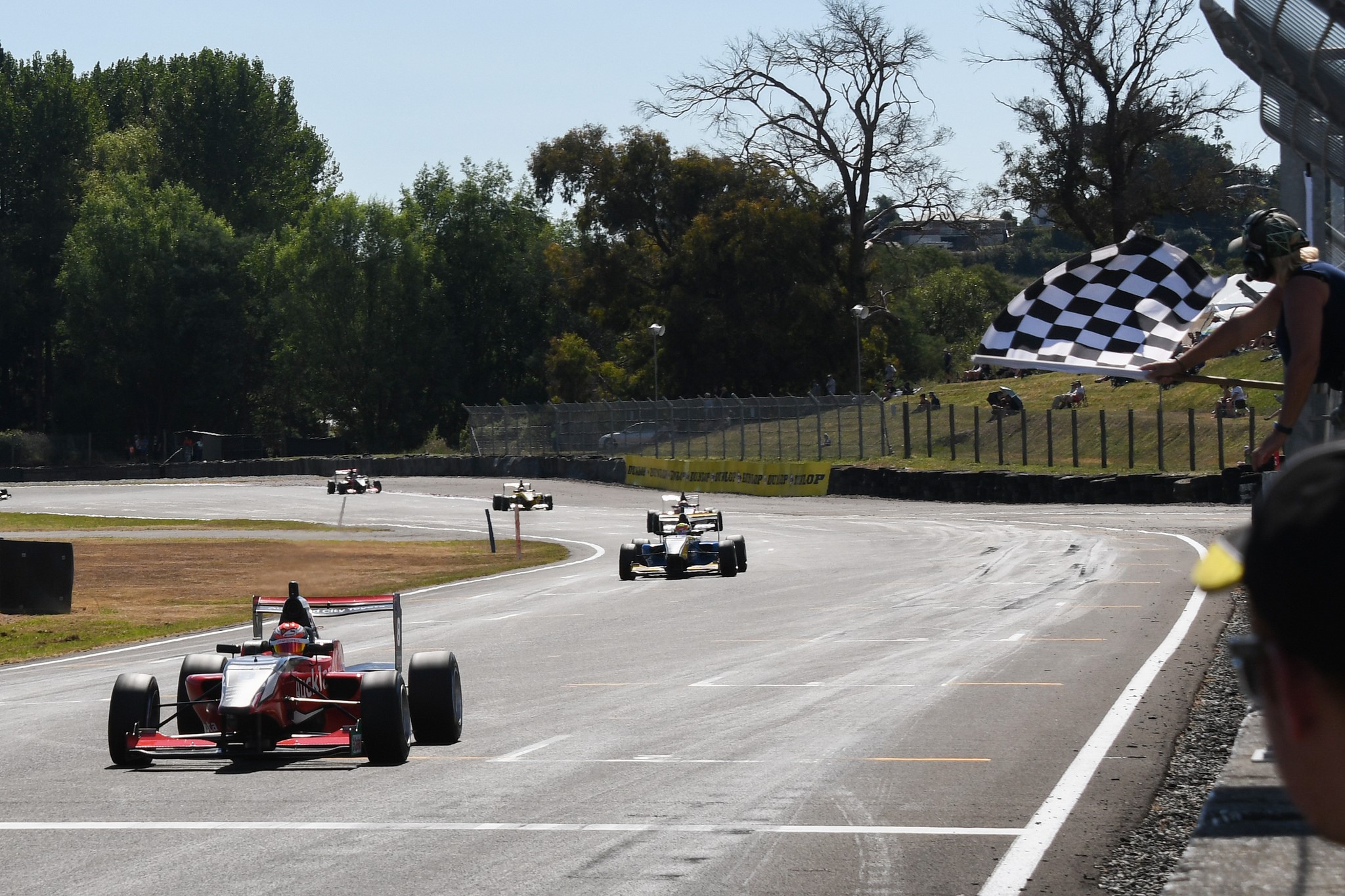 A point in it as masterful Armstrong wins
Marcus Armstrong put in a polished performance to win the first race of the final weekend of the Castrol Toyota Racing Series, beating series leader Liam Lawson into second place and reducing his compatriot's lead to one point with just two races – including the 64th New Zealand Grand Prix – to go.
Lawson now has 309 points to Armstrong's 308.
A great start by the Ferrari Junior driver propelled him into the lead and by the first turn he was two or three car lengths to the good. Pole man Lawson was slower away and had his mirrors full of Lucas Auer at the first turn. It was tight through the first few turns as the two cars sat virtually side by side but Lawson held off the challenge from the Austrian and as they emerged onto the back straight for the first time it was the sixteen year old holding second place.
There was drama all around for the crowd to enjoy, and as the field streamed its way through the first lap, Petr Ptacek had a wild ride across the grass but was able to re-join, while Brendon Leitch was making the most of a great start and battled his way up to fourth place.
The race quickly settled down but there was plenty of action throughout the pack, particularly in the mid-field. With five gone it was Armstrong a couple of car lengths ahead of Lawson, with Lucas Auer in close attendance in third, Brendon Leitch a charging fourth, impressive Aussie Calan Williams in fifth, Cameron Das motoring along quite nicely in fifth followed by Esteban Muth, sixteen year old Jackson Walls, Kazuto Kotaka and Romanian Petr Florescu having one of his better races in the championship.
Armstrong, revelling in the handling of his car, was the quickest man on the track and seemed to have an answer for everything that Lawson could throw at him, easily adding a tenth here and two tenths there to his lead to build it to almost a second and a half at half way. Elsewhere the Walls, Kotaka, Florescu and Esteban Muth battle for the lower placings in the top ten was a fabulous one.
It all went wrong for the midfield battle pack on lap 11, however, when Kotaka went wide and lost time at the Higgins corner. A straight later and he out-braked himself on dirty tyres and spun into Petr Ptacek at the fastest corner on the circuit and sent both careering off the track. The Safety Car came out immediately while the wreckage was cleaned up and both drivers, shaken but not stirred headed for a precautionary check up at the circuit medical centre.
The race got back underway with six laps to go and crucially for the race, and perhaps even the championship, Armstrong timed his restart to perfection, flooring the throttle half way around the final corner and taking off leaving the others behind. Lawson got away well too, but had no answer for Armstrong and that's how it stayed for the remaining laps, despite Lawson's valiant and spectacular efforts to bridge the gap to his title rival.
"We're back in game," said a delighted Armstrong afterwards. "To be honest, there was a little bit of a question mark over our qualifying speed and what happened. Liam is doing a really good job, I have to give him that but I don't give up and it's going to go down to the very end I'm sure. Tomorrow is going to be a big day."
Auer ended up having a lonely race to third, while Leitch was impressive on his way to fourth. Fifth was Calan Williams for Australia while Esteban Muth made good progress to finish sixth. Cameron Das was seventh and Petru Florescu eighth, with Raoul Hyman ninth after a wild race and Jackson Walls rounding out the top ten.
Veteran Kenny Smith's first race of his 48th New Zealand Grand Prix weekend could be considered a resounding success. A good start saw him fifteenth after the first lap. HIs lap times were good and he stayed out of the trouble around him to be up to 13th by the time the race was stopped for the Kotaka Ptacek incident. Russian Artem Petrov did not start the race due to illness.
Race 2 tomorrow morning will have a grid based on the finishing results from today's race, with the top eight starting in reverse order. That will put Petru Florescu on pole position and Cameron Das alongside him.
2019 Castrol Toyota Racing Series – New Zealand Grand Prix, Manfeild, Race 1
1. Marcus Armstrong (New Zealand)
2. Liam Lawson (New Zealand)
3. Lucas Auer (Austria)
4. Brendon Leitch (New Zealand)
5. Calan Williams (Australia)
6. Esteban Muth (Belgium)
7. Cameron Das (United States)
8. Petru Florescu (Romania)
9. Raoul Hyman (United Kingdom)
10. Jackson Walls (Australia)
11. Dev Gore (United States)
12. Parker Locke (United States)
13. Kenny Smith (New Zealand)
14. Thomas Smith (Australia)
DNF: Kazuto Kotaka (Japan)
DNF: Petr Ptacek (Czech Republic)
DNS: Artem Petrov (Russia)
Caption:  Marcus Armstrong's fine win at Manfeild leaves the gap to series leader Liam Lawson at one point. Picture Bruce Jenkins.
Media release: Toyota Racing NZ