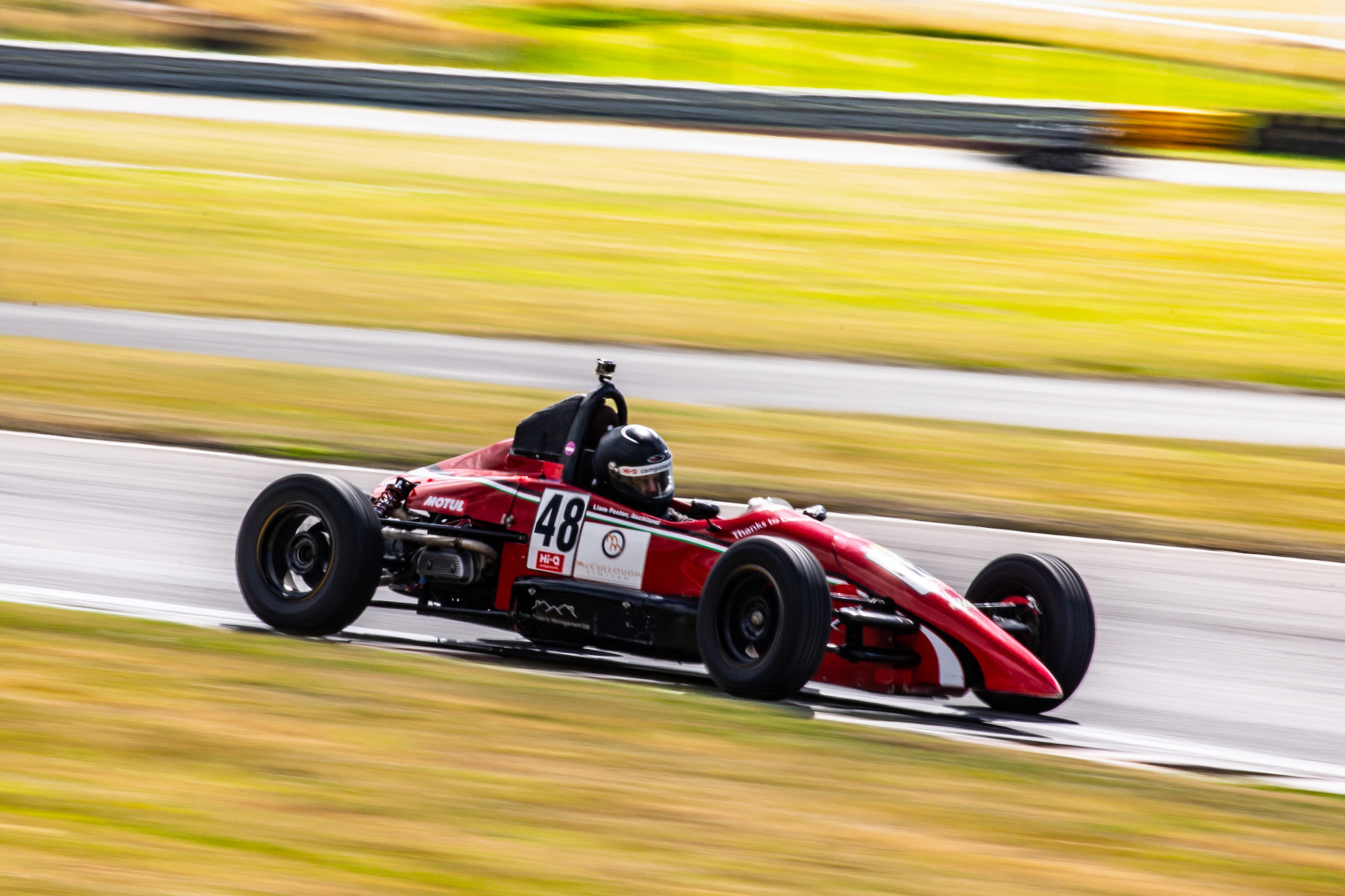 Liam Foster slashes Chris Symon's NZ Formula First Championship lead at Taupō
Liam Foster has slashed Chris Symon's points lead by over half at the latest round of the 2020-21 Hi-Q Components NZ Formula First Championship at Bruce McLaren Motorsport Park.
Taupō played host to round four of the 2020-21 Championship for races 10, 11 and 12 at the weekend. The event also boasted the largest number of entries of the season thus far with 19 drivers lining up to compete.
Saturday morning's 15-minute qualifying session gave an early indication of what was to come when Foster comfortably set the fastest time to take pole-position over Symon. Brody McConkey kept himself in the midst with the third-fastest time ahead of rookie Dylan Grant who achieved his personal best qualifying result with fourth.
The opening eight-lap race saw Foster quickly break away from the field. Symon, struggling with the handling of his car, engaged in a battle with McConkey until the latter broke away from the championship leader and set about catching the race leader.
McConkey would eventually catch Foster to fight for the win but ultimately fall short of victory has Foster's pace proved too much for McConkey who was nursing an ailing clutch. Symon hung on to finish in third ahead of Zac Blincoe and Dylan Grant who had a dynamic battle for being the highest placed rookie.
Sunday morning's race, shortened to six-laps, saw McConkey fight back to claim victory over Foster by just 0.197-seconds. The pair had another race-long battle for the win which briefly put them into the grasp of eventual third-place getter Blincoe.
Importantly for Foster, championship leader Symon finished just off of the podium in fourth, which surrendered more of his points lead.
The final race of the weekend, also shortened to six-laps, was Foster's time to shine once again as he took a dominant victory over Symon. McConkey had been right on the gearbox of Foster until the penultimate lap when his right-front wheel parted way with his car, forcing him to retire.
Blincoe inherited another podium finish as a result of McConkey's woes while Hayden Bakkerus claimed fourth ahead of Mason Potter.
Chris Symon's championship lead now sits at just 38-points over Foster with four rounds remaining in the season. A DNF in the second race for Leo Scott combined with Zac Blincoe's strong set of results saw the later move up into third in the championship and extend his rookie of the year lead out to 76-points over Hayden Bakkerus.
The next stop for the 2020-21 Hi-Q Components NZ Formula First Championship falls on 22-24 January at Hampton Downs for the 66th New Zealand Grand Prix event.