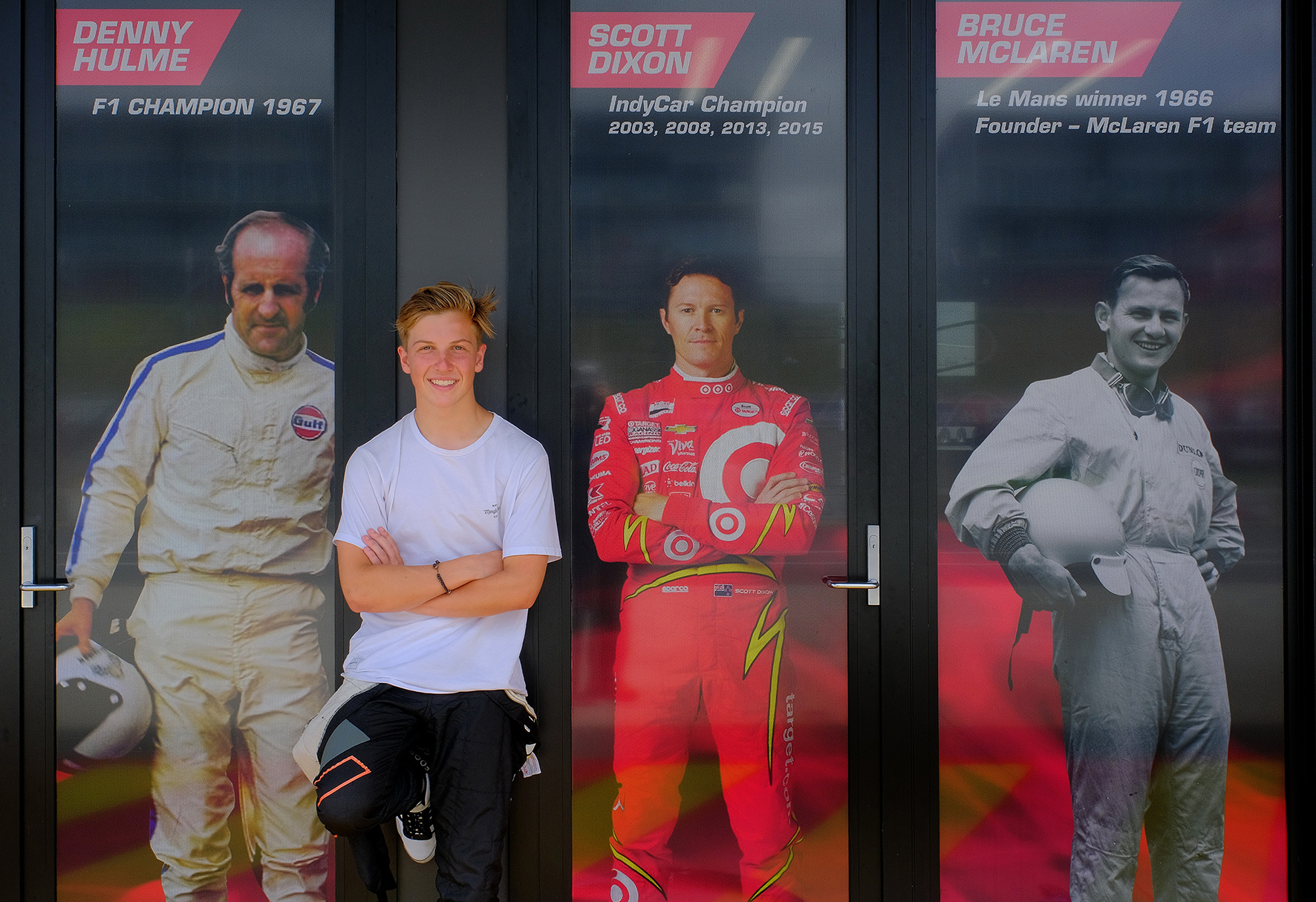 Lawson to race dual championships in Europe – Red Bull enter Kiwi teen in FIA F3.
New Zealand teenage motor racing champion Liam Lawson will race in the all new FIA F3 championship, featuring at 8 rounds of Formula 1 in Europe this season.
Lawson, who recently signed for the Red Bull Junior Team to contest Formula European Masters (FEM) with Motopark from Germany, will also drive for the Dutch team MP Motorsport in the brand new Formula 3 series.
Lawson has been named as the Red Bull driver in the MP squad alongside local Richard Verschoor and young Finnish driver Simo Laaksonen. Both of his teammates have previous GP3 experience, the car replaced this year by the new halo-fitted version, and now called FIA F3.
"It was a massive surprise to be told I was racing in FIA F3 as well as the Masters, so it's going to be an intense and very busy season," said Lawson.
The FEM series caters for the older generation Formula 3 cars which Lawson has successfully tested, but the new GP3 replacement, or FIA F3, will a big step up for the 17-year-old from Pukekohe.
Powered by a V6 engine producing close to 400hp, FIA F3 is just two steps away from a Formula 1 car.
Most of the 30 drivers in the series will get their first experience of the new car during testing next week.
"It will be seriously cool to race these cars. I've driven cars that have lots of grip and downforce so to race a car with plenty of [horse] power will be really special," added Lawson.
"MP is a great team. They have successfully worked with Red Bull Junior drivers before so I'm confident we can do well."
MP Motorsport team manager Sander Dorsman is excited to have the young Kiwi in his team and has been actively enquiring about Lawson for some time.
"We are very proud to have Liam as part of our FIA F3 line-up in 2019. He was mightily impressive in ADAC F4 in Germany last year and his TRS championship run in New Zealand was nothing short of sensational. Together with Richard and Timo we now have three drivers capable of finishing on the podium – and that is exactly what we are aiming for," said Dorsman.
Lawson leaves New Zealand on Wednesday for Europe and heads immediately into testing for FEM in Germany, then flies overnight to France for the first official test of the new FIA F3 cars at Paul Ricard. Two days later he's back testing FEM in Italy.
Selected as a Red Bull Junior driver puts Lawson on a pathway towards Formula 1 but he's acutely aware that to join the elite group of former Kiwi F1 drivers is no easy task and to become the next World Champion to Denny Hulme is even harder.
"I would love to be the next F1 World Champion from here but that's still a long way off.
"Before I signed the contract with Red Bull we all knew it won't be easy and there's a lot of hard work ahead. If I don't perform I'll get dropped, but I feel ready."
And ready he'll need to be. There are 17 race meetings over the combined championships and nearly 50 races this season.
The FEM series kicks off at Hockenheim on the weekend of May 4-5, with the FIA F3 cars first round part of Formula 1 at Barcelona, Spain a week later.
Lawson may also get to relive those intense battles he had with fellow Kiwi driver Marcus Armstrong during the TRS championship, with Armstrong confirmed in the Prema Motorsport team. Lawson just pipped Armstrong to win the TRS title and the NZ Grand Prix.
Calendar 2019  – FEM & FIA F3:  
04-05 May, FEM  Hockenheim, Germany
10-11 May, FIA F3  Barcelona, Spain
17-18 May, FEM  Zolder, Belgium
07-08 June, FEM  Misano, Italy
21-22 June, FIA F3  Paul Ricard, France
28-29 June, FIA F3  Red Bull Ring, Austria
05-06 July, FEM  Norisring, Germany
12-13 July, FIA F3  Silverstone, UK
19-10 July, FEM  Assen. Netherlands
02-03 August, FIA F3  Hungaroring, Hungary
09-10 August, FEM  Brands Hatch, UK
23-24 August, FEM  Lausitzring, Germany
30-31 August, FIA F3  Spa, Belgium
06-07 September, FIA F3  Monza, Italy
13-14 September, FEM  Nurburgring, Germany
27-28 September, FIA F3  Sochi, Russia
04-05 October, FEM  Hockenheim, Germany
Caption: Liam Lawson hopes to one day be the next Kiwi F1 World Champion, more than 50 years after Denny Hulme.    
Image by Geoff Ridder.
Media release: Grant McDonald