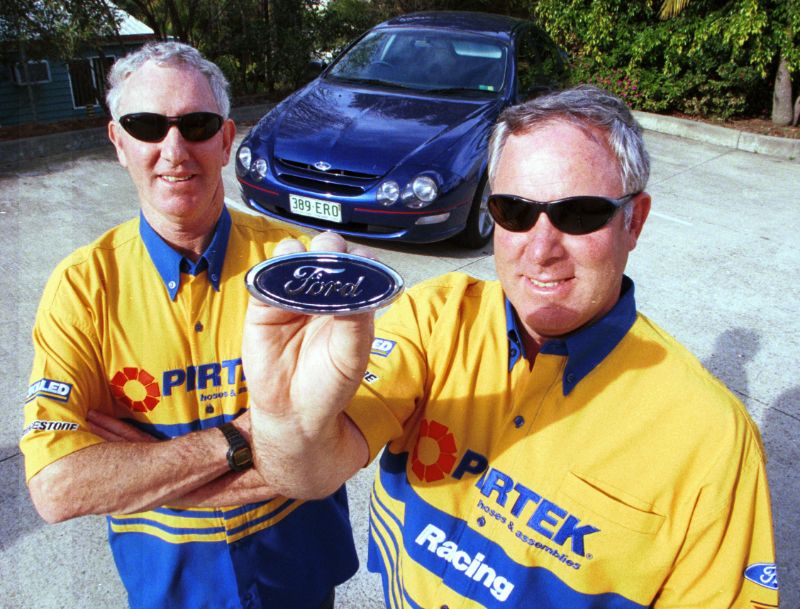 Kiwi motorsport legends set for Hampton Downs event
Stone Brothers Racing have been arguably one of New Zealand's most successful sports teams of the last 25 years. The Warriors in the NRL and the Breakers in the NBL have both enjoyed some success in Australian leagues but their achievements pale in comparison to the record and the reputation of the Stone Brothers in V8 Supercars.
Originally from Onewhero, just 30 kilometres from Hampton Downs, Jimmy and his younger brother Ross built a motorsport dynasty in Yatala, halfway between Brisbane and the Gold Coast. Over the years, they've employed lots of Kiwis and earned the respect of the Australian motorsport community.
Their achievements will be celebrated at the Legends of Bathurst event at Hampton Downs from January 12-13. The Stone brothers will be joined other greats of the Australian Touring Car Championship, including Dick Johnson, John Bowe, Jim Richards, Steve Richards and Paul Radisich.
Both Stone brothers are steeped in New Zealand motorsport history. Jimmy worked for Bruce McLaren's team in England and was at the Goodwood track in June 1970, when McLaren died while testing a new car. Ross won the New Zealand Formula Pacific Gold Star Championship in the 1970s and made his first foray into Australian motorsport in 1985 as a mechanic for fellow New Zealanders Ray Smith and former Formula One world champion, Denny Hulme in the endurance touring car series.
In 1986 Ross worked as a mechanic for Kiwi motorbike legend, Graeme Crosby who made a spectacular debut in the Australian Touring Car Championship as a privateer, finishing second in a race in Adelaide and seventh in the championship. A couple of years later Ross and Jimmy made the move to Australia and started their long relationship with Ford.
Dick Johnson recruited the Stone brothers to work for his team in 1992 and they come close to winning the Bathurst 1000 in their first season, only for the officials to declare Jim Richards and Mark Skaife the winners after the race was abandoned due to heavy rain.
With Jimmy's engineering expertise and Ross' managerial and business smarts, the pair made a winning combination. In 1994, the pair helped Dick Johnson and John Bowe to the Sandown 500 and Bathurst 1000 endurance double. The following year, the Kiwi brothers left DJR to go into partnership with Australian motorsport legend and Formula One world champion Alan Jones to form Pack Leader Racing. A couple of years later the brothers mortgaged their Gold Coast homes to buy out Alan Jones and form Stone Brothers Racing.
In 1998, Jason Bright and Steven Richards won the Bathurst 1000 to give the Stone Brothers Racing team its first major title.
"It was a bit of a gamble going with two young, inexperienced drivers," admits Ross Stone. "We'd lined up a big sponsor and they threatened to pull their sponsorship if we didn't sign a big name driver instead of Bright. But I stood my ground and we managed to pick up a new sponsor in Pirtek. That was the start of a long relationship with them and they were perfect partners. If I was in a similar position now I'd probably back down but I was a lot younger back then and I enjoyed working with young, up and coming drivers."
"When I was growing up watching hill climbs in NZ, Jim Richards was one of my favourite drivers. I spoke to Jim about coming to drive for us at Bathurst in 1998 but Jim suggested we talk to his son Steve instead. Steve turned out to be brilliant for us."
"We knew we had a really fast car in 1998. We just couldn't get a clean lap in the practice sessions but we knew from the sector times that we were on the money. Out of frustration more than anything else, Jason crashed the car at the top of the hill on Friday morning. We weren't sure if we were going to be able to fix the car but we did a big rebuild on it and just made it in time for the qualifying session on Friday afternoon. We qualified down the field but we knew the car was quick and our race strategy on Sunday was to pit early and run on our own in clean air. The strategy couldn't have worked out better and it was just a perfect day for us."
Stone Brothers Racing came close to winning a second time at Bathurst in 2000 when Tony Longhurst was leading with a few laps to go before a collision with a backmarker put an end to his race. Another infamous collision between Greg Murphy and Marcos Ambrose towards the end of the 2005 race is part of Bathurst history.
"I've only spoken to Greg once about it because I was a bit dirty about the whole thing," admits Ross. "I'm pretty sure Greg missed a gear going up the hill but it was just one of those things. That's racing. Marcos never won around Bathurst but he was a great driver for us."
In 2003, Ambrose won the first of three Supercars titles for Stone Brothers Racing and the following year he joined an exclusive club of drivers to win back-to-back Australian Touring Car titles with his team-mate Russell Ingall in second, the first time a team had two drivers finish first and second in the championship. Russell Ingall made it a hat-trick for Stone Brothers Racing in 2005 and they also took out the team championship for the second year running.
The team was sold to Erebus Motorsport in 2012 but Ross and Jimmy are still involved in motorsport. Jimmy's helps his son Matt who runs a Commodore in the V8 Supercar Championship with young driver Todd Hazelwood and also competes in the Super2 series and Touring Car Masters. Ross Stone Racing just finished 3rd in the first year of the Australian SuperUte Championship with young Kiwi driver Tom Alexander. Both are looking forward to a trip down memory lane at the Legends of Bathurst.
"People around the world have an interest in Bathurst because it's such a great track and has produced so many classic races over the years," says Ross. "It's a great excuse to get home to New Zealand and catch up with all my old friends from the sport before I moved across to Australia."
Caption: Jimmy (left) and Ross Stone in 1998, the year Stone Brothers Racing won the Bathurst 1000 with Jason Bright and Steve Richards.
Release: Hampton Downs