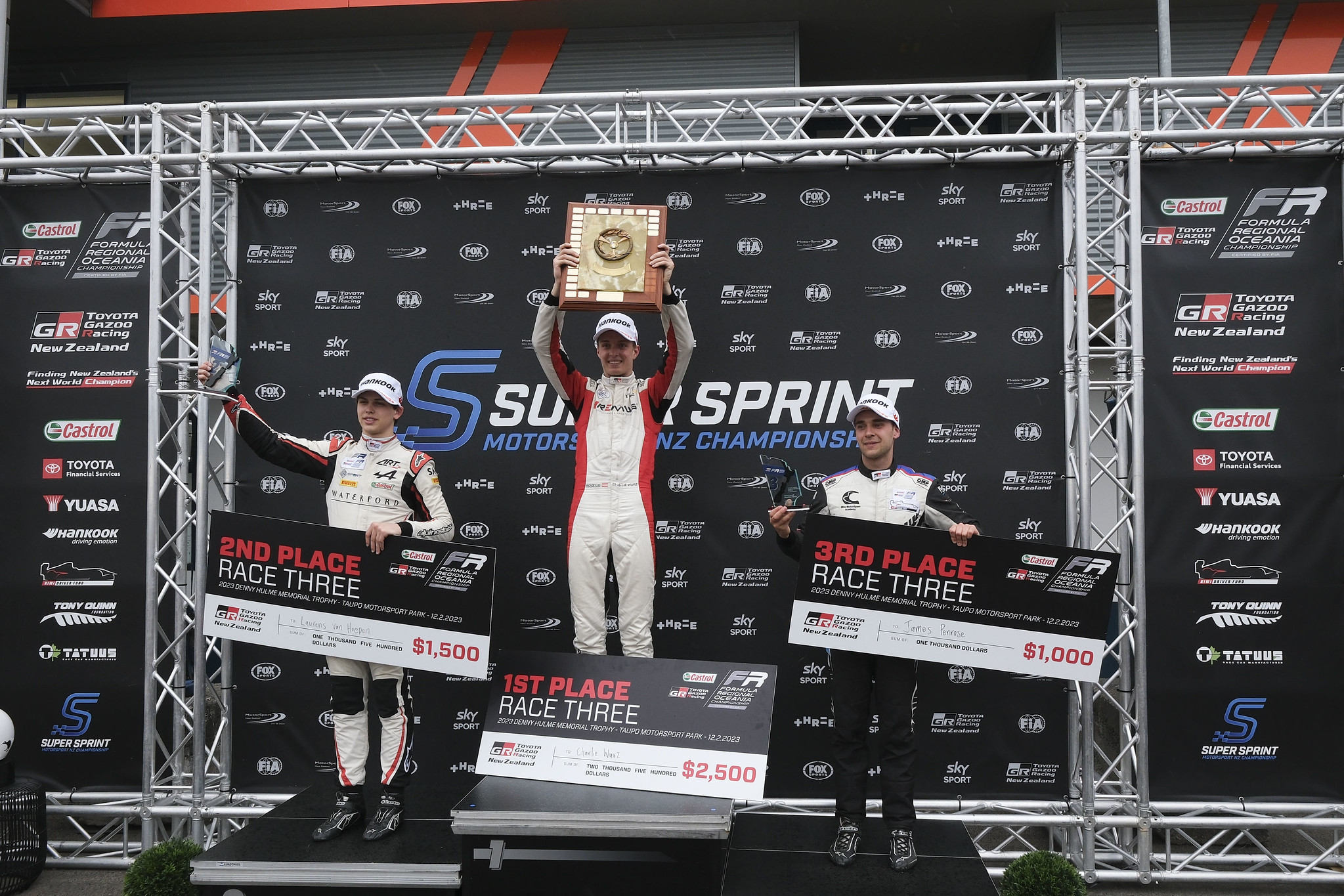 Ice cool Wurz wins Formula Regional Oceania title in style
Austrian Charlie Wurz stayed calm as drama unfolded around him to take victory and the title in the final race of the 2023 Castrol Toyota Regional Formula Oceania Championship.
Wurz put a troubled Saturday behind him and did everything he had to do on Sunday at the Taupo Motorsport Park in New Zealand to win his first major junior formulae championship. The championship adds 18 FIA Super Licence points to Wurz's tally as he continues his quest to follow father Alexander into a career in Formula One.
On a vital final day Charlie was unstoppable. He finished a fighting third in the morning's reverse grid race to take the championship lead, took pole position for the last race then led from start to finish in the Denny Hulme Trophy finale. Callum Hedge – who had a three point lead in the title race on Sunday morning – could do nothing.
"I can't feel any better," said Wurz afterwards. "I mean that race was the most difficult to win of this championship for me because it started raining a lot, I was so afraid of going off and I had to keep Laurens behind me.
"Luckily I got a bit of a gap and could relax a bit but then the Safety Car came out and I thought 'Oh no' so I had to get it all right in the restart but fortunately it was OK. This gives me a lot of confidence going into Europe. I know the competition is tough over there but it has been strong here. I've learned a lot about racing in New Zealand."
The final race drama started at the first corner when David Morales turned Louis Foster around. Unlike his similar move on Saturday though, everyone survived the chaos, although it left Foster right at the back. The resulting traffic jam was good news for Hedge as well. He'd had a very bad start and dropped down the order but somehow emerged from the congestion at the first corner in fifth. Better news still for Hedge was that ahead of him, Liam Sceats copped a five second penalty which would be added to his overall race time for creeping at the start.
At the end of the first lap Wurz lead from Laurens van Hoepen, who had opted for higher tyre pressures at the start to aid an early attack on Wurz. As the race wore on, however, those higher tyre pressures became a hindrance not a help and he fell back into the clutches of Sceats. Hedge was stuck in fourth a few seconds back from Sceats but could not make significant inroads into the leaders.
That changed as the race wore on and rain began to fall, lightly at first, but heavier as the race wore on. At no stage were wet tyres considered, but the track was slippery enough for Hedge's 'win it or bin it' strategy he talked about on the grid to pay dividends and he soon had Sceats and van Hoepen in sight.
Wurz though, had built a comfortable lead as van Hoepen fell back and it all looked irrelevant until Ryder Quinn and Adam Fitzgerald clashed at Turn 7, the infield hairpin, on lap 16. Fitzgerald was on the apex and couldn't restart his car which inevitably brought out the Safety Car and threw Hedge one more lifeline in the dying laps.
Fitzgerald's car was quickly restarted and sent on its way without too much delay. As the Safety Car left the track, Wurz opted to go early went early catching out several of the cars behind. That included Hedge who was jumped by a flying James Penrose, who had miraculously worked his way through the field from 12th on the grid.
While Hedge was down and out, Penrose charged on and fought his way past Sceats for a spot on the podium. It was all academic for Wurz though, who crossed the line a second ahead of van Hoepen.
Penrose's drive to the podium was a rich reward for a very fine drive after a terrible weekend and both he and his Kiwi Motorsport team were ecstatic afterwards.
Hedge came home fourth and runner up in the championship points, while Sceats still managed to claim fifth ahead of Jacob Abel in sixth. Australian Tom McLennan was seventh for his best result in the championship while Sunday Race 2 winner Chloe Chambers took another strong result with eighth ahead of Kaleb Ngatoa and Morales, who recovered from a drive through penalty for his tenth place.