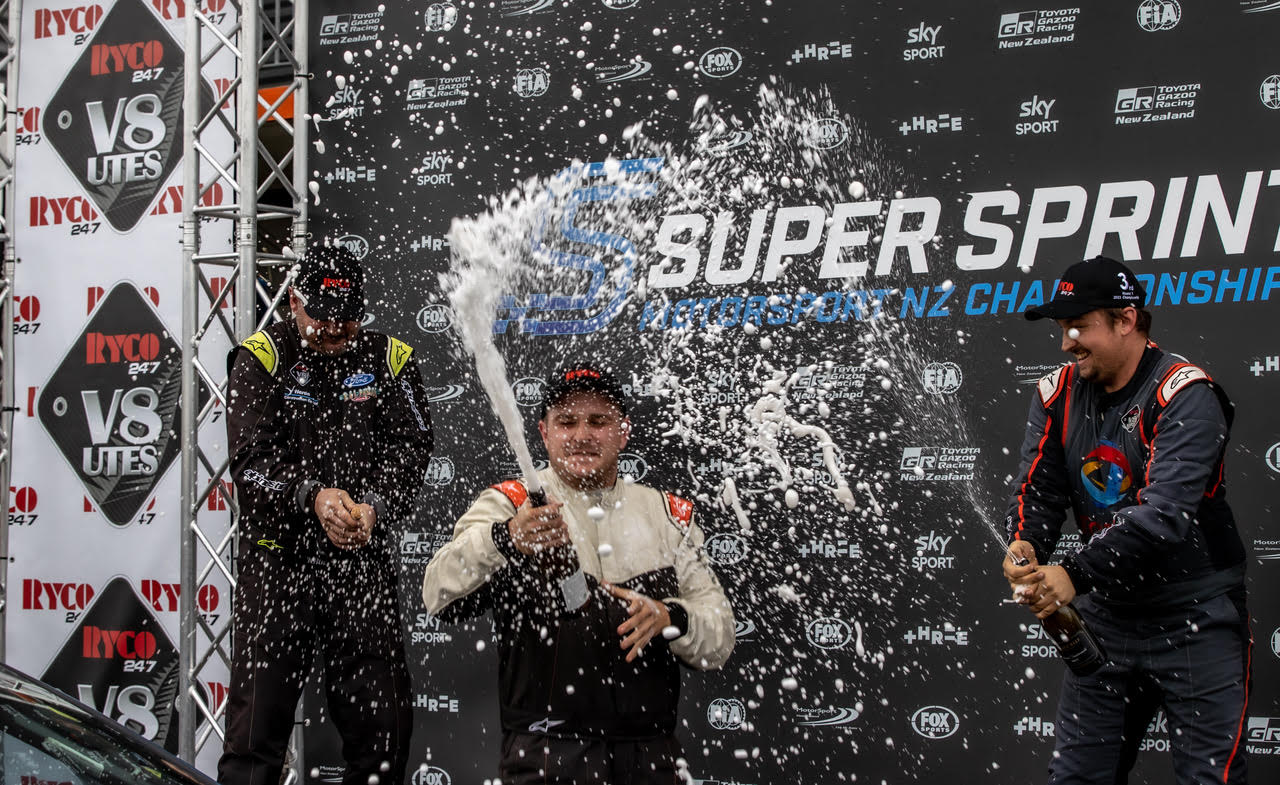 Brad Kroef wins 3 out of 3 in the V8 Utes racing at Taupo.
The weekend's racing at Taupo International Motorsport Park was all about the dominance of Brad and Greg Kroef in the RYCO 24•7 V8 Utes championship. Brad Kroef won the round in convincing fashion with three wins from three races, but the other places on the podium were considerably harder fought battles.
Qualifying and Race One on Saturday had established Brad as the one to beat, but Phil Ross was on a mission threatening to gatecrash the Kroef party.
Race Two on Sunday morning was a reverse grid format which saw some frantic overtaking as Saturday's front runners started at the back. The race began with Paul 'Smokey' Fougere slipping down the inside of Bruce McRae into turn one to claim the lead. A hard-charging Phil Ross was next to stamp his authority on the race, slicing through the mid-field and up into the lead by lap two.
Then Brad and Greg Kroef came swiftly into the frame, with father Greg Kroef first challenging Phil Ross for the lead. But Phil was having none of it and managed to keep his nose in front – corner after corner. By the fifth lap, Brad Kroef had worked his way up from the back of the grid to claim third and was now on the tail of his dad.
It took a rare lock-up from Greg Kroef on lap six for son Brad to find a way past him and into second place. Phil Ross was next on his list. Brad ultimately claimed his scalp as well, finishing the race a convincing 8.5 seconds ahead of Phil Ross for an emphatic victory.
After the race, the drama continued as David 'Shaggy' Lowe copped a 5-second penalty for an unsafe re-entry following an off-field incident mid-race.
Race Three rolled around at 2.30 pm – and so did the storm clouds as Cyclone Gabriel began casting its grey shadows over the track. Brad Kroef led from the start, but a tense battle unfolded just behind him. Stu Monteith had found a way through to second place after Greg Kroef ran wide on turn one. Phil Ross picked up third while the errant Greg Kroef chased hard in fourth place.
Come the third lap, Phil ran up the inside of Stu Monteith to claim second, but hanging onto that position wasn't to be easy.
Greg Kroef was on a charge, keen to follow his son. First he found a way around Stu, next Phil Ross was within striking distance. Ultimately Greg got around Phil on lap five and that's how positions remained until the chequered flag. Brad ultimately won by a convincing 7.2 seconds over father Greg. But positions third to fifth were considerably closer with barely a second separating Phil Ross from Stu Monteith and Paul 'Smokey' Fougere.
So after Round One of the RYCO 24•7 V8 Utes championship, Brad and Greg Kroef are clearly the ones to beat. Though with several new drivers joining the series next round including past winners Brett Rudd and Glenn Collinson, life will be made considerably more difficult for this weekend's winners. Next stop is Round Two at Pukekohe on March 24th – 26th.