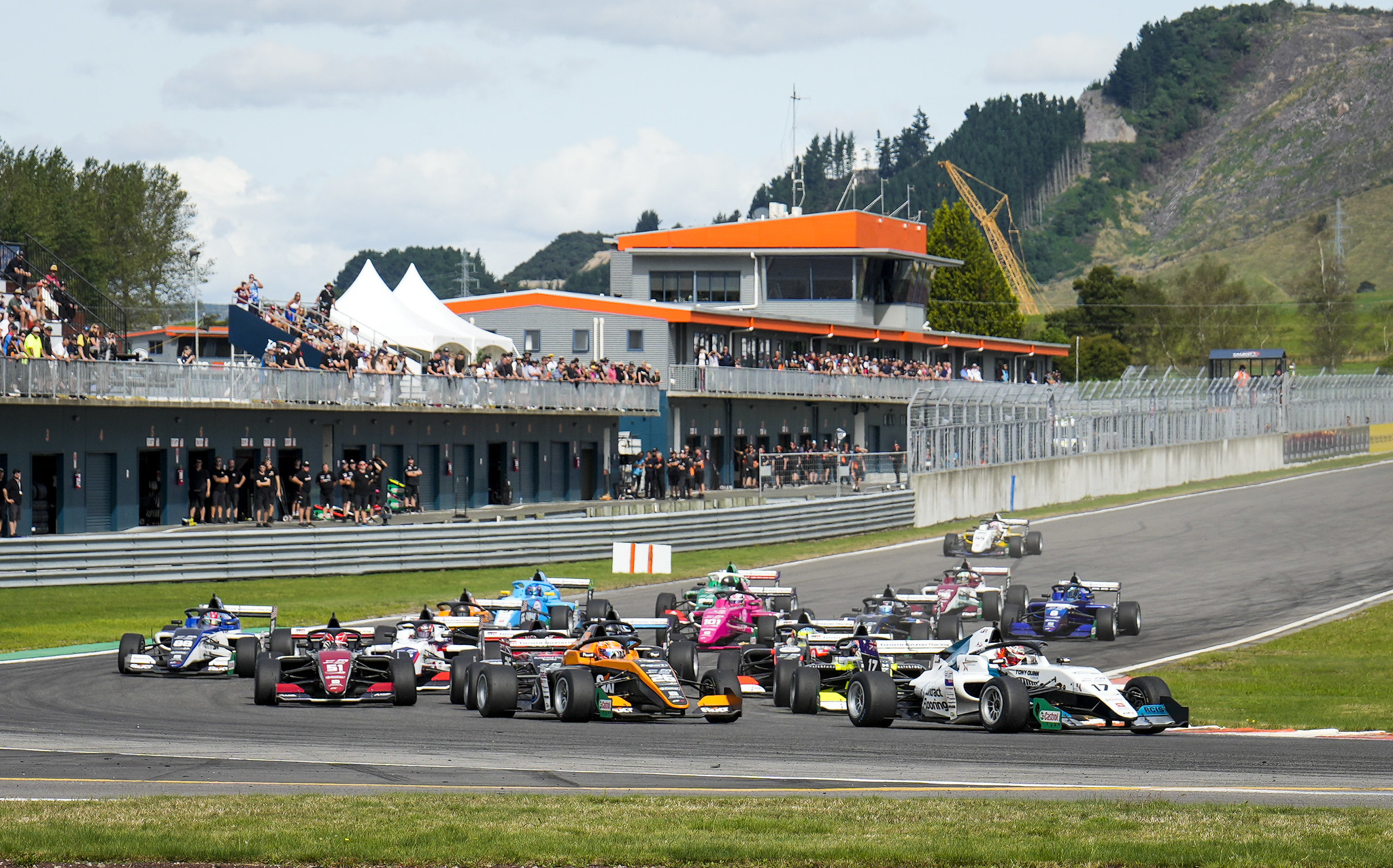 Hedge fights off Foster for classy win and championship lead
Kiwi Callum Hedge won in style at the Taupo International Motorsport Park this afternoon, fighting off a charging Louis Foster and taking the lead of the Castrol Toyota Formula Regional Oceania Championship with just two races to go.
A Safety Car restart after a turn one shunt that cost American Jacob Abel any outside shot of the title left Foster frustrated and Hedge free to make the most of a great start – and a great restart.
On the grid Hedge had said he was unlikely to fight either Foster or Laurens van Hoepen behind him if they were challenging, but Hedge pushed hard to hold off the US Indy Pro 2000 champion threw challenge after challenge after him. It ended with one final big effort from Foster on the last lap – but it wasn't enough.
Hedge held firm to win and in the process turned a ten point deficit in the points to Charlie Wurz into a three point advantage heading into the final day.
"It was a hard race and Louis was definitely quicker than me," explained Hedge after the race.
"It's always good to race against people as good as Louis and put one on him, especially as he was a tenth or two quicker than me. My total focus was the start as we hadn't done good practice starts. I know it's very hard to pass here so I did what I had to do to take the win."
It was a lonely race for van Hoepen in third. He had more than enough pace to hold off Liam Sceats behind him but not enough to challenge the two leaders and after a few laps trying to keep up, he settled back into a comfortable third to preserve his tyres for the reverse grid race on Sunday morning.
All of the 18 lap race's drama came within the first three hundred metres as the field streamed into the tight first turn at the 4.2km track.
Abel – who had made a fantastic start – was turned around mid-corner after contact from fellow American David Morales. Jacob was sent spinning into the pack where he was hit by both Kiwi Motorsport team mate James Penrose and Giles Motorsport's Bree Morris. All three were out on the spot and for Abel his slim championship chances were gone.
It left the Kiwi Motorsport team bitterly disappointed after an already tough day solving gearbox issues on Penrose's Castrol car which kept him out of the morning qualifying session.
With tyre degradation a much more significant factor at Taupo than any other track on the New Zealand calendar, most of the drivers quickly settled into conservation mode – protecting what grip they had for the Sunday morning reverse top eight race. That process accounted for both Liam Sceats in fourth and Wurz in fifth. Kaleb Ngatoa tried his best to attack Wurz through the mid portion of the race, but he too ultimately decided to save what he had for Sunday.
Behind Kaleb in sixth, Morales survived his early drama to come home seventh on the road, with Josh Mason in eighth ahead of Chloe Chambers and Ryder Quinn.
A post-race penalty for Morales pushed him down the order and in what promises to be an enthralling second race on Sunday morning, Chloe Chambers will start from pole position becoming the first woman ever to do so in New Zealand's premier single seater championship.
The final day of this season's inaugural Castrol Toyota Formula Regional Oceania Championship is set to be a very exciting one indeed.