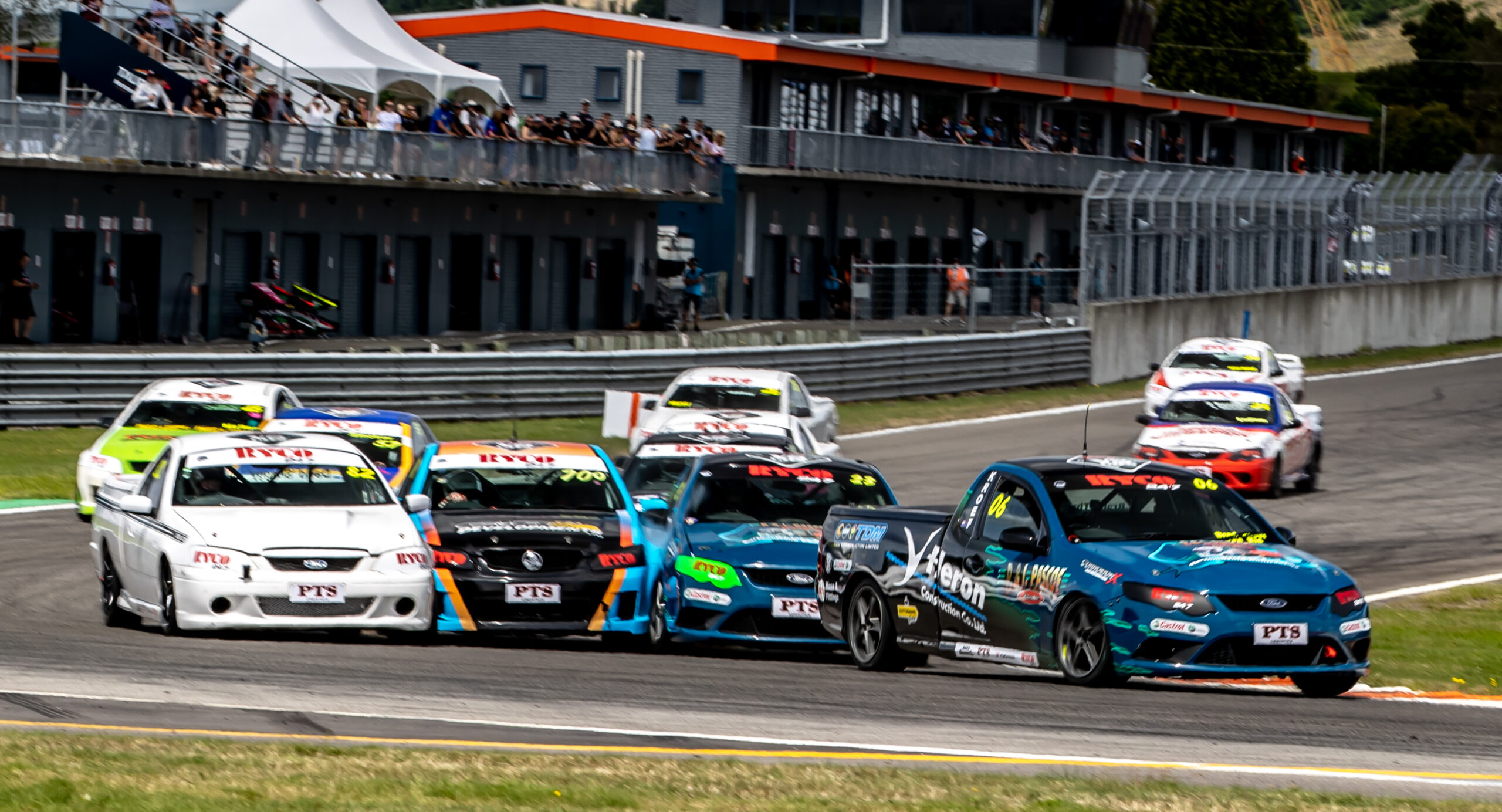 Brad Kroef wins the V8 Utes season opener at Taupo.
The RYCO 24•7 V8 Utes championship kicked off in thrilling fashion at Taupo International Motorsport Park. Brad Kroef ended the day on a high, topping the morning's Qualifying then going on to win Race One in the afternoon. Along the way, there were some tense moments.
The scene was set in Qualifying as Brad and Greg Kroef set the early pace, but not far behind them some new stars were starting to shine. David 'Shaggy' Lowe was the big improver of the session, crashing the Kroef party to slot into second fastest. Phil Ross displayed his family's racing pedigree posting the morning's fourth best time, while Stu Monteith was fifth fastest. Meanwhile, rookies Simon Macleod and Jeremy Hunt promptly got to grips with manhandling their 400hp beasts around Taupo's twisty turns.
That meant the afternoon's Race 1 would be the true test of who was hot – or not. It didn't disappoint. As the lights went out, Brad rocketed ahead. Phil Ross muscled his way between David 'Shaggy' Lowe and Greg Kroef. As they headed three wide into turn 1, something had to give. It did. The front bumper of Phil's Holden connected with Shaggy's Ford – a badly bruised door panel was the result, sending Shaggy out wide and dropping him from 2nd to 7th. That mean after the first lap, it was Brad then Greg Kroef first and second, with Phil Ross close behind in third.
As the laps unfolded, a bruised and battered Shaggy was on a charge. Relegated to 7th by the end of the first lap, he had work to do. Some aggressive manoeuvres pushed him up to 5th, but Stu Monteith proved a formidable road block who clung onto 4th place.
On his first outing in his Ford BF, RYCO 24•7 New Zealand Manager Simon Macleod suffered a blown fuse, killing the engine and blowing his chance of finishing his first ever V8 Utes race. More experienced racer Brent Main, also in a RYCO 24•7 backed Ford BF, suffered a fluid leak issue relegating him to a DNF as well.
Come the chequered flag, it was the Kroefs comfortably in 1st and 2nd. Phil Ross was the big loser just behind them. The stewards later ruled Phil had committed a grid box infringement and slapped him with a 5-second time penalty which advanced Stu Monteith up to 4th. Nonetheless, it was an outstanding drive from Phil which sets him up for a great season.
During the live commentary, Stephen McIvor captured the appeal of the V8 Utes in a nutshell. "The RYCO 24•7 V8 Utes turn back the clock, keeping the Holden vs Ford rivalry alive." Former V8 Utes driver Andrew Waite alongside him in commentary said "These V8 Utes are a lot of fun to drive… they're a beast to throw around." So now as TV viewers on both sides of the Tasman get to enjoy the ride courtesy of Sky Sport and Fox Sports, these 'beasts' are ready to entertain.
As the dust settled after the first day's racing, here's how the V8 Utes finished up.