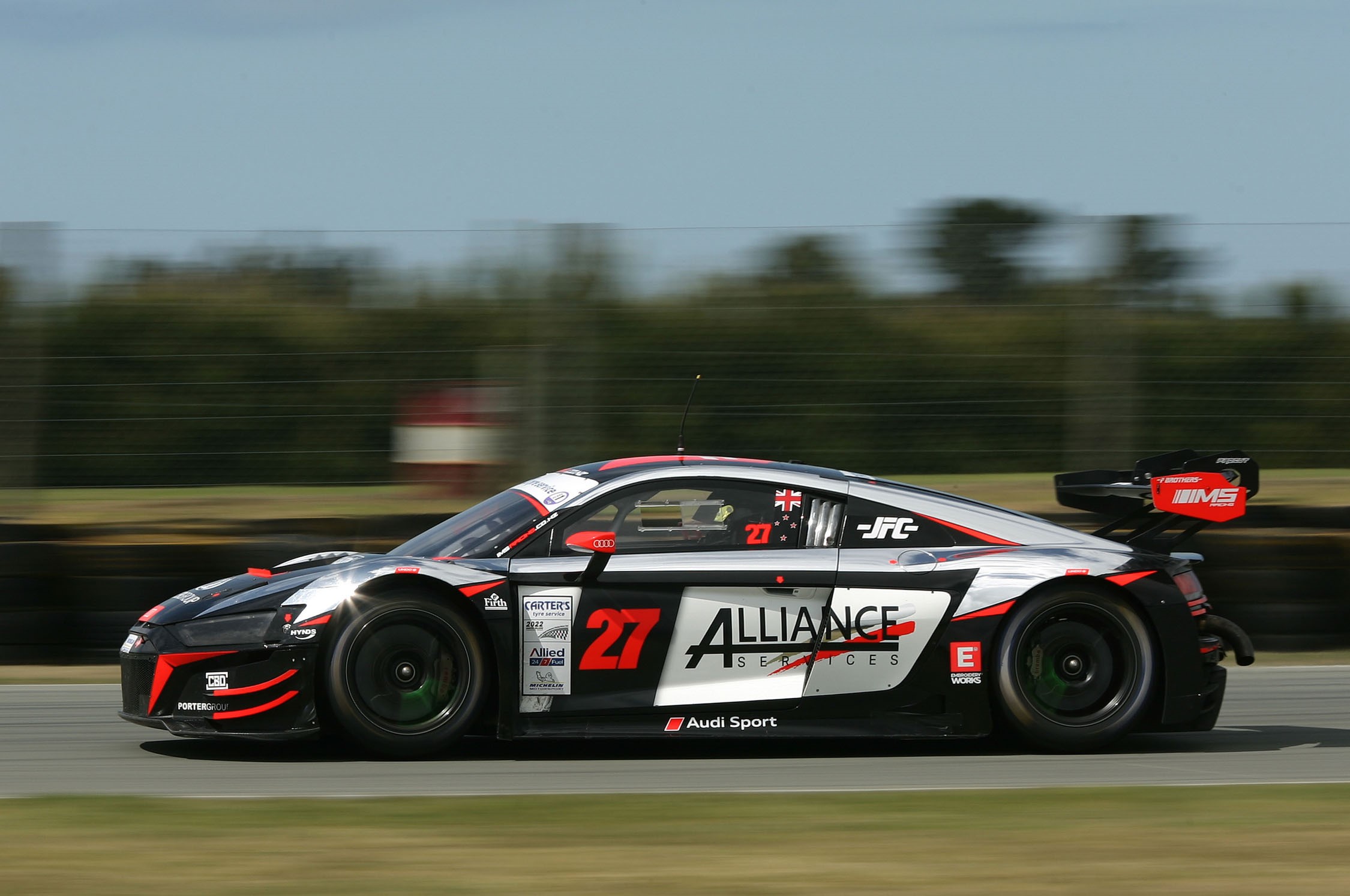 Hard fought Three-Hour South Island Endurance Series title to Fillmore and Reid
Sam Fillmore and Jonny Reid (Audi R8 Evo2) have won the overall 2022 Three-Hour Carter's Tyre Service South Island Endurance Series title after coming home second in the final race at the Timaru International Raceway on Saturday. First home and second overall was the McLaren 720S of Andrew Fawcett/Daniel Gaunt, relieved to have finally won a race in the series.
"We couldn't be happier with the overall win," commented Sam Fillmore. "It's been a tremendously competitive series and I've learned so much from Jonny (Reid) who has done an awesome job."
Fillmore and Reid had already won the first two races of the Three-Hour Series in September and were on track to win their third as Reid was pressuring Gaunt in the dying moments of Saturday's race. This endeavour was to be thwarted after a major crash with ten-minutes remaining. The McLaren 650S of Glenn Smith/John DeVeth severely impacted with a wall which in the end saw officials red flag the race and call time, giving the win to a relieved Daniel Gaunt.
"It's great to win," said Gaunt. "We started like the first two rounds, on the back-foot, but Andrew was able to bring it back and put the car in a good position once I took over."
"We were really hungry for the win so thrilled with this," commented Fawcett. "We look forward to moving on to the nationals in a couple of weeks."
Third home was the father/son combination of Paul Pedersen/Ant Pedersen (Mercedes AMG GT3), their second podium of the series. A retirement from the second round put them out of title contention although they picked up the award for highest placed Rookie Team.
Fourth home and third overall were Hayden Knighton/Kane Lawson (Mercedes AMG GT3) who also won the new Michelin Am/Am Trophy.
Despite the setbacks of a crash in the earlier One Hour race for Class 2&3, Heremana Malmezac along with Jono Lester (Porsche 991.2 GT3 Cup MR) finished fifth and first overall in Class 2 (GT Type). With the Steve Brooks/Bill Riding Porsche 992 Cup car involved in a heavy crash in the 60-minute race earlier in the day and not able to take part, this allowed the door to open for Francois Beziac/Tom Aexander (Porsche 991.2 GT3 Cup MR) to finish seventh and runner up in Class 2.
Marco Giltrap/Simon Evans (Porsche 718 Clubsport GT4) had already wrapped up the Class 3 (>3500cc including GT4) title before the final race, finished in seventh.
The closest title fight before the start of the final race was in Class 4 (2001-3500cc) with Grant Askew/Cole Askew (VW Golf GTi TCR) tied on 115-points with Barry Moore/ James Paterson (Audi R8 2.0T). Moore/Paterson crossed the line in eighth, one place ahead of the Askew's to win the title.
Grant Moore/Matt Moore (Toyota Altezza 2.0) took the Class 5 (0-2000cc) from Andrew Kitching/Will Kitching (Toyota GT86) with Terence Phillips (Honda Civic) third.
A large number of drivers and teams are expected to now compete in the 2022 New Zealand Endurance Championships at the Highlands Motorsport Park in Cromwell, 29 October 2022, with a winner-takes-all one race format for One Hour, Three Hour and Class titles.