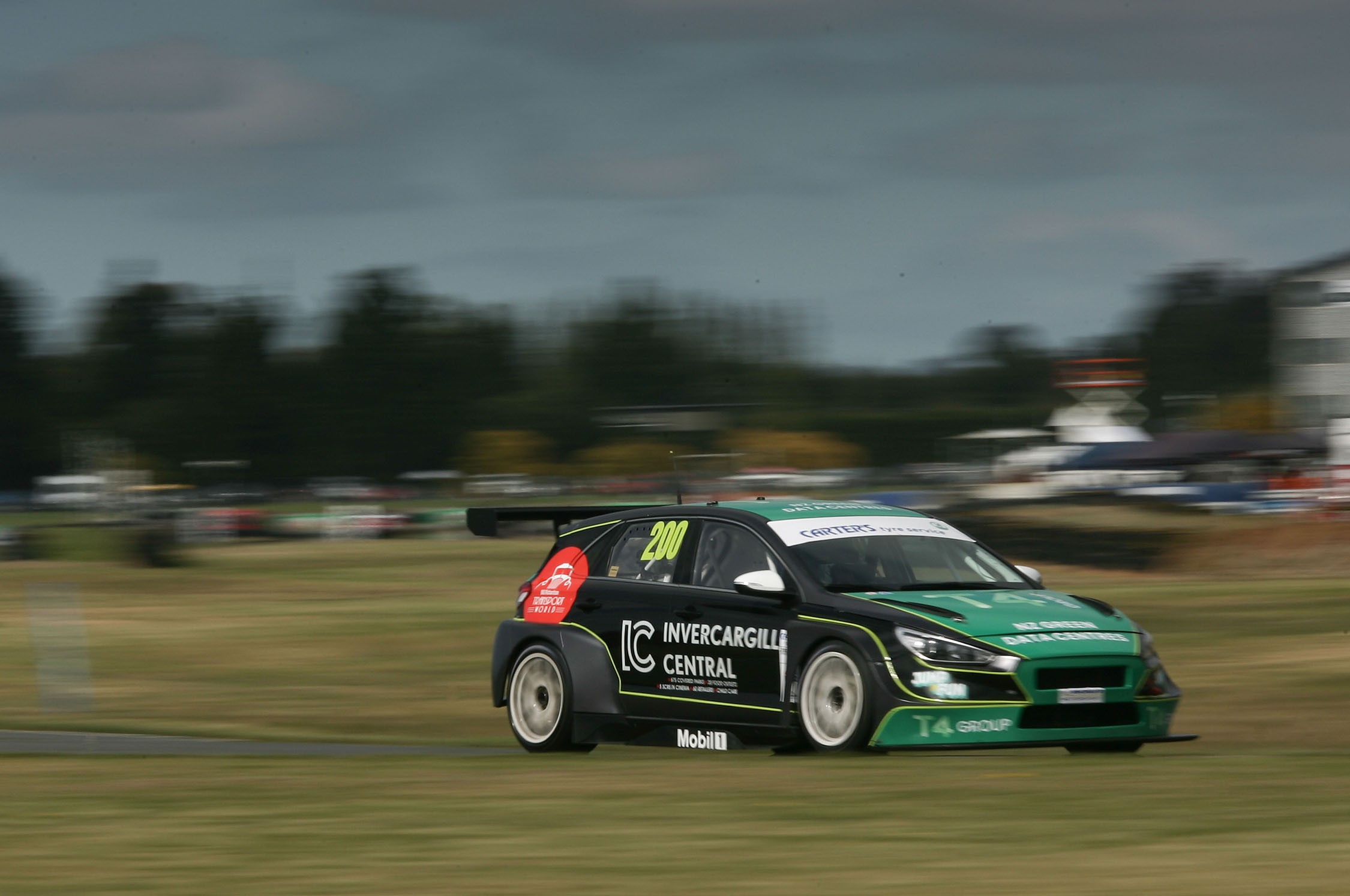 Collins and O'Donnell win separate One-Hour South Island Endurance titles in Timaru
Sam Collins has won the Class 2&3 2022 One-Hour Carter's Tyre Service South Island Enduranace Series title while Scott O'Donnell has won the Class 4&5 title in Timaru on Saturday. The annual three-round series concluded at the Timaru International Raceway with plenty of action and on track drama.
For Sam Collins (MARC Mustang), his third consecutive race win in the Series wasn't straight forward after a coming together with his rival and fastest qualifier, Heremana Malmezac (Porsche 991.2 GT3 Cup), in the opening laps of the 60-minute race. While Collins went on to lead until the chequered flag, the results were never confirmed until late in the day after race stewards had worked through a number of enquiries.
"It's racing and unfortunately things happen," commented Collins. "Thanks to the South Island Endurance Drivers Club as this has been a great event again."
With Malmezac pitted for hasty repairs, it looked like his title tilt was over. However, his crew got him back on track where he was able to finish (in 20th) in the points and salvage a fourth overall.
Collins other title rival, Ronan Murphy (Porsche 991 Cup), was still in contention until a third of the way through the race when a tyre issue sent him into the pits, dropping him down the field. He eventually crawled back to 12th and finished third overall in the Series.
The race was brought to an abrupt halt with minutes left to run after the coming together of the Steve Brooks/Bill Riding Porsche 992 Cup and Steve Scoles' Ginetta G55 on the Start/Finish straight.
While both drivers walked away unscathed, both cars were severely damaged resulting in a red flag and officials calling an end to the race. This meant that the race order of the proceeding lap would determine the race results, subject to any protests.
Second home behind Collins was Christchurch's Ben Byers (Porsche 991 Cup). Leading up to the finale, Byers was sixth overall. However, with the demise of several rivals, his result on Saturday propelled him to second overall.
"It was a good race, pretty tight," said Byers. "I was able to settle into a rhythm with little trouble so pleased with that."
While Collins also won the Class 2 title (GT Type) from Byers and Murphy, the Grant Williams/Ben Williams (Toyota GT86 V8) combination won Class 3 (>3500cc) title from Grant Aitken (Porsche GT4) and Oliver Saxton (Porsche Cayman GT4).
In the race for the Class 4&5 title, Scott O'Donnell (Hyundai i20N TCR) did what was needed, stayed out of trouble and finished in second place behind Grant and Cole Askew (VW GTi TCR).
Andre Simon (Toyota 86 Turbo) was quickest in qualifying, 1.197 seconds ahead of O'Donnell and held the lead from the start of the race. This came undone before the 15-minute mark when a gearbox issue saw him heading to the pits and retirement. The Askew pairing took over the lead and held this until the very end.
Mike Hall (VW Golf GTi TCR) was just 13-points behind O'Donnell heading into the finale and held second to Askew for most of the race and one place ahead of O'Donnell. However, a drive through penalty put paid to his title bid and dropped him down the order, eventually finishing in fourth.
Third overall heading to Timaru, Warren Black (Audi) ended up finishing in 27th after a frustrating race. A driver through penalty didn't help in the dying moments of the race after running as high as fourth in the first 20-laps.
While O'Donnell also won the Class 4 (2000-3500cc) title, first home in Class 5 (0-2000cc) and sixth overall was Mark Meadows (Lotus Exige) but it was the ever-consistent Brad Rule (Honda Civic) who took the title having dominated the Class all season and finished third overall.
The South Island Endurance Racing Drivers Club host the New Zealand Endurance Championships at Highlands Motorsport Park, Cromwell 29 October with many of their Series competitors qualifying for the nationals.