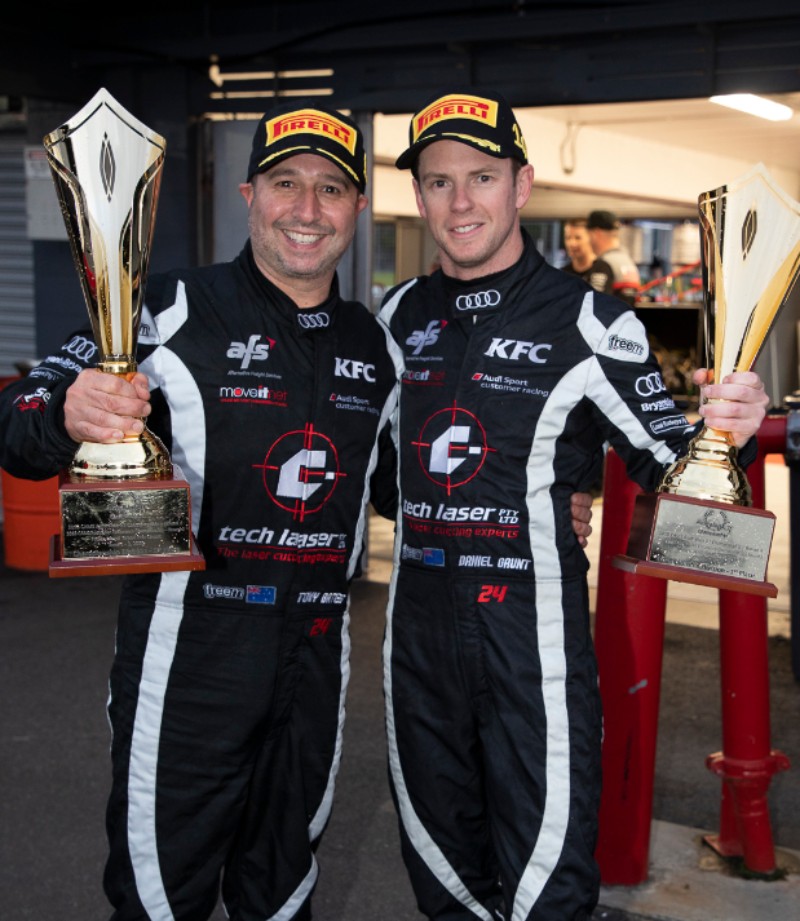 Gaunt gunning for good result at Hampton Downs 500
The Australian GT Series has been good to Daniel Gaunt and he's in with a shot of claiming his first title at the Laser Plumbing & Electrical Hampton Downs 500 next month.
Gaunt will team up with Australian Tony Bates in the Audi R8 LMS for the season finale. The pair won the Phillip Island 101 in June and currently lie third in the Australian Endurance Championship ahead of the final race of the season at Hampton Downs on October 13-14.
"To win the championship we need a few things to go our way but regardless of what happens we'll have fun like we always do," says Gaunt. "I haven't raced the full international circuit at Hampton Downs before so I'm excited to get out there and give it a crack."
"The GT experience has been fantastic for me. I've been lucky enough to pass on the experience I've gained over the years to some of the gentleman or amateur drivers. I've been coaching and co-driving with some of the top guys in the Australian GT Championship and the cars are just unbelievable. They're worth $500,000 to $1m depending on what car you're in and they're as good if not better than the single seater cars I drove. You can drive them as you hard as a single seater but they've got all the safety features and the ABS to make them easier to drive. You can push them like you wouldn't believe and they're just a lot of fun to drive."
Gaunt has had a well-travelled career in single seaters and saloon car racing that has seen him win the Toyota Racing Series (TRS) twice, finish on the top of the podium at the Bathurst 12-Hour (Class B) and work out with Hollywood legend Paul Newman.
Winning the TRS in 2005-06 (a series that included current Formula 1 driver Brendon Hartley) earned Gaunt a scholarship to race in the Champ Car Atlantic Championship in the US. Newman was the owner of the team Gaunt drove for.
"He absolutely loved his motorsport and we stayed in the same hotel as him so he could hang out with the team," says Gaunt. "He was 81 when I met him but he was an incredibly fit and active man. He couldn't go to the gym in the hotel without being mobbed by fans so we used to do reps up and down the stairs of the hotel stairwell. Sometimes there might be eight or nine people from the team doing the stairs with him. It was pretty bizarre but very cool at the same time."
A fifth-place finish in Portland was Gaunt's best result in what was a fiercely competitive series. "It would have been nice to convert that opportunity into another drive in the States but it didn't pan out as I might have hoped," says Gaunt.
He came home to New Zealand and won back-to-back TRS titles, this time defeating his teammate Shane Van Gisbergen, before switching to tin tops. Winning the Porsche GT3 Cup Challenge NZ Championship in 2011 was one of the highlights of his saloon car career while he also did five seasons in V8 Supercars, mainly as a co-driver in the endurance rounds. He was reunited with Van Gisbergen at Stone Brothers Racing in 2009 and he's watched with interest as his former teammate has matured into one of the best drivers in the series.
"Shane was such a fast learner and he adapted so quickly to that level. I wasn't surprised to see him go on and do so well. As for my own career, I've got no regrets. You sometimes wonder what might have been if things had turned out a bit differently but I've been lucky enough to race all over the world. I grew up racing against guys that didn't go further than karting or the junior ranks. I'm so grateful for all of the opportunities I've been given and I continue to get."
Gaunt is throwing himself into a new venture, an electric go-karting and indoor entertainment business that will open on Auckland's North Shore before the end of the year. "I've had a great journey in motorsport and I'm really excited about this new opportunity. It's going to be something different for motorsport fans in Auckland and I can't wait to show it off."
Tickets are on sale now for the Laser Plumbing & Electrical Hampton Downs 500 from www.ticketmaster.co.nz
Media release: Hampton Downs