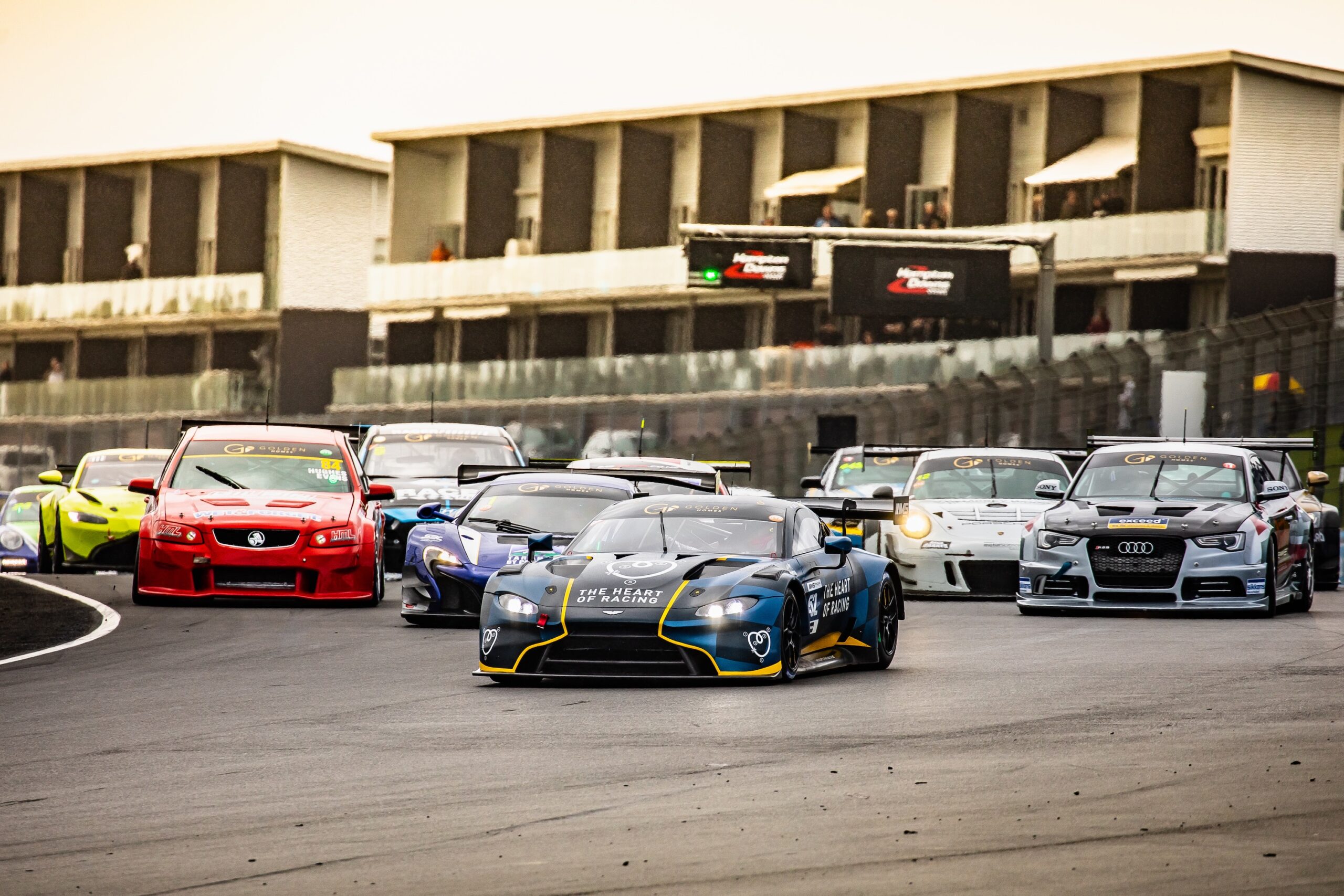 Dual endurance racing events come to Pukekohe Park this Labour Weekend
Pukekohe Park Raceway is the epicentre of Endurance Racing this coming Labour weekend. Saturday sees the Golden Homes North Island Endurance Series with both 1 hour and 3 hour races whilst on Sunday 25th the Historic Racing Club will stage the 2020 Edition of the B&H Endurance Races featuring 500 and 100 mile races for production cars.
Saturday 24th October
Golden Homes North Island Endurance Series – Will the V8 Dominance continue at Pukekohe? 
On Saturday, the second and final round of the 2020 Golden Homes North Island Endurance Series will take place at Pukekohe Park Raceway and for the first time in the series history, the full back straight will be in use.
Who will take out the 3 Hour Race?  Will round 1 winners Glenn Smith and three-time Porsche Carrera Cup champion Chris van der Drift take the spoils or will the on form Aston Martin Vantage GT3 of Alex Riberas and Darren Kelly snatch the win? Anotherquestion still remains in the 1 Hour Race… will a V8 Powered race car win the Race at Pukekohe or will non V8 powered race car such as Porsche be able to break the dominance? Pukekohe hosted the first ever round of the Series back in 2014 where Simon Gilbertson won the race in his Porsche 997 however to this day, this has been the only time a non V8 powered race car has taken outright victory.
Come along and find out!
Timetable:
10:25 10:55  1 Hour – Qualifying Session 1  30 mins
11:00 11:20  3 Hour – Qualifying Session 2  20 mins
11:40 12:40  1 Hour Race
12:41 12:56  Presentation in pit lane for all 1 Hour competitors
12:40 13:15  Lunch Break  35 mins
13:15 13:25  Pit Lane Exit opens for 3 Hour Race  10 mins
13:30 16:30 3 Hour Race
16:31 16:46  Presentation in pit lane for all 3 Hour competitors
Sunday 25th October
B&H Endurance Series – Who's got what it takes to go 500 miles?
Relive the memories of Ernie Sprague, Leo Leonard and the famous Pukekohe Endurance races of the 70's…. This ain't no Sunday drive down memory lane – It's racing with modern day production cars!
HRC Events presents the B & H Endurance Races on the old Pukekohe Circuit.
The FLEETLINE 500 race for Standard Production Cars will be over 500 miles (or 6.5 hours – whichever comes sooner), whilst there will also be a shorter 100 mile race – The Store Rite 100 for cars that comply with the IPC rules which allow more modifications though with a minimum lap time of 1.14sec at Hampton Downs.
Catch the Store Rite 100 race from 10:00 and the Fleetline 500 from midday.
09:00 Store Rite 100               Qualifying (15 minutes)
09:20 Fleetline 500                 Qualifying (30 Minutes)
10:00 Store Rite 100 Start      100 Miles (57 Laps) or 90 minutes whichever comes first
11:40 Store Rite 100                 Prizegiving
12:00   Fleetline 500 Start      500 Miles (283 Laps)  or 6.5 hours whichever comes first
18:40 Fleetline 500                  Prizegiving
19:00 Circuit Closes