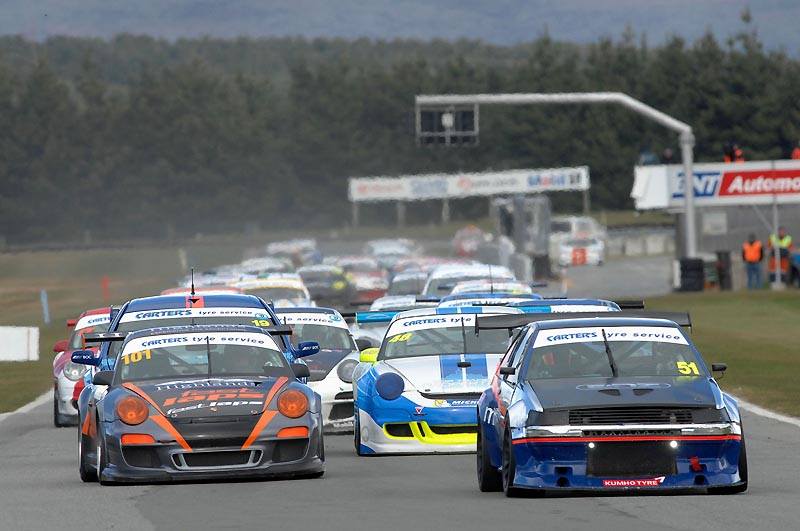 DRAMA ALL THE WAY IN ENDURANCE RACE
The drama continued even after the chequered flag dropped in Saturday's Carter's Tyre Service South Island Endurance Series 3 Hour race at Teretonga Park in Invercargill.
The sizeable crowd had witnessed Southlander Damon Leitch take the Aston Martin Vantage he shared with Tony Quinn across the line to win the race from Neil Foster and former NZ A1GP driver Jonny Reid in their Audi R8 LMS GT3 Ultra.
However as he returned to stop at parc ferme on the start/finish line Damon used his car to give a sizeable nudge to the Mercedes SLS AMG GT3 driven by his brother Brendon Leitch and Christina Orr-West allowing them to cross the line and claim third place after the car had ground to a halt short of the finish. However the action resulted in the disqualification of both cars, handing the win to Foster and Reid with Dwayne Carter/Shane Hodgson (Auckland) second in their Mercedes SLS AMG GT3 with George McFarlane /Jack Milligan of Christchurch (Porsche 997) third.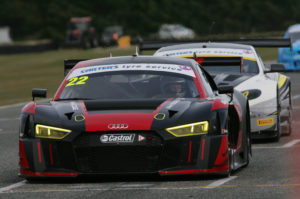 The Foster/Reid Audi had made an early pitstop when the safety car made its first appearance of the day and spent the rest of the race playing catch up, closing in on the Aston Martin as the laps wound down. Reid said later the race was a "real challenge." "As a team we had a strategy and we stuck to that. It led to us chasing but to come back and be so close on track was probably more satisfying than bringing out a new machine and dominating. I thought Damon drove particularly well and he can hold his head high." Foster and Reid also set a new lap record during the race with a lap of 55.471 seconds.
Damon Leitch said it was "disappointing that the race ended that way." "We would have done the same for anyone to help a fellow competitor. We had a great race, the car ran faultlessly. We were navigating traffic the whole race, it was very busy. Tony (Quinn) put in an awesome drive."
Ben Byers and Jaxon Evans were fourth in their Audi with Invercargill's Scott O'Donnell and Allan Dippie of Dunedin fifth.
North Island Endurance Series Champions, John McIntyre and Simon Gilbertson in a SaReNi Camaro were eliminated on Friday when their car was damaged after brake failure.
Thirty-five cars took the start earlier in the day for the 1 Hour Race. Last year's winner Chris Henderson of Dunedin in his Toyota AE86 V8 made it back to back victories after qualifying on pole and leading away from the Scott O'Donnell/Allan Dippie Porsche 997 Cup S. The race was punctuated by three safety car interventions for various incidents around the circuit, the first appearance prompting a flurry of pit stops.
Henderson was pleased with the win. "We did not have it all our own way. Over those first laps we had a ding dong battle with Scott (O'Donnell) before I managed to get a gap. The traffic was awesome. They all drove really well." Henderson also revealed he lost power steering and the car ran hot all day and said he nursed it home although he said a best lap of 57.931 seconds belied that fact. It actually came after a safety car when the car had cooled a little." Henderson had already returned home overnight and replaced the radiator system in the car after a new system installed as part of changes this year had caused overheating in testing at the circuit on Friday.
O'Donnell and Dippie finished second just 4.065 seconds adrift while Rowan Shepherd of Rolleston was a close third in his Porsche 997 Cup car. All three covered 50 laps.
The next race meeting at Teretonga Park presented by Downer takes place on Sunday 4 November and will feature the Noel McIntyre Drainage Clubmans series cars.
Media release: Lindsay Beer, Southland Sports Car Club
Photographs:
The Neil Foster/Jonny Reid Audi – please credit – Terry Marshall Euan Cameron Photography
Chris Henderson of Dunedin (Toyota) leads the One Hour field into the first corner of the race – please credit Richard Dimmock