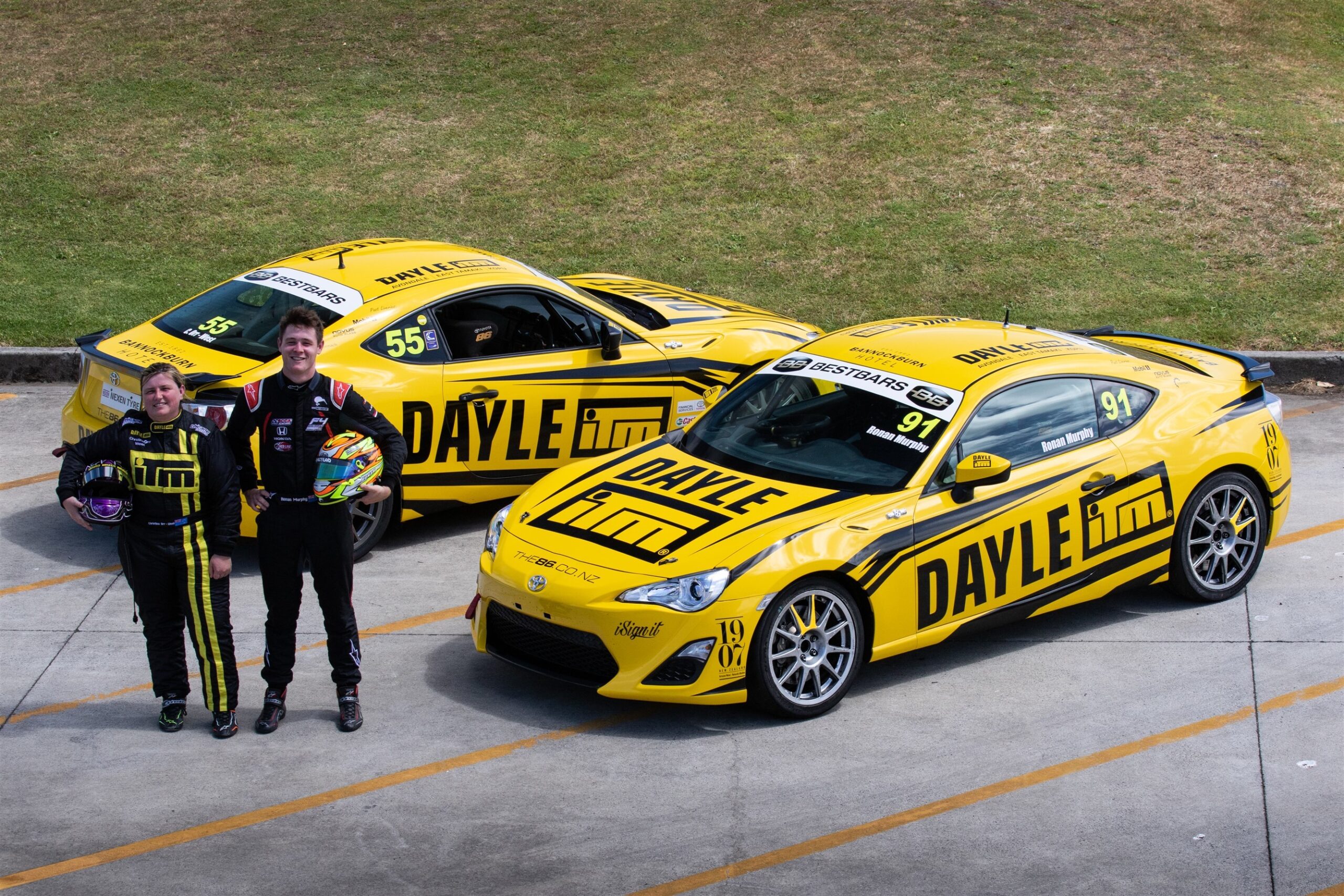 Dayle ITM squad ready for Pukekohe
Long-time motorsport sponsor and supporter Dayle ITM is set to have its biggest ever presence in a category this weekend when it will field two Toyota TR86 cars in its iconic yellow livery at Pukekohe Park Raceway this weekend.
Headed by Deborah and Martin Day, the Dayle ITM company branding can be found all over the New Zealand motorsport community, on signage, dummy grid banners, finish lines and, of course, on racing cars themselves.
This weekend will be the first time that two Dayle ITM Racing cars have competed on one grid and the brand will be represented by a team which combines vast domestic and international experience and up and coming racing talent. Chris van der Drift teams up with Ronan Murphy, while Christina Orr-West once again has Rowan Shepherd as co-driver in the final two one hour enduros of the TOYOTA GAZOO Racing New Zealand TR86 endurance series.
The two cars – driven by Murphy and Orr-West – will run again in the entire Best Bars Toyota 86 Championship which will start in January 2021 at the New Zealand Grand Prix meeting on the international circuit at Hampton Downs Motorsport Park. Both cars have tested over the past few days and the team is raring to go this weekend at Pukekohe Park.
"We're delighted to be supporting domestic motorsport again and confident the team we have will be a great one to represent the brand this weekend and moving forward," explained Deborah Day.
"We have always got a lot out of supporting the motorsport community and now is such an important time to be out there investing in the brand and in our drivers. We always love to win and we've got high hopes again this weekend, but it's just great to be part of the show."
The squad will be practicing at the track on Friday with a qualifying session and a one hour race on both Saturday and Sunday.