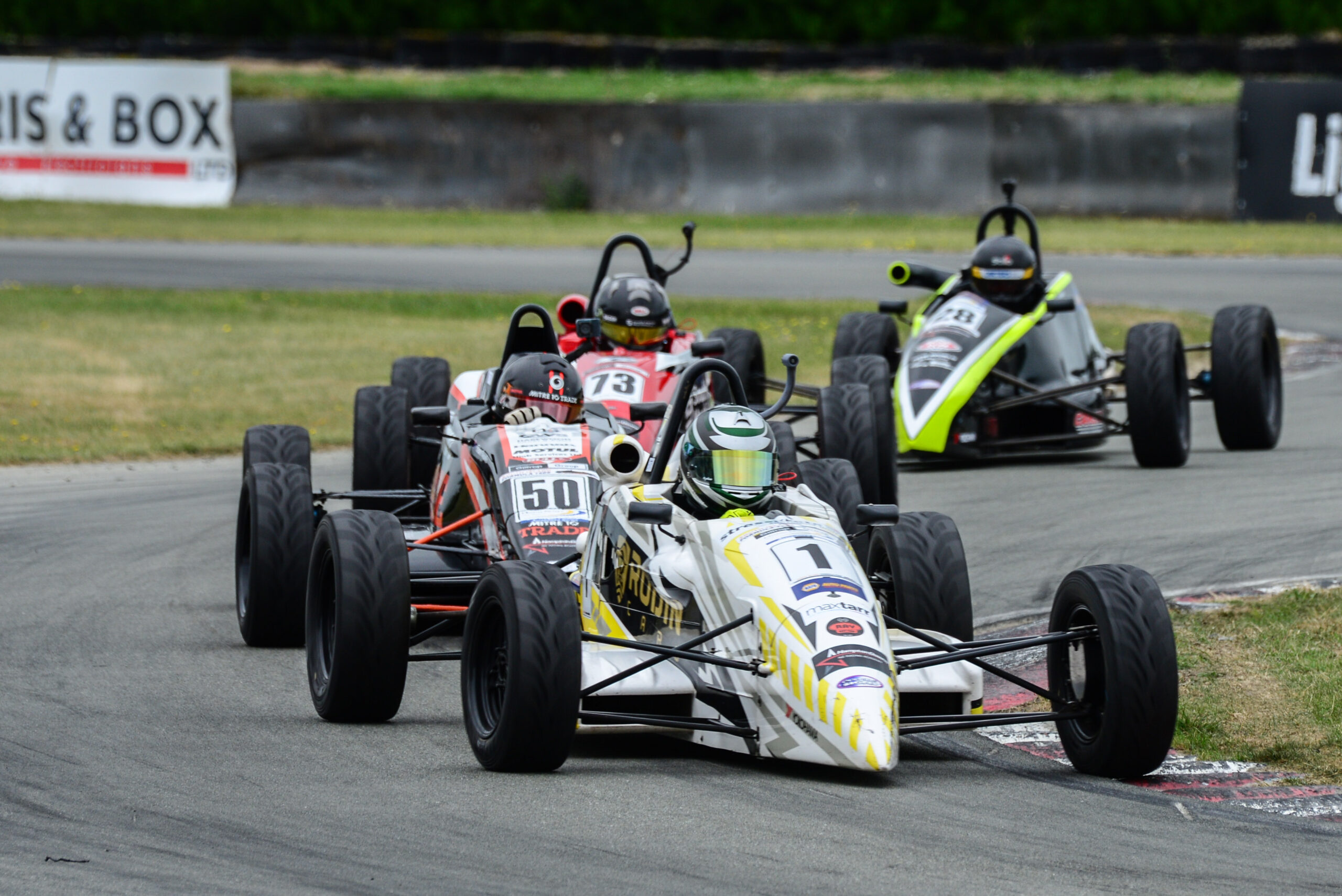 Crosbie extends lead in South Island F1600 Series
Alex Crosbie has extended his lead in the 2022/23 Yokohama South Island Formula 1600 Series after round four at the Timaru International Raceway on Saturday. Two wins and a second place across three races gives him a 65-point lead over rival Blake Knowles with Dylan Petch 22-points behind having moved up into third with rookie Caleb Byers fourth ahead of Daniel Brown.
Initially it was Knowles (Van Diemen RF05) who was quickest in qualifying winning the $500 Hampton Downs NZ Racing Academy cash prize and then going on to win the opening race ahead of Crosbie (Ray GR21) and Byers (Ray GR21). The ten-lap race was punctuated with an early safety-car period with Thomas Flynn off the track in the opening lap. Byers made the jump into the lead at the restart and held out his rivals almost to the end having to settle for third.
"I struggled in qualifying," said Crosbie. "I was out on my own and just didn't get a tow so had to settle for third quickest time. I thought I'd be able to get up to the front and battle with Blake (Knowles) but first had to get passed Caleb (Byers). I caught up to Blake but run out of laps to get passed."
Blake's day started to unwind with engine trouble in the second race while battling with Crosbie for the win.
"I got a good start in the second race and took the lead for the first four laps," said Crosbie. "Then Blake got passed and led for a couple until his engine started cutting out and I was able to take the lead and cruise away for the win."
Second home, and improving on his podium in race 1, was Byers with Petch (Ray GR20) in third ahead of William Neale (Van Diemen Stealth) and Flynn (Swift SC) while Knowles crossed the line in sixth for valuable points.
In a damp race three it was Petch who took the lead off the start line until Crosbie got passed and was able to build a lead until the end. Petch finished third behind Neale with Byers in fourth and Jake Bryant (Van Diemen RF94) in fifth.
"I'm pretty happy with how the day has gone," said Crosbie who won a $230 Driver of the Day cash prize from NAPA Auto Parts for his consistent performance. "The final two rounds will be interesting with the addition of competitors from the North Island."
Crosbie won the round and leads Class 1 while Byers finished second with Neale, who leads Class 2, in third and Petch fourth.
The final two rounds over consecutive weekends also double as the final two rounds of the 2023 NAPA Auto Parts New Zealand Formula Ford Championship. Drivers and teams head to Teretonga Park in Invercargill for round five (18-19 March 2023) of the South Island Series with the finale a week later in Christchurch (25-26 March 2023).
On the line is a $230 cash prize for Driver of the Day from NAPA Auto Parts plus a $500 cash prize for fastest qualifier provided by the Hampton Downs NZ Racing Academy along with a. The award is part of the increased $66,000 prize pool from the Tony Quinn Foundation with funding for travel and testing opportunities with TOYOTA GAZOO Racing NZ.