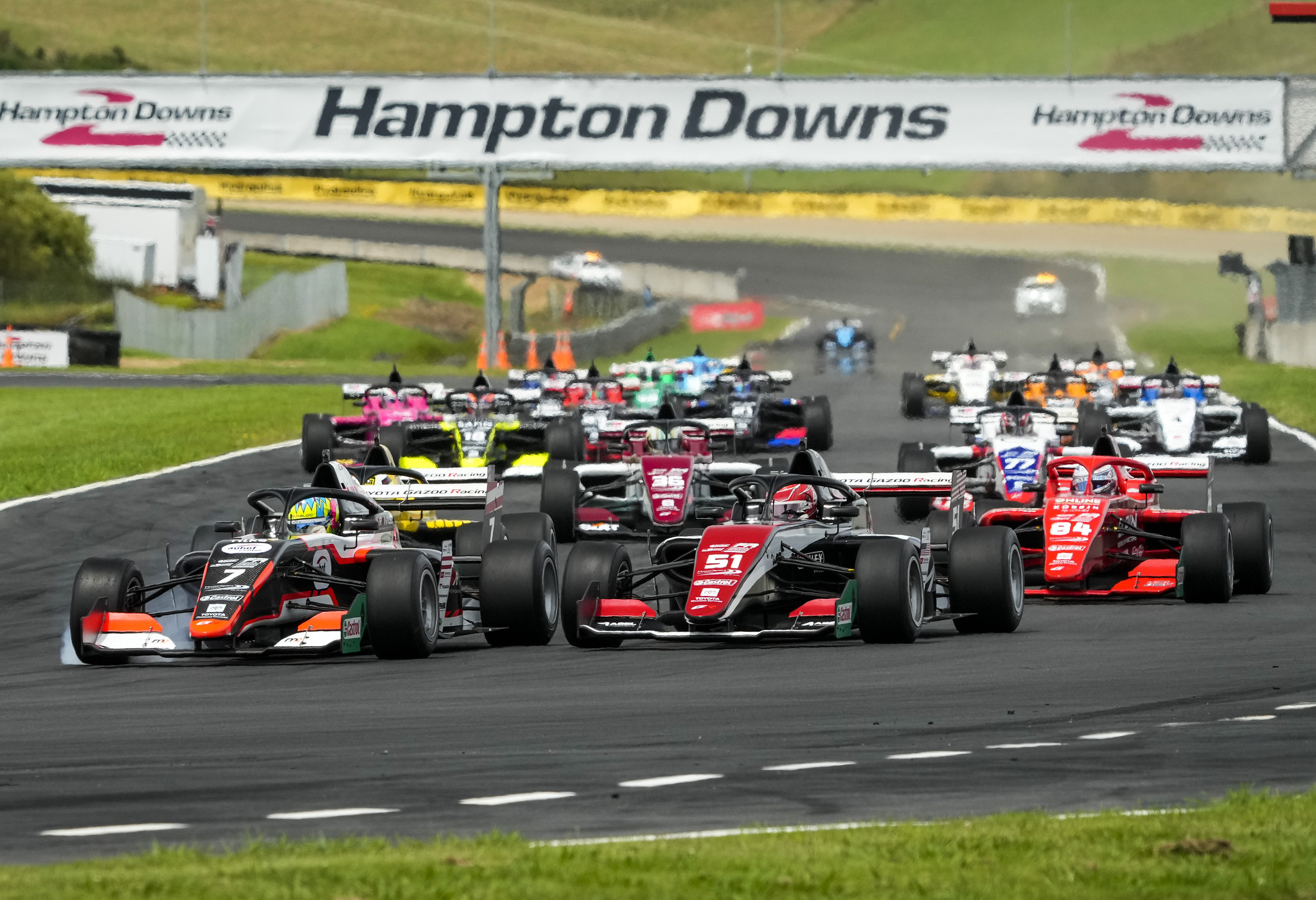 2024 Formula Regional Oceania Championship dates and tracks confirmed
TOYOTA GAZOO Racing New Zealand has this week confirmed dates and tracks for the 2024 Castrol Toyota Formula Regional Oceania Championship.
The early release of championship dates follows the completion of the championship's hugely successful first full international season post-Covid and its debut as an official FIA Formula Regional Championship.
For 2024, the series breaks with its approach of recent years by starting in New Zealand's North Island at the Taupo International Motorsport Park over the weekend of January 19-21. It will share a spectacular weekend of motorsport action at the venue with one of the North Island's biggest historic motorsport events, the Historic GP meeting.
From there it will move to Manfeild – Circuit Chris Amon the following weekend (January 26-28) for the second round before visiting Hampton Downs for round three using the long international circuit layout from February 2-4.
The series then heads south to Christchurch and the penultimate weekend at the Euromarque Motorsport Park over the weekend of February 9-11. The championship concludes over the weekend of February 16-18 with the 68th New Zealand Grand Prix.
The Grand Prix will be held for the first time at the technical, highly challenging and spectacularly picturesque 4.1km Highlands Motorsport Park located in Cromwell in New Zealand's South Island. It will also be the first time the Grand Prix has been held in the South Island since 2007.
New Zealand's Grand Prix – the jewel in the crown of the popular Kiwi series which has been running for 18 seasons – is one of only two 'Grand Prix' events outside of the Formula One World Championship recognised and acknowledged as such by world governing body the FIA.
Charlie Wurz won this season's championship after a season long battle with rising Kiwi star Callum Hedge.
Eighteen FIA Super Licence points are available to the winner of the championship and every driver competing gets 3,200km of track time over an intense five consecutive weekends. There are two days of testing with practice starts ahead of each race weekend, with two qualifying sessions (one F1 style session for the Grand Prix weekend) and three races each weekend.
"There is already a huge amount of interest in the championship for 2024 and we want to be as organised as we possibly can be as we return to normal with our season timings and venues," said TOYOTA GAZOO Racing New Zealand Manager Nicolas Caillol.
"With nine different winners from 15 races in the 2023 season, Castrol Toyota FR Oceania can rightly lay claim to being one of the most open international championships in the world."