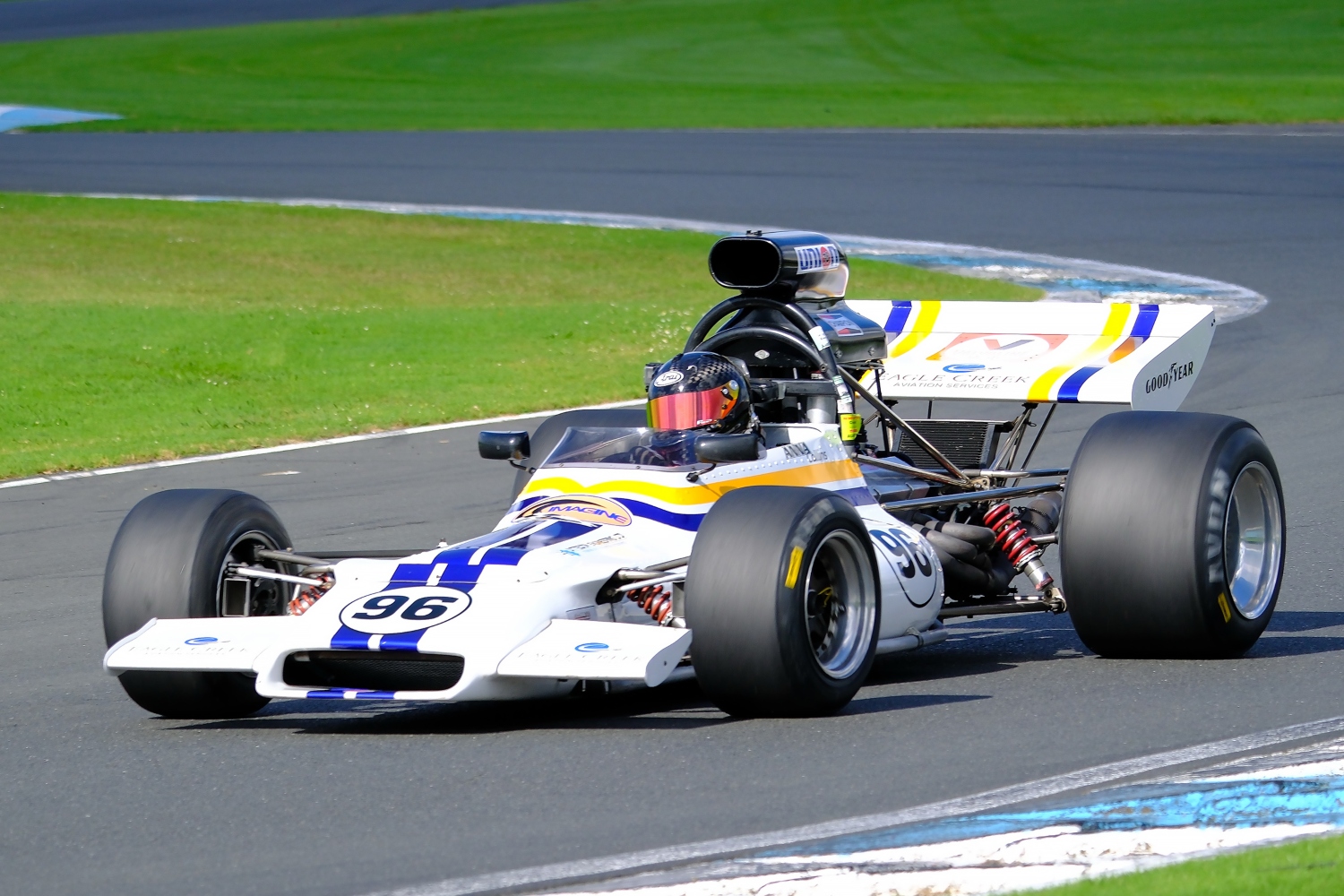 51 years on, McRae's original MG1 finally gets the Pukekohe race wins/lap record
The Pukekohe motor racing circuit in general, and – in particular – the New Zealand Grand Prix meetings held at the storied South Auckland venue between 1970 & 1975 didn't do late Kiwi racing great Graham McRae any favours…even when the legendary Wellington-born racing car designer/builder/driver was at the peak of his powers, in 1972.
So, you can imagine the ripple of excitement that ran through the packed SAS Autoparts MSC NZ F5000 Tasman Cup Revival Series pits after the third and final race of the weekend at the Historic Racing Club's final Tasman Revival race meeting at the soon-to-be-shuttered South Auckland motor racing facility last Sunday (Feb.26)
In what for all intents and purposes is the very same car (the Leda-built GM1 001) McRae debuted at the 1972 New Zealand Grand Prix meeting at Pukekohe 51 years ago, category young gun Michael Collins not only won the third and final SAS Autoparts MSC NZ F5000 Tasman Cup Revival Series race of the weekend, it also looks like, that by being the only driver (at the meeting!) to dip into the 54 sec/lap bracket, a new F5000 ultimate Pukekohe circuit lap record re-jig is now very much in the offing.
"Seriously, "said NZ F5000 Association committee member and official spokesperson Glenn Richards on Monday, " I take my hat off to Michael. He's a class act all right (and) definitely a credit to the category.
"It's now, obviously, our job to try and verify if in fact the 54.980 lap time Michael did on the last lap of the last race at Pukekohe over the weekend was in fact a new lap record. If it is, it's going to be his in perpetuity which is kind of cool. But if it isn't and we find that someone else has gone faster, then fair play to them."
The first of late, great, Kiwi racing car designer/driver Graham McRae's three GM1 cars to run in the distinctive fluro-pink colours of sponsor STP, Leda GM1 001 was arguably the single most successful F5000 car of the 1971-1973 period. With McRae behind the wheel, it won the 1972 Tasman Series and the 1972 US L & M Continental Series before being sold and used here in the 1973 Gold Star and 1973 & 74 Tasman series by Wellington driver Dexter Dunlop.
Such was the state of development of new racing cars at the time, that cars like GM1 001 quickly became obsolete, and it would have remained a footnote in history had the current owner, Alistair Hey from Queenstown, not doggedly decided that it needed a second chance.
As it turned out, each of the three SAS Autoparts MSC NZ F5000 Tasman Cup Revival Series races had a unique look and feel all their own despite the first and final ones being won by Michael Collins.
The first race, on Saturday afternoon was won in convincing style by Collins after he spent the first two laps chasing down pole sitter Kevin Ingram (LolaT332). Codie Banks (Lola T332), who qualified a season-best second, was due to start alongside Ingram but could not take the position up because his car refused to run over 5,000rpm on the warm-up lap.
A trip to the pits eventually uncovered the problem and Banks Jnr was able to return to the race with three laps left to run. Codie's father David (Talon MR1) meanwhile took over third place and held it to the flag ahead of a fast finishing Brett Willis (Lola T332). Michael Collins' sister Anna (Leda LT27) also finally got the better of a race-long duel with the Lola T400 of Auckland veteran Shayne Windelburn to finish fifth.
It was Glenn Richards (Lola T400), however, who won a frankly 'wild'n wacky 'rolling handicap start' second SAS Autoparts MSC NZ F5000 Series' race of the weekend on Sunday.
"I could definitely argue," said Richards afterwards, " that that race at Pukekohe was the fastest ever F5000 race at the track. I know this because I was in the lead running mid 55s and there were three guys behind me all running in the 55 sec bracket on the final lap (chasing me) as well.
"The track was fast in the coolness of mid-morning. It wasn't too hot like it got in the afternoon which took a second off everyone's lap times, except, obviously, Michael's. There was plenty of grip. I could launch the car into Castrol and really lean on the back tyre under acceleration but by the afternoon had to be a bit cautious. And it was very much the same coming over the hill."
Which just leaves the third and final race of the weekend. This was the again won by Michael Collins, from Kevin Ingram and David Banks.
Written like that it sounds like another straightforward result however it was anything but. Though Collins grabbed an early lead from pole position and entered the hairpin breaking area well in front David Banks who up until that point had enjoying a real purple patch of form decided to brake a little later than normal. The result was that at one stage it looked like he was going to T bone Collins just as the later turned into the corner. However, to his eternal credit Collins saw what was happening in his mirrors and delayed turning in to the corner until Banks swept past in a cloud of tyre smoke.
The only problem was that this allowed Kevin Ingram to take advantage and the lead on the race, a lead which he would hold until halfway through the third to last lap. Banks meanwhile ended up near the rear of the field and made it back from 9th place to 6th then in a final burst, back up to 3rd.
Unfortunately, Brett Willis (Lola T332) had a reoccurrence of the same engine problem which stopped him in the second race, the car 'simply stopping' and not being able to be restarted again.
In Class A (for older cars) Frank Karl (McLaren M10B) finally got the better of category competitor Tony Roberts (McLaren M10A high wing') though that would only come with a rare dnf from the Roberts' camp.
Th SAS Autoparts MSC NZ F5000 Tasman Cup Revival Series is organised and run with the support of sponsors SAS Autoprts, MSC, NZ Express Transport, Bonney's Specialised Bulk Transport, Mobil Lubricants, Pacifica, Avon Tyres, Webdesign and Exide Batteries.
You can follow the series on Facebook at F5000 New Zealand or on the NZ F5000 Association's website www.F5000.co.nz