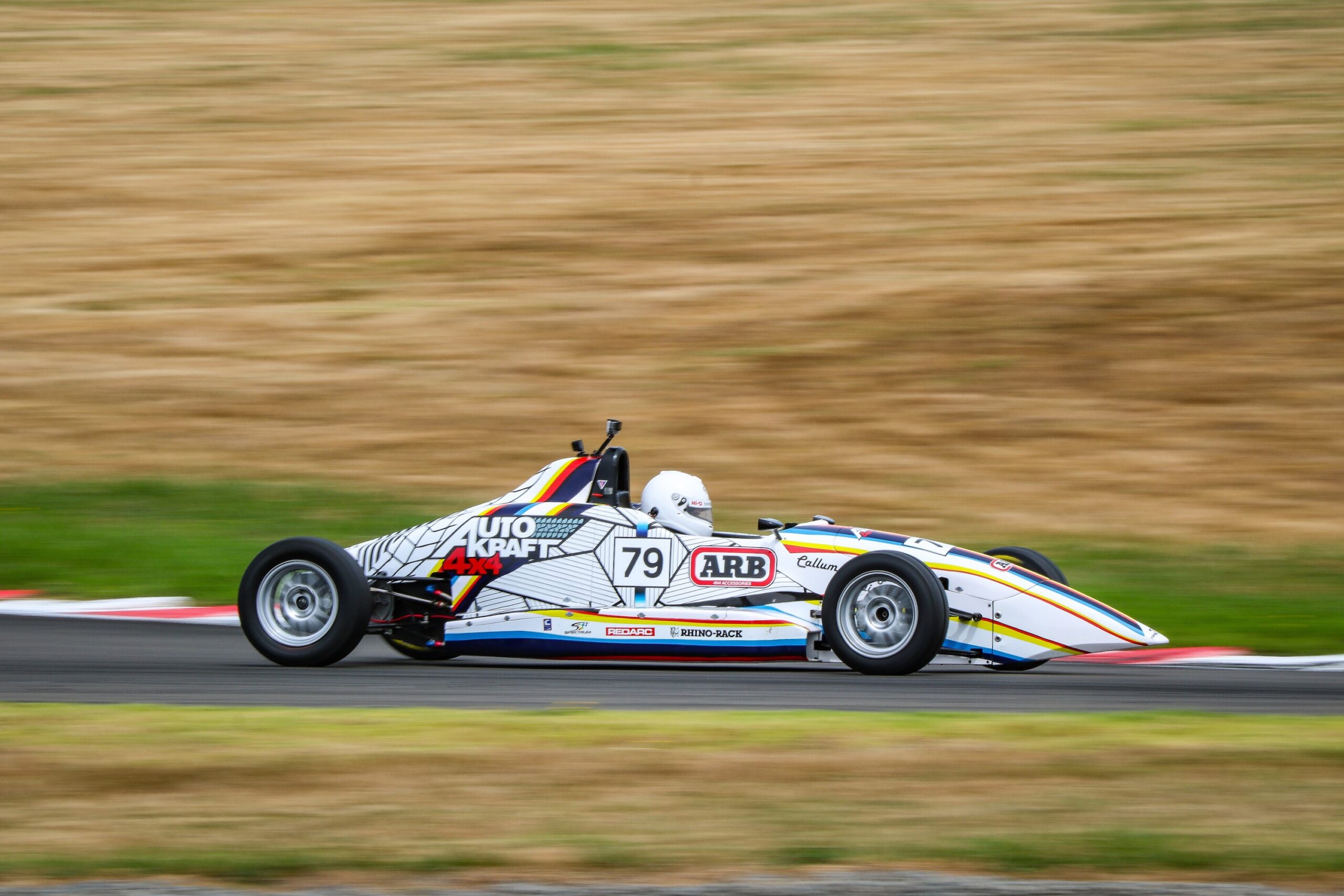 Crawley Clean Sweeps TR Group North Island Formula Ford Winter Series!
The open weekend of the North Island Formula Ford Winter series presented by the TR Group started off in an extremely wet fashion, torrential rain mixed with a sprinkling of hail and lightning challenged the teams and driver on saturdays practice.
The competitors lapped it up both literally and figuratively, with most of them battling the elements throughout the day to get some always valuable wet testing in, while others struggled with mechanical woes.
The Winter North Island Formula Ford series is run in conjunction with Manawatu car club and is made up of 4 rounds at Circuit Chris Amon Manfield, aimed at giving the drivers stepping up from formula first some valuable seat tiem before the NZ Formula 1600 National series starts over summer, as well as a fun place to race in the off-season! However, the drivers who have moved up from Formula First are not far from their humble beginnings, with both series running on the same grid, traffic can always be an issue towards the end of the races!
Sunday brought with it some far more preferable weather, and qualifying started the day off in cool conditions, a damp track challenging the drivers. It was Callum Crawley who set the early pace, banking a lap good enough for first place on his second flying lap, then continuing to improve upon it, cementing his spot on the front row 1.3 seconds clear of the field. The second spectrum driven by rookie Ronan Murphy impressed, putting in a lap good enough for second spot on the grid. Henry Thomas-Kircher, Alex Hawley were third and fourth and separated by only half a second. Cameron Tanner rounded out the grid after just managing 5 laps on saturday, qualifying was spent learning the track and its limitations for the young driver.
Race One started off well for Henry Thomas-Kircher, who got great traction off the line and leapfrogged Murphy to take second place for the first couple of laps. On lap two Murphy made a move up the inside into Higgins to retake second place. Unfortunately Thomas-Kircher had a spin at turn one when his car slipped out of gear trying to fight back at Murphy. He did manage to get going again though, finishing 4th ahead of Cameron Tanner who came in to the pits after losing his rear engine cover. Out front Callum Crawley kept his foot down to finish 7 seconds clear of Murphy. Alex Hawley finished 3rd, rounding out the podium.
The second race of the weekend was a similar affair to the first, with Crawley making an early break from the pack with Murphy chasing hard. Thomas-Kircher and Hawley had a large scrap on their hands, swapping positions for the first 3 laps with plenty of hard racing. Ultimately Thomas-Kircher lost out as the car became lodged in 4th gear, and finished 4th by just 0.026 of a second over Tanner! Hawley managed to run a clean race to come home 3rd.
The final race of the weekend was plagued by two DNF's from Hawley and Thomas-Kircher with engine and gearbox issues respectively.
At the front it was once again Crawley who would break away from the pack and stay there to secure his third win and chocolate fish of the weekend with 4.8 seconds over Murphy. A highlight of the race was Cameron Tanner taking the first podium of his career. An awesome improvement from where he started and hopefully a sign of things to come. Ronan Murphy had another solid showing in second place once more, an impressive effort from the rookie and a great end to a consistent weekend for the Hawkes Bay teen.
Crawley currently heads the series standings on 61 points after a clean sweep, picking up the bonus point for pole and 3 race wins. Ronan Murphy Sits second 10 points behind crawley, with Cameron Tanner in third with 36 points. Crawley also leads Class 1, With Tanner leading Class 2.
The next round of the Winter Series kicks off on July 7th, with almost double the amount of cars expected it is sure to be a great spectacle of Formula Ford Racing!
Media release: North Island Formula Ford Association