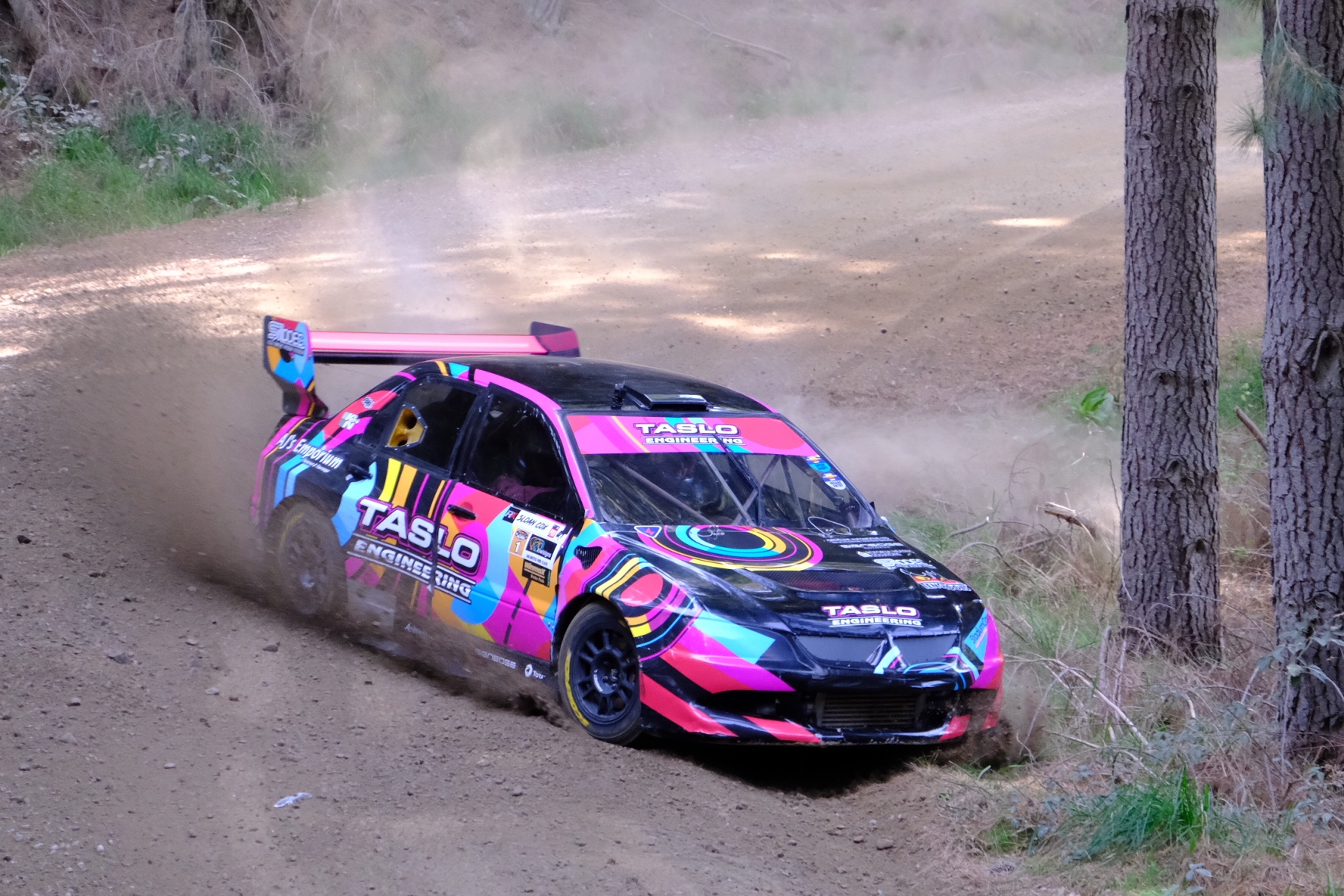 Cox's Ashley Forest record still stands despite issues
It wasn't exactly the weekend Rotorua's Sloan Cox hoped for at the Ashley Forest Rallysprint, having been unable to progress past the top 32 competitors, but his record of 54.96 seconds on the 1.7km course couldn't be beaten by the new winner Alistair McRae.
The 22-23 September event in the Ashley Forest near Rangiora in north Canterbury is run by the Ratec Motorsport Club and attracted Kiwi WRC driver Hayden Paddon and Scottish rally star Alister McRae to take on Cox as the defending Ashley Forest champion.
"It's never the same, each time we've been here. On Saturday we struggled with little problems and there were delays getting the full field of 60 competitors through the first three of four scheduled qualifying runs," says Cox. "The top few only got two runs on Saturday, so that was a bit frustrating. Added to that, our first run, we hadn't sealed the car the way we normally do so it filled with dust, and I hit the kill switch accidently so that was pretty much a write-off. Then we had misfiring issues with the spark plugs. We solved that problem and were ready for the next run which didn't happen."
Cox was straight on the pace with the delayed third qualifying run which took place on Sunday morning, with a time of 57.42. 'The car was really good and it felt good to finally be in that time bracket. I knew there was more time in the car. We elected to use the same tyres for the fourth qualifying run, where we set a 56.02 and we knew what we could do to improve.
"Then came the top 32 shoot-out, and our day just turned around for us. From the start line our hydraulic centre diff pump blew, so no 4WD, mostly front-wheel-drive. Close on a corner, the car hit a couple of ruts. It was a good line but not having 4WD, I couldn't stop the car turning round. Then it stalled before I could turn it round and keep going. In the end I couldn't make up the time and therefore didn't make it into top 16 which was disappointing. So, a frustrating weekend. Congratulations to Alister on his win, but I have to say it's nice to still have the course record."
Depending on his 2019 plans, Cox is already keen to enter Ashley Forest again next year. "I want to keep trying to lower that record – we know there's a lot more in the car, but it comes down to weather and road conditions too."
Cox is considering the idea of entering two cars next year. "Maybe a front-wheel-drive might be on the cards. We could enter two classes, get more seat time on the hill, and knowing more about FWD now it would be cool to go for the 2WD record as well."
Cox extends his thanks to the Taslo Engineering crew to get his Evo X hillclimb special to the event. "Without my father Steve and Taslo it wouldn't have been possible. Thanks also to Dave Heerdegen from Dtech; it was great to have him here this year and it made a big difference to the team."
Cox's next event is the final RX Academy round on 7 October at Tierps in Sweden, which will mark the last event of his debut season of international competition.
Cox's 2018 Ashley Forest title campaign is supported by Taslo Engineering, AJ's Emporium, Driveline Automotive, Signedge, Teng Tools and SI Lodec. Follow the news and action on Facebook: Sloan Cox Motorsport Ltd
Event background
Christchurch-based MotorSport New Zealand-affiliated car club Ratec Motorsport Inc. has been running the Ashley Forest Rallysprint since 1979.  This iconic event is staged over a 1.7km (55% uphill) course in the Ashley Forest, North Canterbury. It has challenged competitors and thrilled spectators over the years, where the magic minute has been the challenge for all prospective winners. The late Kim Austin was a regular in breaking the minute and his 1999 winning run of 56.57 in a 4WD Mitsubishi Starion V8 remained the course record until 2016 when Sloan Cox broke it three times over the weekend. Sloan's new course record of 55.23 stood for a year when in 2017 he set a new record of 54.96. Also falling in 2017 was Kim Austin's 1988 Two Wheel Drive record of 1:02.45 by the narrowest of margins to Chris Hey in his Toyota MR2. Over the years, winners have included national rally champions Neil Allport, Tony Teesdale, the late Possum Bourne and more recently Hayden Paddon and Matt Summerfield together with other big names in the sport.
Media release: Relish Communications
Image: Geoff Ridder